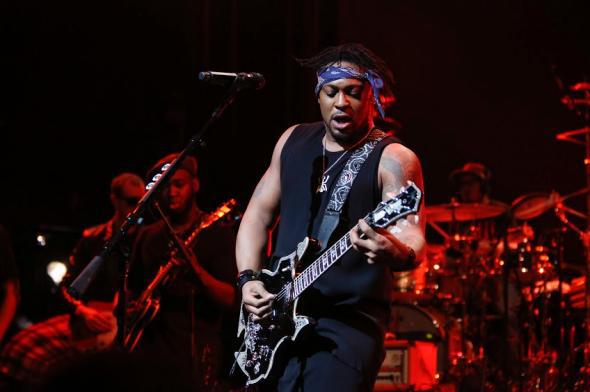 The most perfect thing about D'Angelo's show Saturday night in New York—currently the only United States appearance that's been announced in support of his 2014 album of the year Black Messiah—was the venue: the Apollo Theater in Harlem. There might not be any better venue than the Apollo for someone whose flair for performing is balanced with world-historic resistance to being a commercialized celebrity. It's probably the world's premiere showcase for the soul/funk/R&B entertainment tradition D'Angelo is a part of—a place, therefore, to make a big statement—but it is also, for all the size of its reputation, very intimate in practice, allowing a crowd of only 1,500 to curl up and around the stage. I'd never been to the Apollo before, and now I understand why its amateur night (which D'Angelo won as a teenager) is so famous—while the stage's history and grandeur demand an epic effort from anyone who appears on it, the tight dimensions also demand that those performers win over each member of the audience on an almost one-on-one basis. You've got to balance the big and the small, and you can't coast on reputation.
D'Angelo met the challenge, though, with a demeanor that was endearingly and perhaps surprisingly low-key for someone who just labeled his long-awaited return to his job with the word messiah. For all D'Angelo's virtuosity, he is also someone who very evidently appreciates a stark riff, a repeated groove, and the visceral power of a band finding a few bars that it likes, turning the dials up, and playing the bejeezus out of those four bars until it's time to go home. In line for a drink, I overheard—from someone who at least wanted to project the appearance of knowing what she was talking about—that he's trying to put together more American tour dates with his new band, the Vanguard. (He's got a number scheduled in Europe.) I'm not surprised: He may have recently gone 12 years without performing, but on Saturday D'Angelo seemed like someone having enough fun to keep playing.
After a dramatic solo opening performance of "Prayer" from the new album, the vibe on stage was, happily, more "catching up with an old pal" than "hip big-city music-industrial buzz-event." Almost all of the seven band members and three backing vocalists present were D'Angelo veterans who have played past gigs with him and contributed to the new album, and though this was his first full show since the album's release, the group handled their front man's characteristic deliberate rhythms with confidence.  For someone with such a delicate falsetto, D'Angelo also has a very effective full-throat roar, and he used it percussively throughout the night to match the band as songs like "Sugah Daddy," "Left and Right," and "Chicken Grease" were drawn out into full-volume, electric guitar-led jams. As the musicians circled around uncomplicated but satisfying patterns, their idolized and scrutinized lead singer, the meticulous genius, was happy to punctuate the downbeat with exclamations like "yeah!" and "clap your hands!" Decades of practice, experience, and thought had gone into what were seeing on the stage, but a five-year-old could have understood why we liked it.
D'Angelo finished the night alone again playing "Untitled (How Does It Feel)," a moment that might have seemed perfect for the narrative of the dramatic comeback, since the way he was objectified by audiences after the release of the song's sexy video is commonly thought be one of the reasons he spent so long after 2000's Voodoo hiding from the spotlight. But the mood in the room was not heavy or portentous. Like the rest of the show, it was light—less a statement than a collaboration, with D'Angelo encouraging the crowd to join in and sing the chorus with him a capella.
Several times during the night he reached out to touch the hands of the people in front rows, men and women alike. Not in a coy or exaggerated way, but instead more like he was giving them the kind of handshake or high five you give someone after a team you're both watching scores a touchdown. Things were rolling, and all of us were glad to be along for the ride.
---