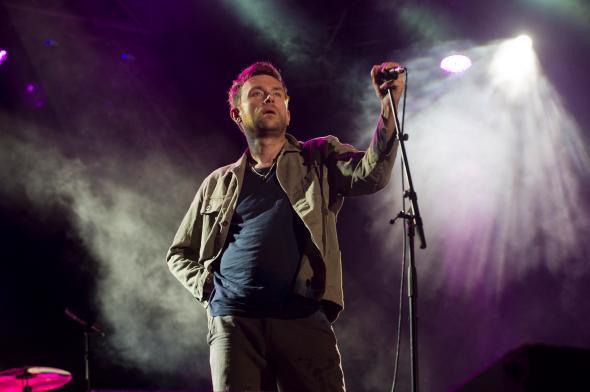 After years of teasing the possibility of a new album, Britpop band Blur finally announced a new studio LP Thursday morning, their first since 2003's Think Tank. The new album, called The Magic Whip, was announced in a press conference live-streamed on Facebook, and it will be produced by Stephen Street, who produced or co-produced most of the band's best albums, including Parklife, Modern Life Is Rubbish, The Great Escape, and the self-titled Blur.
Initial recording for the album began in 2013 in Hong Kong, where the band was holed up together for five days after one of their scheduled concerts was cancelled. The city apparently helped inspire many aspects of the album, which, as Rolling Stone points out, was announced on the Chinese New Year. (That appears to be the album art, above, with "Blur" and "The Magic Whip" written in Chinese.)
The first single from the album, "Go Out," also arrives in the form of a lyric video done in the style of a Chinese cooking show. The song is a pretty straightforward, guitar-driven rocker. That is, except for all the guitar noise in the background: Singer Damon Albarn has compared the album to those of David Bowie's Berlin trilogy, and—in addition to the fact that both projects were recorded in a foreign city—the comparison makes sense when you hear the distortion and the lyrics about urban isolation. Meanwhile, the more cheery, follow-the-bouncing-ball-style video tells you how many "o-o-o"s to put into the chorus of  "He going to the lo-o-o-o-o-ocal." (That's British for "the local pub.") To sing along with the rest of the album, fans will have to wait until April 27.
---