Remember the part in Interstellar (five Oscar nominations, but not Best Picture) when Matthew McConaughey and Anne Hathaway and the trusty robot CASE head off to the planet with the big wave, and they leave David Gyasi back on the ship for a relativity-aided 20-plus years in solitude? When they get back and he's a little grayer in the beard, they ask him what he did, and among other specific research stuff, he basically says he read a lot. When I saw that, I thought, What an idiot—why didn't he watch movies?
I like to watch movies. I like to talk about movies. When other people are talking about movies I haven't seen, I get jealous. So I see a lot of movies, I make lists of older movies I should catch up on, I do projects. The Academy Award nominations make for great projects, ones that lots of people undertake. Dabblers will try to watch all the Best Picture nominees. Some will go next-level and try to knock out all the nominated actors. Two years ago I made a grander, more quixotic decision: I was going to see every single nominated movie. The documentaries, the shorts, the foreign films, the terrible action movie nominated for Best Sound Mixing. Everything.
How'd I pull it off? Living in New York (and in the time of Internet) (and with access to publicists who sometimes send out screeners, just to be upfront about screener privilege, because it's real) has afforded me options I never had before. But it's still not easy. A quick tally the day the Oscar nominations were announced revealed that, despite having spent the year attending critics' screenings and one major film festival, I still needed to see nine features, plus 14 of the 15 nominated shorts. Immediately after work that day, I bought a ticket for The Hobbit: The Battle of the Five Armies, because if I didn't then, I maybe never would.
Much as I complain about slogs like The Hobbit, I keep trying to see all the nominated movies because it's incredibly good for me. It reminds me that, much as we complain (and I sure do) about who does and doesn't get nominated, especially in the major categories, if we look at the Oscar slate as a flat list of films—regardless of category or number of nominations—it really is a rather interesting cross section of the movie year. There still aren't enough indies, or American films by (and about) people of color, but incorporating the foreign films, docs, shorts, the blockbusters nominated in the technical categories—it's all a rather interesting jumble, for good and for ill.
And watching all 60 films nominated for Oscars this year has reminded me that the films nominated for Best Picture are so not the whole story. The riskier, more daring, more idiosyncratic movies often can only eke out a nomination or two. It made me want to see a ranked list of every nominated movie made by one intrepid filmgoer who'd seen them all. And so here it is.
60. The Hobbit: The Battle of the Five Armies: Here are the nomination totals, in order, for Peter Jackson's five previous J.R.R. Tolkien adaptations: 13, six, 11, three, and three. And now it all ends with one sad nomination for what is easily the worst of the six films. By Elbereth and Lúthien the Fair, let this be the end. Nomination: Best Sound Editing
59. The Judge: Because the acting categories allow voters to separate their love for the actors from the films they represent, it can be easy to sneak some real stinkers into the ranks of Oscar-nominated films. Like, can you believe that thanks to Stanley Tucci, The Lovely Bones was an Oscar nominee? Or Patricia Clarkson for Pieces of April? Or Bette Midler for For the Boys? (What am I saying? Of course you remember For the Boys.) Anyway, that's certainly what has happened here with a nomination for beloved Robert Duvall in the truly terrible The Judge. Nomination: Best Supporting Actor
58. Maleficent: There's maybe something to be said about the inherent sexism that sees a femalecentric blockbuster merely recognized for its pretty costumes rather than its, say, special effects. It'd be easier to get behind such an argument on Maleficent's behalf if it weren't such a tonally incoherent mess. Nomination: Best Costume Design
57. Unbroken: Not trying to pick on Angelina Jolie! Honest! But Unbroken is an unambiguous miss, no matter how you look at it. Of course, sometimes when unambiguous misses are also solid box office performers from major studios with big battle sequences, you get some consolation nods anyway. Nominations: Best Cinematography, Best Sound Mixing, Best Sound Editing
56. American Sniper: And so we arrive at our lowest-ranking Best Picture nominee. It's tempting to graft American Sniper's Oscar narrative to its phenomenal box office success, but the truth is its six nominations came before the film blew up in theaters. More likely it's this: Oscar voters are not willing to let go of Clint Eastwood. Nominations: Best Picture, Best Actor, Best Adapted Screenplay, Best Film Editing, Best Sound Mixing, Best Sound Editing
55. Whiplash: Despite my low opinion of the movie itself, I actually think it's worthy of a good half of its nominations, particularly the propulsive editing and the J.K. Simmons performance, both of which were so spectacular they almost covered up the puffed-up, preposterous story. Nominations: Best Picture, Best Supporting Actor, Best Adapted Screenplay, Best Film Editing, Best Sound Mixing
54. Foxcatcher: Never underestimate the power of a facial prosthetic. Nor of Bennett Miller, Hollywood's new Stephen Daldry. Nominations: Best Director, Best Actor, Best Supporting Actor, Best Original Screenplay, Best Makeup and Hairstyling
53. The Theory of Everything: I sometimes think the Oscars get a bad rap: Moviegoers complain that the academy rewards stiff biographies, costume dramas, and "important" issue movies to the exclusion of everything else. But aren't the last few years, with their Django Unchaineds and Black Swans and Toy Storys, enough to give academy members credit for broadening their horizons ever so slightly? And then they go and nominate something like The Theory of Everything. Nominations: Best Picture, Best Actor, Best Actress, Best Adapted Screenplay, Best Original Score
52. The Imitation Game: For a while there, people really thought Harvey Weinstein was going to be able to muscle this one to a Best Picture win, through his usual mix of chutzpah and blunt-force marketing. Better luck (with a better film?) next year. Nominations: Best Picture, Best Director, Best Actor, Best Supporting Actress, Best Adapted Screenplay, Best Film Editing, Best Production Design, Best Original Score
51. The Reaper (La Parka): Viewers can usually boil down each of the documentary short contenders to one issue. In this case, that issue is cattle slaughter, which the film shows us in confrontationally close detail. It's really off-putting! Intentionally so! Nomination: Best Documentary Short
50. White Earth: If you're looking to dispel the notion that Oscar-nominated documentary shorts are all sad looks at bleak lives told through a filter of bittersweet perseverance, White Earth is maybe not the short for you. Nomination: Best Documentary Short
49. Aya: A case of mistaken identity at an airport brings together a man and a woman for a moody drive to Tel Aviv, Israel. The charm of many short films is their unpredictability, which meant I kept expecting this movie to become something darker, or stranger. But nope, it didn't. Nomination: Best Live-Action Short
48. Inherent Vice: Paul Thomas Anderson's stoned, silly, indulgent adaptation of Thomas Pynchon's novel would probably have fallen apart in another director's hands. At times it falls apart in his. But when Anderson writes a screenplay, the academy often nominates it: This is his fourth nod in seven films. Nominations: Best Adapted Screenplay, Best Costume Design
47. The Salt of the Earth: Director Wim Wenders delivers a handsome but surface-level exploration of the life and work of photographer Sebastião Salgado. His whole career, Wenders has never been afraid to risk sounding pretentious. Risk it he does! Nomination: Best Documentary Feature
46. Parvaneh: The story of a young Afghan woman seeking asylum in Switzerland. A sweet, generous film that doesn't make a very big impact, relative to its competition. Nomination: Best Live-Action Short
45. Feast: You may have seen this animated short about an adorable puppy and its finicky appetite if you saw Big Hero 6 in theaters. It's typical of the recent Disney style of animated shorts: cute, wordless, funny but mostly heartwarming. The gorgeous animation has the comforting feel of the feature films we're used to. It's just not very adventurous. Nomination: Best Animated Short
44. Glen Campbell: I'll Be Me: After last year's big surprise in the Best Song category with Alone Yet Not Alone (ultimately disqualified for campaign shenanigans), Oscar watchers were somewhat prepared for another out-of-nowhere selection, and this time they got it in a tiny little documentary about country music legend Campbell and his Alzheimer's diagnosis. Nomination: Best Original Song
43. Nightcrawler: Like Inside Llewyn Davis last year, Nightcrawler was the movie a lot of critics talked themselves into thinking would be nominated for a bunch of awards—but that ended up nominated for very few. Perhaps it finished just off the ballot in categories like Best Picture and Best Actor. Or perhaps voters never warmed to its broad-strokes aesthetic and somewhat pedestrian observations that the media is, like, crazy and depraved, man. Nomination: Best Original Screenplay
42. A Single Life: The elasticity of styles that can be found among the animated shorts every year makes it one of my favorite categories. With A Single Life, you get a cute little story about a woman who finds she can advance her life forward and backward with the needle on a record player. The entire film is two and a half minutes long. Nomination: Best Animated Short
41. Into the Woods: There's a lot to love and a lot to feel let down by in Rob Marshall's Sondheim adaptation. Judging by Marshall's own Oscar-nominated standards, it's better than the snoozy Nine but not as good as the Best Picture behemoth Chicago. Lower middle of the pack seems about right. Nominations: Best Supporting Actress, Best Production Design, Best Costume Design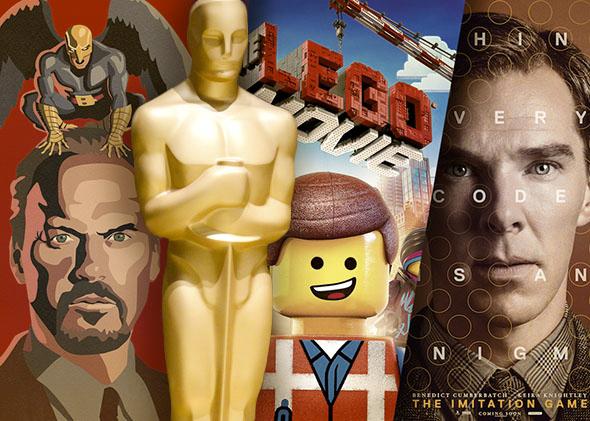 40. Dawn of the Planet of the Apes: The Visual Effects winning streak of films featuring Andy Serkis' motion-capture theatrics—two Lord of the Rings movies, plus King Kong—was snapped when Hugo defeated Rise of the Planet of the Apes. Until the academy figures out how to deal with motion-capture performances in the acting categories, it seems only fair to reward superior work like Serkis delivers in Dawn with a Visual Effects Oscar. Nomination: Best Visual Effects
39. X-Men: Days of Future Past: Did you know that this is the first movie in the X-Men franchise to get any Oscar nomination in any category? Doesn't that seem kind of nuts? No makeup nominations for Mystique's blue body paint. No visual effects nods for Magneto moving the Golden Gate Bridge. No Best Picture nomination for X2. (Yes, it deserved one.) Guess all it took was Evan Peters racing around a lab listening to Jim Croce to grab voters' attention. Nomination: Best Visual Effects
38. The Tale of the Princess Kaguya: In a typical year, the Animated Feature lineup contains a Pixar slot, a Disney slot, and a Dreamworks slot. Looks like now there's a slot for Studio Ghibli, which has nabbed nominations for The Wind Rises and Howl's Moving Castle, not to mention a win for Spirited Away. Isao Takahata's first film in 14 years is undeniably beautiful, like a watercolor come to life, but at the risk of heresy … it kind of drags. Nomination: Best Animated Feature
37. Crisis Hotline: Veterans Press 1: In a year with a few options in Documentary Short that don't hew to tradition, Crisis Hotline feels very familiar. Which isn't to say it's bad. It's a day in the life of the United States' only suicide-prevention hotline for military veterans, and it's told with sensitivity and a curiosity for the work that its subjects do. Nomination: Best Documentary Short
36. The Phone Call: Every once in a while, you get a short film with some star power. So it is here, as former Oscar nominee Sally Hawkins (plus the voice of Oscar winner Jim Broadbent) lend their talents to this story of a crisis hotline worker and a call that really shakes her up. The familiarity of an actress like Hawkins is a huge boon to a movie that is really just one extended phone conversation, though a "name" actress can sometimes feel like an unfair advantage in the shorts categories. Nomination: Best Live-Action Short
35. Wild Tales: If Wild Tales had been an English-language movie, there's no way it would even get close to an Oscar nomination. This series of vignettes—most of them darkly comedic, most of them circling a theme of vengeance—plays like lesser Tarantino and would probably be brushed off as a popcorn movie and nothing more. But in a Foreign Language Film race where so many entries are solemn, thoughtful, slow affairs, Wild Tales plays like a hugely refreshing change of pace. Nomination: Best Foreign Language Film
34. The Dam Keeper: The most painterly of all the animated films this year, this follows a cute little pig as he serves as the protector his village. Except for some opening narration, there's not any dialogue, which gives the melancholy little tale an added layer of poignancy. Maybe I've seen too many of these kinda-sad, kinda-pretty animated shorts, but my enthusiasm was muted. Nomination: Best Animated Short
33. Tangerines: This is Estonia's nomination in the Foreign Film category, though the film takes place in Georgia, where, we are told, Estonians emigrated once, only to return to their native land when armed conflicts began besieging the former Soviet republics. Tangerines is an interesting blend of new trends in the Foreign Film category (toward tougher, bleaker films) and old ones (it wraps itself in a poetic ending that is maybe a little pat). Nomination: Best Foreign Language Film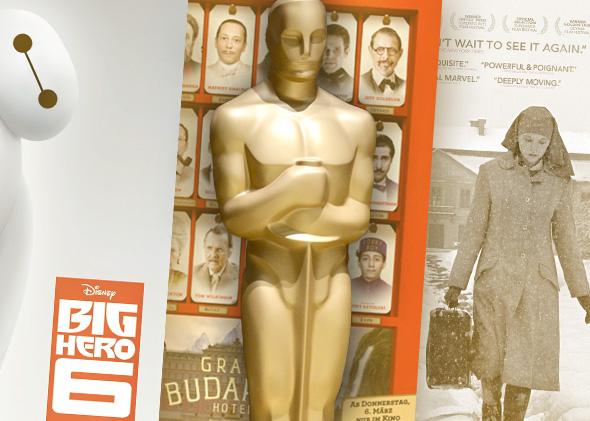 32. Butter Lamp: It takes a while to get used to what's going on in Butter Lamp, which depicts a photographer setting up group shots of Tibetans in front of various backgrounds. The poignancy, humor, and thoughtfulness of the setups (the Great Wall, Disney World) add up to something more like a conceptual art project, reminiscent of the far heavier The Missing Picture, nominated in Foreign Language Film last year. Nomination: Best Live-Action Short
31. The Grand Budapest Hotel: As a longtime Wes Anderson fan, not to mention a longtime Oscars fan, I find myself puzzled that his greatest Oscar success by far is coming for my least favorite Wes Anderson film. And it's not that I can't see the artistry on display; the film's art direction and nesting-doll narrative beautifully depict an old world that no longer exists, and probably never existed the way we thought. But the dialogue feels sloppy, the tone is nastier than I want from a Wes Anderson movie, and the casting, for the first time (and this is saying something), felt indulgent. I'm happy to be an outlier here, and the sight of Wes Anderson holding an Oscar will warm my heart; I'll just imagine it's for The Royal Tenenbaums instead. Nominations: Best Picture, Best Director, Best Original Screenplay, Best Film Editing, Best Cinematography, Best Production Design, Best Costume Design, Best Original Score, Best Makeup and Hairstyling
30. Beyond the Lights: Another movie whose success I applaud even as I wish I'd have been able to connect to it better. I loved everything about Gugu Mbatha-Raw's performance as a Rihanna-esque pop star trying to survive the trappings of her fame; loved Minnie Driver as the stage mom; was incredibly impressed by the attention to detail. The romance at the center was clumsier than it should have been, leaning heavily on the chemistry of Mbatha-Raw and Nate Parker to compensate for some cringey dialogue and ill-advised subplots about local politics. But I dearly wish the film had garnered the huge audience it deserved, because movies like this and filmmakers like Gina Prince-Bythewood are essential. Nomination: Best Original Song
29. Leviathan: The big story here is that a movie this critical of the Russian establishment—the way government corruption filters down to destroy the lives of ordinary, good families—was selected to be Russia's official foreign submission to the Oscars. The film itself certainly makes an impression, with its whale-skeleton metaphor about how the cross-contamination of government and business is too big a monster to fight. I'm pretty sure I got it. Nomination: Best Foreign Language Film
28. Boogaloo and Graham: There's a kind of guilty bashfulness that I feel when I end up liking a film featuring cute kids. Like I just got taken in by a very simple confidence scheme. Boogaloo is a sweet tale of a pair of brothers in Northern Ireland whose father gifts them with a pair of baby chickens to raise. Cute kids and baby chickens and I still liked it! Yes, I would like to guess which card is the ace of spades. Nomination: Best Live-Action Short
27. Song of the Sea: Back in 2009, everyone was shocked by a nomination for director Tomm Moore's The Secret of Kells, but after a few years of cats in Paris and Ernests and Chicos, we pretty much expect one or two animated films from outside the mainstream to get nominated. Song of the Sea is a rather lovely one. Nomination: Best Animated Feature
26. Guardians of the Galaxy: Over the summer, when Guardians was tearing up the box office and sending audiences fluttering up to the heavens on little Groot leaves, there was a lot of talk about whether the film might end up being a Best Picture contender, and what it might mean for Hollywood and the awards process if it didn't. Thankfully, like all big talk about giving Oscars to summer blockbusters, it died down after August. This charming, slight, silly adventure wouldn't hold up all that well to the scrutiny the biggest Oscar nomination would bring. Then again, look at all those Best Picture nominees waaaaaay behind Guardians on this list. Nominations: Best Visual Effects, Best Makeup and Hairstyling
25. Two Days, One Night: Jean-Pierre and Luc Dardenne have never once been nominated for a Foreign Film Oscar. Not even this year. But through a clever bit of noncampaigning (every time Marion Cotillard didn't show up at a precursor event, some critic would write about what a shame it was she was being passed over), their film managed to snag a mention in one of the big four categories. That's not bad. Hopefully it leads to more people seeing this quiet, powerful movie about a woman going door to door in her community to try and save her job. Nomination: Best Actress
24. Virunga: Two flavors of advocacy documentary collide in this one, part a plea to help safeguard a preserve for the last known mountain gorillas on Earth, part an exposé on the military conflicts in the Congo. That neither one of those stories feels short-changed, nor do they feel jarring side by side, is a credit to director Orlando von Einsiedel. Nomination: Best Documentary Feature
23. Our Curse: I'd love to be able to go into detail about this short film, a look at a pair of new parents whose child suffers a rare condition that requires a ventilator every night or else he will stop breathing and die, but if I think about it for too long, I'm just going to start sobbing again. The miserablism of the doc shorts is sometimes made fun of; there are years where the list reads like "cancer, Holocaust, suicide, euthanasia, Holocaust again." This year's nominees could certainly fill out a similar checklist. But this heartbreaker of a film is a reminder that reducing these films to their subject matter is a great way to miss out on some intimate, disarming filmmaking. Nomination: Best Documentary Short 
22. Ida: Many years, a foreign film is so acclaimed that it manages to get some spillover attention in the other categories. And while Ida's black-and-white cinematography was lovely, I wish this film had followed in Amour's footsteps and garnered a Best Actress nomination for either of its leading ladies, Agata Kulesza and Agata Trzebuchowska. It's their performances—one all sheltered curiosity, the other boozy, weary, and wise—that make this film special. Nominations: Best Foreign Language Film, Best Cinematography
21. Still Alice: Throughout awards season, this movie has been treated solely as a Julianne Moore vehicle. A car service, in particular. One that picks her up from the airport and drives her directly to the Best Actress Oscar she so richly deserves. But it's too bad the rest of the movie couldn't get a little love, for its smart and sensitive storytelling, or for its great supporting performances from Kristen Stewart and Alec Baldwin. Moore still towers over the film, but it's a shame that the academy couldn't look beyond her. Nomination: Best Actress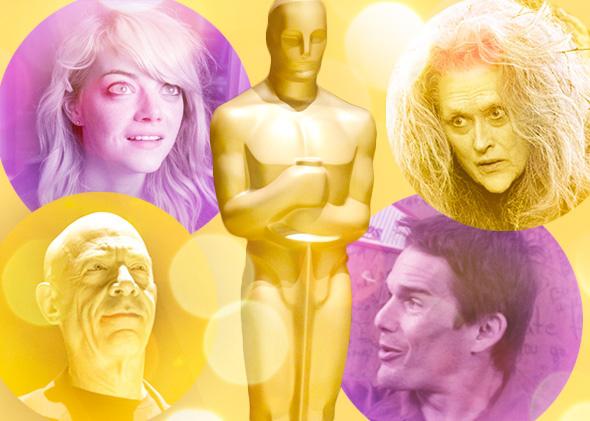 20. Me and My Moulton: The thoroughly charming Me and My Moulton, about a young Norwegian girl trying to deal with the awkwardness of having nonconformist parents, looks like a storybook come to life. The widely varying storytelling and animation styles in the five nominees in this category are why I'll never complain about the Oscar ceremony's little categories that, supposedly, nobody cares about. As long as the Oscars keep giving this modicum of attention to shorts, and it gets a handful of people into theaters where they're showing them during Oscar month, then it's worth it. Nomination: Best Animated Short
19. How to Train Your Dragon 2: The first How to Train Your Dragon was a wonderful, remarkable film that would have won the Best Animated Feature Oscar if it hadn't been up against Toy Story 3. (Some of us might say it should have won anyway.) The sequel isn't as magical as the original, but it's a hugely likeable, exciting follow-up, and if it ends up winning this year, it'll be among the more worthy makeup Oscars in a while. Nomination: Best Animated Feature
18. Last Days in Vietnam: The most traditional of the documentary nominees, both in subject matter and in structure, Last Days in Vietnam is nevertheless eye-opening in its exploration of the fall of Saigon, never straying from its central question: Did we do enough to get everybody out? The arc of film history appears to be bending toward less traditional docs—this is why Citizenfour has gotten the most attention of this year's nominees. Thus far, the Exit Through the Gift Shops and Act of Killings have been merely barking at the door. This is the first year it feels like traditional docs like Last Days won't be able to hold them off. Nomination: Best Documentary Feature
17. Gone Girl: How on earth did Gone Girl end up with only one nomination? A legitimate blockbuster, directed by a multiple Oscar nominee, starring a leading man so beloved by the academy that they dedicated the 2012 Oscars to apologizing for only nominating him once. Did the potboiler nature of Gillian Flynn's source material really keep voters away? The divisiveness of the "is it good for women?" debate? I honestly don't know what went wrong here. Nomination: Best Actress
16. Big Hero 6: Sure, it's predictable. But it's also undeniably one of the most exuberant, inventive, genuinely heartfelt movies of the year. Nomination: Best Animated Feature
15. Interstellar: That nobody is clamoring about the injustice of Christopher Nolan being left out of the top categories suggests that he's fallen off from his Dark Knight heights—or else we've all just gotten used to the fact that Oscar voters view his movies as less than the sum of their parts. It's a shame—we need directors with oversized ambitions. Nominations: Best Production Design, Best Original Score, Best Visual Effects, Best Sound Mixing, Best Sound Editing
14. Finding Vivian Maier: For an unassuming documentary about an uncovered trove of photos from a lost photographer, this film is unexpectedly fascinating. And far from finding director John Maloof's presence in Maier's narrative irksome, I thought it added to the feeling that the audience was actively taking part in unearthing her secrets. Suddenly, we're complicit in the act of exposing an artist's work, perhaps against her wishes. It feels daring. Nomination: Best Documentary Feature
13. Captain America: The Winter Soldier: Sorry, I know I'm supposed to see the Marvel movies as representative of the downfall of the cinema. But I'm unwilling to demonize movies this dedicated to bringing an ambitious, multilimbed storytelling experiment to mass audiences. Popcorn blockbusters have generally been treated by the Oscars as disposable platforms for effects innovations; it's tough to suddenly start looking at megamovies for their invigorating storytelling when you never have before. But I think Winter Soldier deserves that. Nomination: Best Visual Effects
12. Birdman: Every time I think about Birdman, I get annoyed. I get annoyed by Alejandro González Iñárritu's self-aggrandizement, his operatic wailings on the behalf of genius artists besieged by critics. I get annoyed by the fact that Birdman purports to be about the theater but is only interested in making points about the movie business. I get annoyed by the subtitle. And I get annoyed that a movie that is actually saying half of what it thinks it's saying about art may well win Best Picture. But in my annoyance I often forget that this is a dazzling film to look at and experience; that it's an odd and darkly comedic movie, two attributes I prize in films and that Oscar voters usually scorn; that it's exquisitely shot and acted by a talented ensemble; that Birdman could end up inspiring other projects that I end up liking a lot more. I'll still be annoyed if it wins Best Picture. Nominations: Best Picture, Best Director, Best Actor, Best Supporting Actor, Best Supporting Actress, Best Original Screenplay, Best Cinematography, Best Sound Mixing, Best Sound Editing
11. The Lego Movie: Can we now start wondering what kind of a problem animators have with Phil Lord and Christopher Miller? Not only was this movie shut out of the Animated Feature category, but the Cloudy with a Chance of Meatballs movies have been too, despite their popularity (and greatness). At least the film's standout element, that insidiously catchy "Everything Is Awesome," got the recognition it deserved. Nomination: Best Original Song
10. Timbuktu My favorite of the foreign-language nominees this year comes from Mauritania, a first-time nominee in this category. It's been heartening to watch the category expand over the last decade or so, branching out from the usual haunts of France, Italy, and Sweden to cover a more comprehensive vision of foreign film. Timbuktu couldn't be more vital, telling a story about an Islamist takeover in West Africa. That it tells such a story without extravagance and with a careful focus on its characters makes it worthy of winning, though it probably won't. Nomination: Best Foreign Language Film
9. Joanna: Of the two utterly devastating Polish documentary shorts about adorable families suffering the capricious whims of an impassive God, I prefer this one. Joanna is slightly less crushing than Our Curse, in part because its camera acts as unobtrusively as in any documentary I can recall. There's no acknowledgement of a film being made here, so the film captures some incredibly intimate, unguarded moments from its subjects, a family coping with terminal cancer. Nomination: Best Documentary Short
8. Begin Again: Writer/director John Carney's follow-up to Once didn't receive the acclaim that its predecessor did, though it ended up getting the exact same Oscar nomination. ("Lost Stars" probably won't win like "Falling Slowly" did.) I spent much of this film marveling that I wasn't more irritated by this story of a down-and-out music producer (Mark Ruffalo) who discovers a sad singer-songwriter (Keira Knightley) in a bar and decides to produce her record. But the film walks a difficult tightrope between sentimentality and a kind of process story about making music off the grid, and in the balance it finds an unvarnished sweetness. Also amazing: The nominated song sounds so great, despite being performed by Adam Levine. Nomination: Best Original Song
7. The Bigger Picture: Often, the Best Animated Short category can be a kind of exhibition for innovative, uncommercial animation techniques. Sometimes the shorts can tell the kinds of stories that would be rare to see in an animated feature. With The Bigger Picture, both are true: The mix of painting and stop-motion allows the story of an aging mother and her two adult sons to unfold impressionistically. It's both devastating and groundbreaking, and it'll be a real shame if Daisy Jacobs and Christopher Hees don't get called up to the podium for it. Nomination: Best Animated Short
6. Mr. Turner: Other than the miraculous year of Secrets & Lies, Mike Leigh's films never end up with the most nominations—but they are almost always among the best films in any given Oscar class. And so on the heels of Vera Drake and Happy-Go-Lucky and Another Year comes Mr. Turner, a modest but unfailingly gorgeous portrait of the latter years of painter J.M.W. Turner. And while neither Leigh nor Timothy Spall, as Turner, was recognized specifically, the academy had the good taste to spotlight Dick Pope's stunning, painterly cinematography, which (after we've all had our good-natured chuckle at Cheryl Boone Isaac's nomination-morning blooper) will be the film's enduring Oscar legacy. Nominations: Best Cinematography, Best Original Score, Best Costume Design, Best Production Design
5. Citizenfour: It's more than just the journalistic coup of getting access to Edward Snowden as he blows the whistle on the NSA that makes Laura Poitras' film so fascinating. Poitras' no-frills, in-the-trenches approach to filming was absolutely the right choice, as it put on display how the choices that were made in the moment—by Snowden, by Glenn Greenwald, by Poitras herself—would have vast ramifications. This is history being made, and the film knows it—and lives up to the moment. Nomination: Best Documentary Feature
4. The Boxtrolls: It's a puzzle why this third film from Laika animation studios (after Coraline and Paranorman) has been its least well-received. Not only is it the best in the Animated Feature category, but I'd place it on my Best Picture ballot too. The animation, a mix of traditional stop-motion and digital, is fantastically playful and grotesque. And the story is equal parts wry, heartfelt, and goofy; it's the kind of fairy tale that feels modern and wise without ever winking at the audience. It's a lovely film, and I hope audiences who might have let it pass them by will give it a second chance. Nomination: Best Animated Feature
3. Wild: Don't worry, it's not too late to be angry that Wild was snubbed for Best Picture, or a host of other awards for which it was more than worthy. It's easy to understand how the metanarrative surrounding the movie became about Reese Witherspoon, her personality, her "comeback," her producing acumen. But the film is so much more than that, from Nick Hornby's smart adaptation of Cheryl Strayed's memoir to the exacting cinematography and intuitive editing and the vision of director Jean-Marc Vallée. Nominations: Best Actress, Best Supporting Actress
2. Boyhood: There's a thread of criticism for Boyhood that it tells no story at all—that it's merely an uneventful sequence of events that would have been given no notice without the attention-grabbing 12-year shooting schedule. But in Boyhood, form informs function. The passage of time is simply one more element that Richard Linklater gets to play with, and he does it beautifully. If the academy ends up voting for Boyhood to win Best Picture, it will be making one of its better decisions in recent memory. Nominations: Best Picture, Best Director, Best Supporting Actor, Best Supporting Actress, Best Original Screenplay, Best Editing
1. Selma: Ava DuVernay's film about Martin Luther King's fight for the Voting Rights Act was nominated for two Oscars but could, and should, have been nominated for a whole lot more. Its thoughtful take on history managed to bring a whole canvas of characters to life without relying on the usual biopic beats. Complain all you want about the expanded Best Picture category, but it managed to make room for the year's best film, so that's something. Nominations: Best Picture, Best Original Song