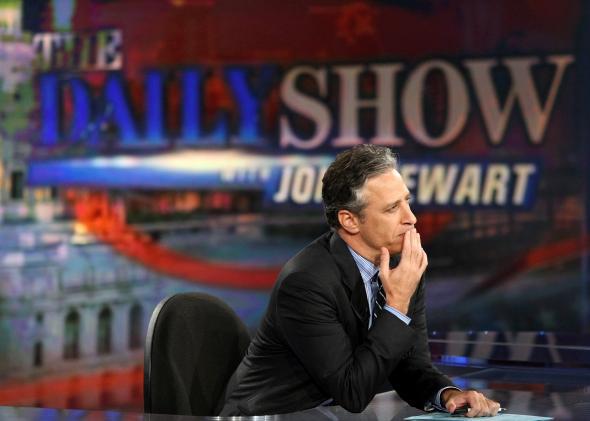 Jon Stewart's announcement this week that he would be leaving The Daily Show after 16 years was greeted with the frantic, lately frequent parlor game of who should replace him as a late night host: maybe Jessica Williams, Samantha Bee, John Hodgman, Craig Ferguson, or someone else? But over The Daily Show's run, Stewart has undergone a transformation, and not just in the color of his hair, which is still too thick to part, but now sticks up from his forehead in an all-silver hank—a silent testimonial to the exhausting, grueling nature of his daily gig. He has transformed from a comedian and entertainer into a moral authority. How do you replace that?
There was a time in The Daily Show's run when Jon Stewart's ascendance as the "most trusted man in cable news" was a cause for much hand-wringing. If the jester was more reliable than the newsmen, something was broken. Well, something was broken, and it allowed the jester to become a newsman. It is now widely accepted that many informed consumers—particularly young men—get their news first and foremost from Jon Stewart, and that this is not, in fact, a bad place to get one's news. After all, he is more dedicated to transparency, truth, entertainment, and analysis of the levels of spin that paper over and politicize seemingly every aspect of American public life than nearly any other so-called news program.
In thinking about who should replace Stewart, it's worth thinking about why he needs replacing at all. Stewart's decision to leave seems entirely personal. He said on last night's show that he is feeling "restless" and would like to eat dinner with his family, who he hears are "lovely people." But Stewart's announcement comes just months after his colleague Stephen Colbert finished The Colbert Report to take over for Letterman on CBS. Both men felt that now—a few months before a new presidential election kicks off in earnest—was an appropriate time to move on from gigs, by all reports, they loved. Why? I think it speaks to what they accomplished: the general humiliation of the undying buffoon that is cable news.
Over its run, The Daily Show became a laser-sharp, hilarious, bullshit-calling, fact-checking organization dedicated, first and foremost, to exposing the hypocrisies of cable news. On the episode in which he announced his retirement, Stewart was still at it, opening with a segment that skewered Fox News for praising an authoritarian Muslim King, who is not, of course, Obama. But cable news is not the target it once was, and that is due in no small part to Stewart and Colbert and all of their descendants.
Cable news still offers up a cornucopia of idiocy nearly every single day, as The Daily Show nightly proves. Fox, in particular, remains the most public face of a certain strain of nefarious American paranoia. But cable news' reputation is in tatters. Is there anyone, even cable news viewers themselves, who do not harbor some degree of skepticism about cable news channels, even if it is about the channels they don't watch? Stewart's Daily Show and its progeny have done their job almost too well. Cable news carries on—ideological, craven, and absurd as ever, but also exposed. As my colleague Chris Wade wrote in his argument that the Daily Show should be retired, Stewart's recent sendup of Fox was "clever and damning. But on the subversive scale, it barely registered."
American political culture remains divisive and toxic, built on controversy and distrust, but cable news is no longer the most fetid, necessary place to root all this out, just the easiest place to document it. Could any send-up of cable news, at this point, feel—or even really be—subversive? As we all continue to make wagers on who should replace Stewart, let's think not only about selecting a very funny person with the heart of a truth-teller and the soul of a mensch, but someone keen to track down hypocrisy and stupidity in our inboxes, Facebook feeds, message boards, Twitter spats—all the digital cesspools that have, in the absence of a Jon Stewart to call them out, become more rank, unruly, and confrontational than any cable news dial.
---