The Oscars are a spectacle of such hollow pageantry that they make politics look like a meritocracy, and yet it's nevertheless both flabbergasting and vaguely sinister that Cake—a smarmy and self-satisfied drama starring Jennifer Aniston as a woman suffering from chronic pain—has become the Cinderella story of this year's awards season. Cake is so unappetizing that Cinelou Films (the upstart production company responsible for its financing) had to grow its own distribution arm in order to ensure the film's release, effectively buying its own product. And yet, after three months in which the movie didn't chart on a single critic's top-10 list and remained hidden from public scrutiny following its Toronto International Film Festival debut, Jennifer Aniston's unvarnished lead performance has received SAG and Golden Globe nominations for Best Actress. How on Earth did one of the very worst films of 2014 become a near–shoo-in for an Oscar nod?
The answer has to do with the bizarre economics of the independent film world, with the work that a star is willing to put into her best shot at acting immortality, and with the grim spectacle of awards season itself. It begins with Pete Hammond, a humanoid pull-quote machine whom the studios pass around like the office stapler. The morning after Cake's TIFF premiere, Hammond—perhaps in the spirit of the ringer-filled Toronto audience that gave Cake a standing ovation before the screening—filed a Deadline Hollywood post that began: "Jennifer Aniston – Oscar contender? You better believe it." And everyone has. Cake, directed by Daniel Barnz, currently clocks in at 44 percent on Rotten Tomatoes, but Aniston has remained a fixture in the Best Actress race since Hammond fired the starting gun.
Cake, one of those cowardly little movies about an abrasive character who turns out to be so eminently redeemable that his or her hostility feels like a cheap costume (thus belittling the reason for it), tells the story of a woman named Claire Simmons, who suffers from chronic pain due to a mysterious accident. Claire's face is carefully scarred in the compromised sort of way that codifies Aniston's performance as brave enough to backbone an awards-season narrative but not so hideous that people wouldn't pay to look at it for 100 minutes.
Critic Wesley Morris, in his fair-minded and often admiring assessment of the film, wrote that "[i]t takes the entire movie to explain why she has gashes on her legs, chest, and face, and why her heart and mind are so deeply wounded. But you'd have to be from outer space not to understand what's going on here." Cake's refusal to address the (howlingly predictable) cause of Claire's pain effectively reduces the grieving process to a parlor game. Much has been made of the fact that, aside from her fake scars, Aniston doesn't wear any makeup in Cake, but this is no vanity-free performance. By lamely attempting to hide the circumstances of Claire's accident rather than exploring the full extent of their emotional toll, Cake ensures that its most relevant dramatic question becomes: Why is this beautiful person slightly less beautiful than we've been conditioned to think she should be? What unspeakable event could have caused this atrocity?
Morris continues: "What's really going on is that Aniston needs to be part of someone's Oscar conversation." Cake is not a reflection of a system in which films exist for awards more than awards exist for films—it's a product of it. Cake, more brazenly than any other movie in recent memory, reveals that the Oscars are a sport, and—like all sports—they're won by whoever wants it most (provided the player has deep pockets, as this league has no salary cap). And Cinelou and Jennifer Aniston really want it. "Let's hope the fourth time's the charm," she said at the Toronto post-screening Q&A, referring to the number of times she's attended awards-season launchpad TIFF. In a Variety listicle called "Six Reasons Jennifer Aniston Could Win the Oscar for Cake," the actress's campaigning efforts are at the top of the list. "She's been coast-to-coast for screenings, interviews and events," the piece notes, "and she is always smart, passionate and charming." (Reason No. 7: Variety is publishing articles like "Six Reasons Jennifer Aniston Could Win the Oscar for Cake.") To shore up her chances, Aniston has reportedly retained the services of Lisa Taback, the entertainment consultant who helped push The Artist to its Best Picture win over the more deserving likes of The Tree of Life, Moneyball, and The Human Centipede II (Full Sequence). And just in case you still couldn't tell that she means business, Aniston even took the time to discuss her character with Dr. Oz, America's leading expert on chronic pain.
So it's easy to understand why Entertainment Weekly wrote that Aniston "elbowed her way" into the Oscar conversation, but that assessment isn't entirely fair. After all, Aniston is hardly the first actor to campaign for an Oscar, and she clearly believes in the film and recognizes that any attention paid to her helps the movie. Her work in Cake flatters the material with its nuance and sensitivity, scraping along the script's low ceiling, and she's been brilliant before in a variety of films that run the gamut from subdued tragicomedy (The Good Girl) to sublime absurdity (Wanderlust).
Anyway, the efficacy of Aniston's overachieving campaign shouldn't be held against her when its success calls attention to the same problem that made it possible: the dearth of good leading roles for women. Aniston didn't have to elbow her way into the Best Actress race—the field was so fallow that she just had to show up. Yes, it's a weak year, but when a film like Cake is so easily able to insinuate itself into the mix, it's a weak industry.
But the savvy folks at Cinelou can't afford to worry about that. They recognized from day one that an Oscar nomination would provide a crucial boost for their fledgling company, and they've done everything they can to make it happen. To hear Cinelou exec Courtney Solomon tell it, an Oscar nomination was less of an aspiration than it was a business plan. When asked if the company saw an opportunity to fill Hollywood's void of star-driven films made for less than $10 million, Solomon pointed to last year's Oscars: "So many of the films nominated were done outside the studio system and then ended up with various releases and ended up at the Oscars. It doesn't seem like the studios are making these films. … We just saw an opportunity there." 
And while that may seem like a cravenly cynical way of looking at it, Solomon is just playing the game, and can be held only so accountable for its rules. That Cake is such a risible film makes Cinelou seem like the bad guys here, but the fact of the matter is that Cinelou is exactly the kind of thing the film industry needs: well-funded production outfits dedicated to midbudget films that allow known stars to take risks. Judging by the promise of their next project, an Iraq war drama starring Benedict Cumberbatch and directed by the exceptionally gifted Ain't Them Bodies Saints' David Lowery, Cinelou Films is poised for a bright future. And there's no telling what caliber of talent an Oscar nomination might help it to attract. If Cake enables Cinelou to become the next A24 or Annapurna, will it have been worth it?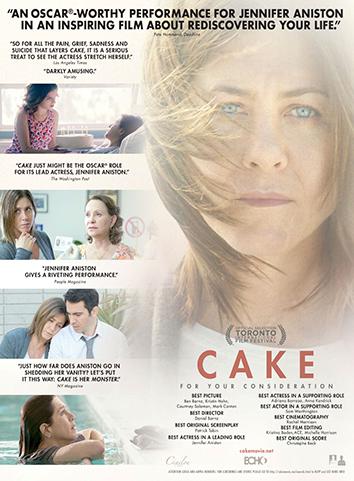 Sure, I guess. And in an Oscar race defined by the urgency of Selma, the visionary achievement of Boyhood, and the persistence of The Grand Budapest Hotel, it may be petty to focus on unflattering peripheral narratives. Still, it's astonishing just how transparently Cake's awards push has epitomized the grotesque caricature that awards season truly is. In September, a Vulture post about Aniston stated that "Cake is her Monster." (The line's now proudly featured on her For Your Consideration ad.) As of Jan. 15, when Oscar nominations are announced, it's our monster too.