On Tuesday, the Coachella Valley Music and Arts Festival announced the lineup for its 2015 festival, to be held over two weekends in April. Once again, their bill features some of the biggest names in music, with Drake, AC/DC, and Jack White headlining and artists like Interpol, Ryan Adams, David Guetta, Ratatat, and Belle and Sebastian filling out the top tiers. Another thing that's familiar about this year's roster? A noticeable lack of women. Here's what the lineup poster looks like when you show only the female-fronted acts: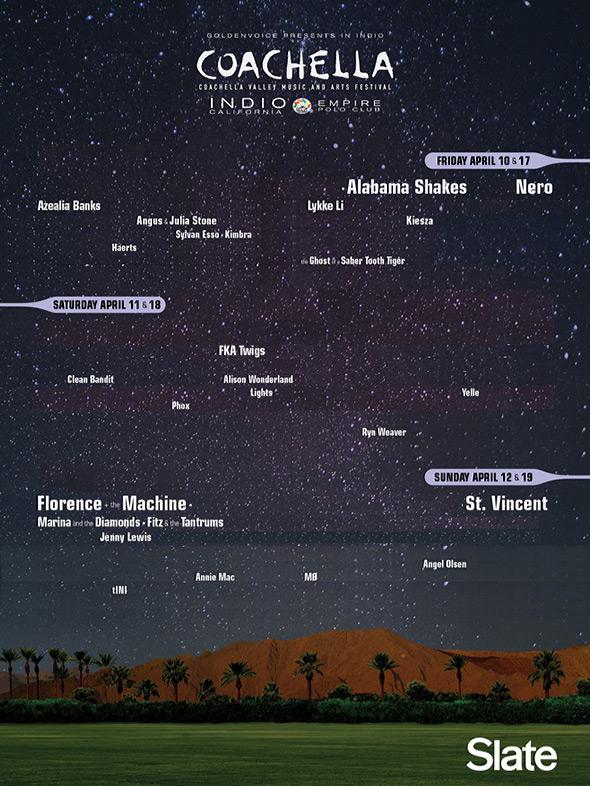 The poster above is inspired by one BuzzFeed made in 2013. That was the year that the site published a series of infographics that highlighted the festival's longstanding gender divide: It discovered that female-driven acts at Coachella, now in its 16th year, represented, on average, less than 16 percent of the total lineup. And since its inaugural year in 1999, only two female-fronted acts have ever been given top billing at the festival: Björk (in 2002 and 2007) and Portishead (in 2008).
That hasn't changed: Last year's headliners—Outkast, Muse, and Arcade Fire—were all male-fronted, as are this year's.* Even the festival's sub-headliners are mostly male, with St. Vincent, Alabama Shakes, Florence and the Machine, and Nero representing the only four woman-fronted acts nestled below the top tier. (Nero started as an all-male duo, but Alana Watson joined them as lead vocalist in 2008.) The overall number of women in this year's lineup is also down, with just 26 woman-fronted acts compared to the 28 at 2014's festival—which equals just 15 percent of the total lineup—and 15 solo or all-women acts compared to 17 last year. (I reached out to Coachella's organizer, Goldenvoice, but they had no comment.)
While the gender disparity at Coachella—as at so many of America's biggest music festivals, which often focus on more male-dominated genres like EDM, hip-hop, and rock—is nothing new, it's especially glaring on the heels of what many music critics (including some for Slate) touted as the Year of the Woman. The best-selling album of 2014, 1989, belonged to a woman. Of Billboard's Top 10 artists of 2014, six were women. And for a record-shattering seven consecutive weeks in September and October, women dominated the Hot 100 by holding down all top five positions. All of which is to say that any suggestion that Coachella's lineup simply reflects the state of music overall isn't based on the facts. A lineup that did reflect the biggest acts in 2015 would include names like Nicki Minaj, Sleater-Kinney, and Taylor Swift.
The early lineup for Governors Ball, released Wednesday morning, saw slightly better numbers for women—with 18 women-fronted acts included in the festival's less-crowded bill. And while it's not immediately clear who the headliners are (Gov Ball usually has four), if we're to go by the names at the top of the poster, the female-led Florence and the Machine would be one of them, alongside Drake, The Black Keys, and Deadmau5. That would make Florence Welch the festival's first female headliner.
But Gov Ball, which is now in its fifth year, is still fairly new, and Coachella continues to be one of the biggest and most talked about festivals in North America. For it to continue to snub women artists and, indirectly, female festival attendees, who Eventbrite found are more likely to promote the festival on social media than men, sets the precedent for other festivals to copy the "BroChella" model. That's not to say that every music festival needs to resemble Lilith Fair, but having more headlining sets like Beyoncé's memorable turn at Glastonbury 2011 would be an improvement on a number of levels. Who could object to that?
Previously
The Real Reason Summer Festivals Have So Few Women
*Update, Jan. 9, 2015: This sentence has been updated to clarify that last year's Coachella headliners were all male-fronted.