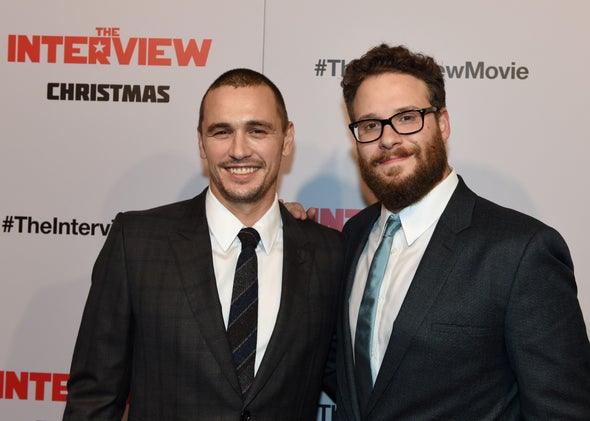 A spokeswoman from Allied, a film publicity company operating out of D.C., has announced that all D.C. promotional screenings of The Interview have been canceled for Wednesday evening. Though an email sent to members of the Washington area press didn't elaborate on reasons, the cancellations are likely related to threats from the alleged hackers of Sony's computer system. "The world will be full of fear. Remember the 11th of September 2001," the group, which calls itself Guardians of Peace, warned in late November. "Whatever comes in the coming days is called by the greed of Sony Pictures Entertainment."
The Interview stars Seth Rogen and James Franco as hapless friends who are sucked into a Kim Jong-Un assassination scheme. The New York City premiere of The Interview has already been called off, as have promotional appearances by Rogen and Franco. As of this post, a Slate writer was able to confirm by phone that the New York City screening scheduled for 8 p.m. at AMC Lowes on West 34th Street is also canceled, though no official email has yet been sent.
Update, Dec. 17, 5:06 p.m.: It's official. Sony has pulled The Interview from theatrical release. Here's the full statement:
In light of the decision by the majority of our exhibitors not to show the film The Interview, we have decided not to move forward with the planned December 25 theatrical release. We respect and understand our partners' decision and, of course, completely share their paramount interest in the safety of employees and theater-goers.
Sony Pictures has been the victim of an unprecedented criminal assault against our employees, our customers, and our business. Those who attacked us stole our intellectual property, private emails, and sensitive and proprietary material, and sought to destroy our spirit and our morale – all apparently to thwart the release of a movie they did not like. We are deeply saddened at this brazen effort to suppress the distribution of a movie, and in the process do damage to our company, our employees, and the American public. We stand by our filmmakers and their right to free expression and are extremely disappointed by this outcome.
---