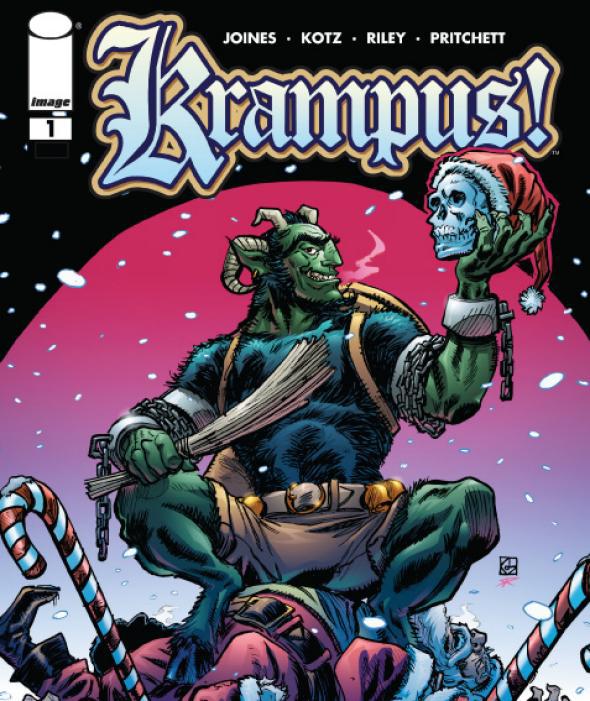 Christmas stories in all genres tend to be as sweet as a chocolate-covered candy cane slathered in maple syrup. There is, of course, the subgenre of the self-consciously sour Christmas story, notable entrants including Bad Santa and the It's Always Sunny in Philadelphia Christmas special, which featured a naked, greased-up Danny DeVito emerging from a leather couch. But such Festivus miracles are few and far between.
Fortunately, there's Krampus!, an Image Comic that becomes available in collection form this month. The story, written by Brian Joines and illustrated by Dean Kotz, takes the holiday lore we're all familiar with, then slices and dices it and puts it back together. The result is a warped, comical world where fiendish Christmas demon the Krampus is something of a hero. And without taking anything away from the great Howard Chaykin's Black Kiss Christmas Special or Kitty Pryde's Christmas Eve demon fight, Krampus! is the best Christmas comic I've ever read.
Much of the credit for that goes to Joines' most delightful invention, the Secret Society of Santa Clauses. This group is basically the United Nations/Illuminati of Santas, including such characters as the Netherlands' Sinterklaas, Afghanistan's Baba Chaghaloo, Japan's Hoteiosho, and Italy's Babbo Natale. Like the United Nations, they're an ineffectual bunch motivated by centuries-old conflicts. The Santas have mystical powers, but those powers are lost when the bones of St. Nicolas are stolen.
The powerless, bickering Santas have one hope: the Krampus, an enemy they've kept under lock and key for years. The Krampus is a demon from German folklore known for punishing wicked children by shoving them in a sack for easy transport back to his lair. In this story, he's our anti-hero. And after he reluctantly agrees to help his goody-goody captors, he tries to unwrap the mystery of the stolen bones while facing off against nearly every holiday-themed character you can imagine, including a horde of evil Sugar Plum Fairies, a murderous version of the Nutcracker, a gun-toting Doc Holiday, and a scary-powerful Old Man Winter. The Santas aren't the most trusting group of guys: They arm Krampus with a naughty bomb, and if his thoughts or actions are too naughty, the Santas will blow him up. This isn't exactly a Peanuts special. 
Dean Kotz's art is another reason this comic is so good: An appropriate blend of realistic and cartoonish, it's big, bold, and cinematic. Kotz's work sometimes recalls that of Bryan Hitch, whose art for The Ultimates provided inspiration for Joss Whedon's The Avengers. Hitch made you feel like you were watching the Hulk and Giant Man on IMAX—and Kotz does the same for Old Man Winter and our man the Krampus. The Krampus' expressive faces bring to mind the high-energy art of comics legend Neal Adams, who reinvigorated Batman in the 1970s (he illustrated the classic Christmas story "The Silent Night of the Batman," among many other trailblazing works.) As with the best superhero creators, Kotz and Joines build a world that feels at once familiar and absurd.
Aside from the Christmas trapping, Krampus! is a tough comic to categorize. Most of it is humorous, but there's plenty of action, too. I'd pay good money to see Liam Neesen say "You sugar-frosted sons of bitches!" to the Sugar Plum Fairies or "I played you like a sleigh bell, old man!" to Old Man Winter. Much of Krampus! is in the spirit of Adam McKay's comedy, particularly Anchorman and his old SNL cartoon The X-Presidents. The brawling, preposterous language and general chaos are decidedly McKay-ish—and I reckon Will Ferrell would make an amazing Krampus. But the story includes mystery and adventure as well as absurd comedy, and it's mainly a deranged love letter to Christmas lore from the fat and jolly to the green and demonic. It's also one of the best and most underrated comics of the past year.
---