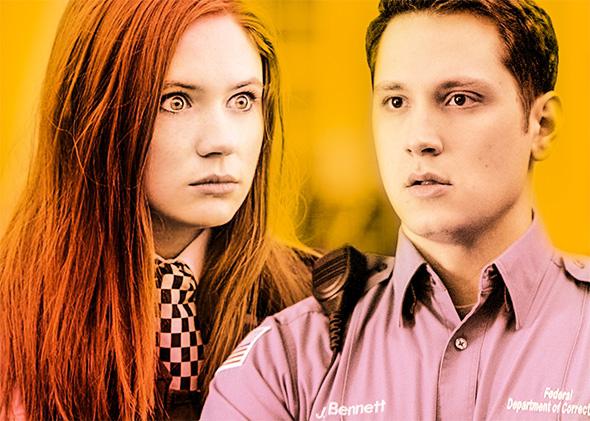 Screeniacs,
Jim, a few missives ago, you made the case for High Maintenance, observing that among its many charms was its length, or rather, its brevity. Some episodes are just five minutes long! June, you sagely suggested that sitcoms might ape the Brits (and dramas) and start thinking more seriously about limited series. I am going to take both of your hints and try to keep things relatively short myself.
We have covered a lot of ground thus far, and for the homestretch I would like to turn to acting, which, in this age of auteurism often gets short shrift. (Something we haven't discussed: Is there a finishing school where certain bright young auteurs with good ideas for TV shows get taught the finer points of sounding like a pompous windbag? You know who I'm talking about.) This year was full of great performances, many of which have been loudly and widely recognized, even if not by award-giving bodies. Matthew McConaughey, Alison Tolman, even Orphan Black's Tatiana Maslany—who went from an underappreciated diamond in the rough to confirmed superactress—are just a few of the great, widely praised performers who don't need me to gush on their behalf.
Mo, you have already chimed in for Penny Dreadful, but I want to chime in particularly for Eva Green. She plays Vanessa Ives, a woman with a traumatic past and a penchant for communing with spirits. Late in the season she became possessed, and not by some semi-friendly neighborhood spirit. Ives' possession looked painful, brutal, and physically taxing. Green threw her body around with convincing abandon and was even scarier when she opened her mouth. (I will say, Mo, that I found Reeve Carney as Dorian Grey, his kissing abilities aside, to be a total bore—a handsome dull patch.)
Prior to Penny Dreadful, I always thought of Green as the best-ever Bond girl. That may be a debate for another club, but it speaks to the regularity with which Green toggles between small and silver screens. Karen Gillan, who played Amy Pond on Dr. Who and Eliza Cooley on the canceled Selfie, also seems to me to have that kind of range, even if no one's taken advantage of it yet. Maybe it's traitorous for a TV critic to suggest that the "big screen" is still the apex of an actor's career, but Gillan just has the right tools for the movies. She's like a supertall Emma Stone, all coltish energy and screwball charm. She can do accents, she can do banter, she can do sex scenes, she can even sing. If I was making some indie rom-com, I know where I'd look for my female romantic lead.
I also want to call out two actors who were brilliant in multiple TV shows this year. Gaby Hoffmann first appeared on Girls as Adam's unhinged sister Caroline, with an intensity so unique and powerful that it was impossible not to stare. On Transparent, as the youngest Pfefferman, Aly, Hoffmann wasn't quite as imbalanced or histrionic, but she was captivating, searching, occasionally confounding.
Matt McGorry plays John Bennett on Orange Is the New Black, where he is perhaps better known as the prison guard who impregnated Daya (Dascha Polanco). As Bennett, a decent guy who is maybe not quite decent enough, McGorry has always seemed solid to me, another part of the generally awesome Orange ensemble. (And if I'm going to shout out a great performance from Orange this year, it's Yael Stone as Morello, who was hiding some serious mental issues behind her breathy accent.) But on How to Get Away with Murder, McGorry hams it up as the unctuous, bratty, insecure Asher, a character who is completely different from Bennett and completely hilarious to watch. Actors! They can actually act!
That's just the start. As ever, Hayden Panettiere is doing great work in Nashville, which is not up to her level. Veep is up to Julia Louis-Dreyfus' level, which is saying something, because she is flat-out incredible. I hope Sarah Baker gets lots of work, and not just scores of think pieces, from her turn as the "fat girl" on Louie. Tracee Ellis Ross is wonderful, both spazzy and reasonable on Black-ish. And that's just to name-check the first people who popped into my mind. What performances, great and not so great, stood out to you?
Willa
---