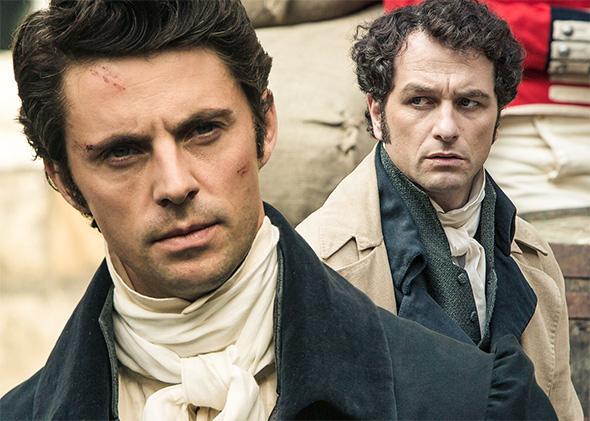 My fellow thespian-appreciators,
Yes, yes, yes to everything all of you said. I'll even agree with you, Willa, partly, about Penny Dreadful. Any scene involving Green worked like gangbusters, and I especially appreciated the fact that she could go small and subtle just as easily as she could go big and operatic. Green essentially played two roles in Penny Dreadful—an uninhibited demon-god and a damaged, driven upper-class lady—and she transitioned between them with perfectly calibrated control. I, too, didn't realize she had it in her, given that the film world was willing to let her coast on her charisma and looks. But TV knew well enough to put those mesmerizing eyes to much more interesting uses.
My expectations were similarly moderate when it came to Josh Hartnett: I was happy to have him be pretty on my screen every week, and I didn't expect much more than that. But given excellent material, he responded in kind. Like every show I love, Penny Dreadful had its blind spots. Though I was fine with Reeve Carney as Gray, his storyline meandered more than I would have liked. (I hope in Season 2 he does more than wander about in spectacular velvet jackets.) Similarly, the whole Frankenstein thread got bogged down in a repetitive plot about a petulant son whining about his treatment and asking his dad to obtain or construct a perfect female companion for him. The Proteus storyline was lovely; the Caliban sequel occasionally came off like Victorian Gamergate.
Moving away from Showtime, let me now praise actors whose terrific work flew well under the radar. Too many critics have ignored Defiance (which is not me trying to guilt you—OK, I am trying to guilt you a little bit—just know that I feel similar guilt for not having gotten to The Fosters, High Maintenance, Black Mirror, and Faking It). The Syfy show is chock-full of really good, game actors, but as the alien crime-lord couple Stahma and Datak Tarr, Jaime Murray and Tony Curran had an absolute blast this year, exploring almost every level of the twisted love and hate their characters have for each other. In a year full of terrific roles for women, Murray played one of my favorites: Stahma was raised in a culture in which women are trained to be graceful ornaments at best and silent, objectified servants at worst. With every graceful bow and quiet smile, Murray showed you the steel and fury behind Stahma's carefully controlled public persona—and after his wife took over his underworld empire, Curran imbued Datak's wounded pride with both bluster and pathetic confusion. It was "Geisha crime boss meets Goodfellas," and it was a delight to watch.
Olive Kitteridge was absolutely a murderer's row of great character actors. (You think it's humming along nicely, and then Bill Murray turns up, no big deal, whatever.) But I will see your Olive Kitteridge and raise you a Worricker. This pair of films from David Hare—whom I'd call England's Aaron Sorkin, except that Hare is able to channel his harrumphing screeds into reasonably decent TV storytelling—was almost ridiculously larded with talent. I wouldn't necessarily say that Winona Ryder did her finest work as a scarred rich girl in the first of the two Worricker films that aired this year, but her charisma was to die for, and it was tremendous to see her working alongside Bill Nighy, who could have gone full ham, but left that to his castmate Christopher Walken, who Walken'd it up entertainingly.
What are they putting into the water over there in the U.K. that allows them to churn out so many fine character actors, not just in Game of Thrones, Broadchurch, Luther and the like, but in PBS gems like Call the Midwife, Death Comes to Pemberley, and The Bletchley Circle? Anna Maxwell Martin, an actress who brings equal parts quiet intensity and watchful gravity to all of her roles, was terrific in both Bletchley and Pemberley, which is why it makes me a little bit sad that I think about four people watched both programs. The thing is, if you think Matthew Rhys was great in The Americans—and he was—know that those of us who watched Pemberley got to see him exhibit similar subtlety and intelligence while wearing snazzy waistcoats and arguing with Finn Polmar, er, Matthew Goode. Goode, who plays Polmar on The Good Wife, was also very excellent in this Regency courtroom saga, which was sort of like Ye Olde Good Wife but with a judge wearing the best wig this side of RuPaul's Drag Race.
On this side of the Atlantic, I don't think anyone in the television business, to steal a phrase from New York TV critic Matt Zoller Seitz, is having more fun than Joe Morton on Scandal. What's interesting to me is how the show has begun relying less and less on the love triangle at the center of Olivia's life and has delved deeper into the twisted power dynamics that drive the fixer's relationship with her father. Is she destined to be as morally corrupt as he is—or is she already there? With parents like hers, was she always going to end up on the highway to well-compensated hell? All of that is drama-fueling red meat that the show's writers used to full effect. But on top of that, all year long, we've seen a black father talk about what it is like to try to raise and protect his child in a hostile, unforgiving culture. Even before Ferguson and #ICantBreathe, Shonda Rhimes put that conversation right smack in the middle of a pop-culture serial about hijinks at the White House. In any event, Morton digs into all of Rowan Pope's speeches, arguments, and justifications with the abandon of a man who's only used half his range for most of his career. Morton's enthusiasm and energy are infectious and help carry Scandal when it's careening close to the edge of the high cliff it dances along.
I'd like to write pages and pages about how phenomenal the whole cast was on the late, lamented Enlisted (especially Parker Young, who essentially played a human golden retriever); how it kind of terrified me when The Comeback started turning Paulie G (the wonderful Lance Barber) into a real person who nevertheless still often has the dead, vengeful eyes that terrified me in the show's first season; how I loved watching Clive Owen's character slide into the abyss on The Knick; and how Aden Young and the rest of the Rectify cast broke my heart every single week. I also want to make it known that I would like to be adopted by Judith Light so that Shelly Pfefferman of Transparent could be my second mother. (At the very least, she would never allow me to run out of mustard.)
But instead, I am going to return to the Brits and end with a paean to Sarah Lancashire's work on Happy Valley, and not just because her character, Catherine Cawood, was a real, complex, flawed middle-aged woman and realistically written mother in a television landscape that can always use more of those. The word I keep coming back to when thinking of her performance reminds me of the Amazon show we all love: "transparent." Those big blue eyes of hers showed us everything. In their unguarded moments, they revealed all the pain that Cawood powered through every single day just to keep her family and her career going. Like the female leads in Top of the Lake and Broadchurch, Cawood cared deeply about her community and gave a lot of herself to try to make it safer, even as she battled her own doubts, fears, and demons. Months after I watched it, there are scenes from Happy Valley that I just can't get out of my head, and that's because Lancashire and creator Sally Wainwright made me care about this woman from the first moment I laid eyes on her. Before 2014, I'd never heard of either of them.
And on that note, I'm going to check out, not with visions of sugarplums dancing in my head (sidebar: what is a sugarplum?), but with visions of the unknown and underrated actors and creators who are going to make us cry next year.
Hugs,
Mo
---