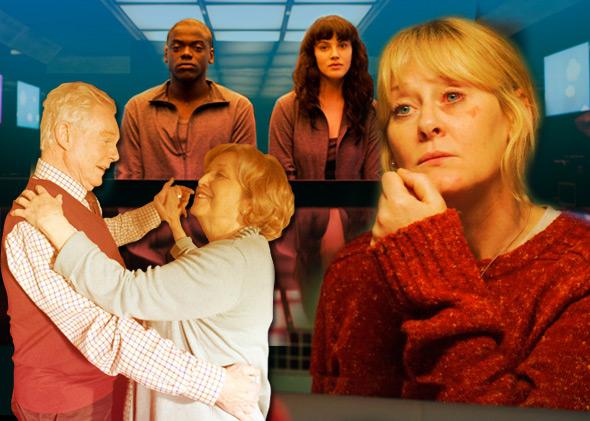 Willa, Jim, and Mo,
I'm so excited be talking TV with you again. I've been off the beat this year, so unless a show had an LGBTQ character or theme, much of my "TV criticism" consisted of all-caps-and-exclamation-point-studded IMs to Willa. I'm sure she's relieved that others will now get to hear my hot theories about the best Canadian procedural of the summer (thesis: Motive is even better than Rookie Blue, but both are excellent) and my ranked list of the year's most overrated prestige fare (1. Fargo, 2. True Detective, 3. The Affair).
Willa, since you brought up Black Mirror, the plot device I would most like to borrow from it is the memory implant from "The Entire History of You." Remembering what I enjoyed watching over the course of the previous year used to be a simple matter of looking at my DVR season-pass list. Now, thanks to all the great shows on streaming services—and all the beloved programs that were canceled (at some point this week let's each take a moment to create our own personal In Memoriam for the lost shows of 2014)—compiling a list requires advanced memory-access techniques.
After eating lots of bananas, and rewinding through the good times I had on my couch this year, here's my Top 10:
1. Happy Valley
2. Broad City
3. Orange Is the New Black
4. Transparent
5. Srugim
6. The Good Wife
7. The Roosevelts: An Intimate History
8. Jane the Virgin
9. The Americans
10. The Bridge
In 2013, the fancier reaches of the magazine world were full of overblown claims for the innovative-disruptiveness of Netflix, but 2014 was the year when I finally admitted that online streaming might really be TV's savior. It's not just the original content that made me love these services more—though Netflix's Orange Is the New Black and Amazon's Transparent were in my Top 5—it's also their acquisition of foreign shows. I've never been comfortable using nefarious means to watch foreign (which for me mostly means British) television. Now I don't have to. Netflix finally added Black Mirror in December, and this summer it aired Happy Valley just a few weeks after it ran on the BBC. Hulu enabled me to spend a chunk of the spring so wrapped up in Srugim that I was convinced I could speak Hebrew. (Belated apologies to Slate's Miriam Krule who had to endure several such "conversations.") Hulu also made available the second season of Scott & Bailey—a sort of gritty, Mancunian Cagney & Lacey created by Sally Wainwright, the genius who's also behind Happy Valley and Last Tango in Halifax. This means that instead of settling for reading British newspaper profiles of Wainwright, I was able to see her fabulous work for myself. Between these shows, The Missing on Starz, and PBS's usual Sunday night fare, it feels like the silly siloing of international television is finally on the way out.
But that's not all. Now it appears that the streaming services might also be able to save TV comedy. Obviously, Netflix had already revived Arrested Development (and made up for its missteps on The Killing by signing on to keep my beloved Longmire alive after A&E made the bone-headed decision to cancel it). But when it snagged the Tina Fey/Robert Carlock series Unbreakable Kimmy Schmidt for two seasons before NBC had a chance to air a single episode, it felt like something else was happening: A show was being given a chance to prioritize finding its creative feet over finding its audience. It's dispiriting to see potentially great sitcoms—like Selfie, whose unaired episodes I was glad to have a chance to watch on Hulu—canceled prematurely, but given that (nonpremium cable) TV shows are created explicitly to deliver eyeballs to the commercials that interrupt them, ratings will always matter more than quality to the networks.
In other "things that usually annoy me but actually seemed quite positive this year," 2014 being the year of the voice-over felt like a win. Over-reliance on VO can be a crutch, as it was on the fall's somewhat charming A to Z and the awful Manhattan Love Story. But its use in Outlander, Selfie, Black-ish, and Jane the Virgin was an essential ingredient in the diversity we're all so excited about.
In Outlander, we're getting a rollicking, sexy, time-traveling adventure from a woman's point of view. I'm not sure we need any extra hand-holding to cope with that—as you wrote, Mo, the treatment of sexuality in "The Wedding," and of a sexual assault in "Both Sides Now," were very specifically and unmistakably presented from the female lead's perspective. But as we've seen before in Veronica Mars and Sex and the City, even when a show is clearly aimed at women, it helps to have an audible signal that this is not just a standard television setup with a woman subbed into the exact same leading role that would usually be taken by a dude. In Outlander, what Claire desires in and from a man is very specific and not at all what Ray Donovan or Tony Soprano would look for in a mate. Among other things, Jamie's appeal to Claire lies in his willingness to sacrifice his own safety for her, his conversational skills, and his lack of judgment about her sexual experience—just as much as the way he fills out a kilt. Claire doesn't really have to tell us that explicitly, but it doesn't hurt.
In Selfie, voice-over saved the show from being a monument to mansplaining because it helped viewers appreciate that in this updated version of My Fair Lady, Eliza had just as much to teach Henry as he did her—and not just about love and romance and other girly stuff. In Black-ish, I suspect that Dre's narration is there as much to reassure viewers of color that the show is by-them-for-them as it is to advance the plot. Jane the Virgin is slightly different, because the voice is not Jane's, but that of a representative of Latino culture (credited in the closed captioning as "Latin Lover Narrator"). But it still establishes tone—playful, funky, and fully aware of the goofiness of Spanish-language television tropes—in a way that is both practical and very much of the moment. (I do wonder how well the emojis and text speak will age if or when the show hits syndication, though.)
Jim, your case for Fargo convinces me you'd make an advocate worthy of Florrick, Agos. I wish I'd shared your enjoyment of the show, but I didn't. I absolutely adored Allison Tolman's sympathetic, humane performance as Molly Solverson—I can't remember an actress doing a better job of expressing patience, politeness, and persistence in the face of condescension and old-fashioned laziness—and I liked the time leaps toward the end of the series. But aw, heck, the early episodes drove me bats. Everything so cold—yes, like Bemidji! Everyone so vile! The red herrings an even brighter hue than Lester Nygaard's orange jacket! If it hadn't been for Tolman and Colin Hanks, I'd have abandoned Fargo a couple of episodes in.
I do agree with your ode to messiness, though, Jim. For me, the vastly improved—and expanded—range of portrayals of LGBTQ people on television has in large part occurred because TV writers have become more comfortable with chaos. Saints, sinners, antiheroes, super-villains … those clear-cut categories are so 2013. This year has been about loving, mean, damaged, nurturing, complicated families like the Pfeffermans, the Fosters (who had a disappointing sophomore season, but I still enjoy dropping in on their ridiculously overcomplicated lives), and the women of the Litch. And nothing was as messy as the second, and last, season of The Bridge. I loved it.
Since all our lists are heavy on new shows—again!—I do want to speak up for a Showtime stalwart that I confess I'd stopped watching. When I came down from spending a Saturday inhaling Seasons 5 and 6 of Nurse Jackie, I found myself with even more admiration for Edie Falco's acting talents (and dreaming of a Merritt Wever–Allison Tolman vehicle). After four seasons of getting away with using drugs to cope with family life and of the stress of being the best darned ER nurse who ever lived, and a brief period of sobriety, Jackie Peyton is using again—and it is shocking. Seeing Falco in full manipulation mode is a thing of terrifying beauty—how can someone with so much goodness and kindness inside her be such an evil bitch? Jackie Peyton contains multitudes (and lots and lots of illicit pharmaceuticals).
When was the last time you looked at a TV schedule?
June
---