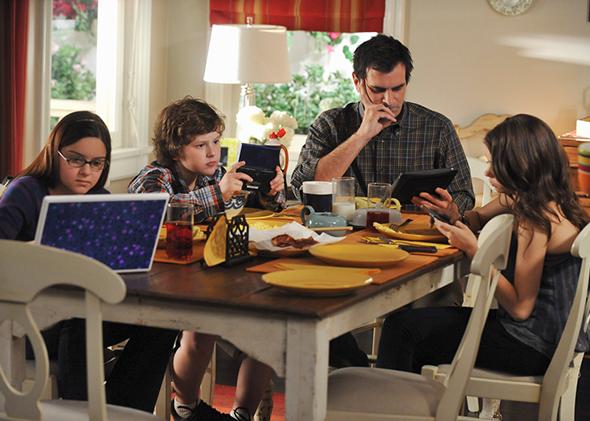 Brother and sisters of the box,
My Slate colleague Torie Bosch has a fantastic system for deciding what to read. To get past that "too much to choose from" sensation that can overwhelm a person as she stares at the shelves in a bookstore or library, she enforces a strict rotation: She reads a work of nonfiction, then a classic, after that a volume of literary fiction, and finally some genre fiction before the cycle begins anew.
I'm that way with television. Not formally, maybe, but my weekly viewing consists of a mix of Quality Programming (aka the stuff on my Top 10 list), Comedies, Procedurals, and, well, my fourth category is Stuff My Girlfriend Will Watch. Your categories may vary, but I'm willing to bet that just about everyone has their own version of one from Column A, two from Column B, etc.
This mix-and-match method of organizing my viewing is the reason I'm puzzled by television's comedy crisis. Sure, I've nodded along to the explanations for Laugherdammerung offered in all those think pieces, but given the crazy figures for how much television the average American watches—a terrifying six hours, 12 minutes a day for people in my undesirable-to-advertisers demographic—I wonder, how much undiluted stalking, SVU-ing, and NCIS-ing can a person take?
I for one desperately need some leavening. That's why I watch a whole heap of network sitcoms—currently, 2 Broke Girls, The Big Bang Theory, Black-ish, Brooklyn Nine-Nine, Cristela, Marry Me, The Middle, The Mindy Project, Modern Family, The McCarthys, Mom, and Parks and Recreation.
I'm all in on some of those shows while others are decidedly so-so. Cristela, for example, combines a charming central character and moments of sharp, barbed wit with an utterly unconvincing workplace, a creepy suitor, and lot of unnecessary battles with her brother-in-law. It's 20 percent great, 60 percent fine, and 20 percent yucky. Good enough.
Others I'll watch for an actor. Take The McCarthys, whose tagline should be, "Gentle ribbing between undemonstrative parents and their four kids: Pregnant, Dimwitted, Crabby, and Gay." It's made of meh, but there's a good chance I can find 20 minutes in my busy schedule to watch Laurie Metcalf show her TV family how to deliver a laugh line.
But desperation is never cute, and that was The Millers' problem. Anyone who expressed surprise when it was abruptly canceled obviously hadn't been watching. Yes, it was always a cynical waste of acting talent, but the writing team (led by the great Greg Garcia, who also created Raising Hope) ran out of fart jokes and Oedipal awkwardness halfway through the first season. When the show returned this fall, they'd added a Cousin Oliver: Sean Hayes, as the manager of an old-folks home who, over the course of the season premiere, became Margo Martindale's roommate and constant companion. I realize that sitcoms' need to gather their cast members together every week has always made for some unlikely household situations, but The Millers required a divorced couple to spend every hour of their leisure time with their son and his best friend/co-worker; their daughter, her husband, and child; and a rando roommate. It was preposterous. The Nov. 17 episode, in which the cast twice broke character to suck up to viewers of the show's lead-in, The Big Bang Theory, by calling them "television's smartest audience," was downright Dada. And not in a good way.
After that extended bit of oversharing, I'll circle back to something you said, Jim: "People haven't stopped looking to TV to make them laugh. They just go to different shows." You're right that they're abandoning network sitcoms for sketch-based comedy and half-hour dramedies. But why? I'm sure some of it is demographic. But there's another thing the sitcom alternatives you mentioned have in common: short runs.
Right now, the networks are caught in a vicious circle when it comes to sitcoms: Not enough people are watching, so they have to cancel shows. Meanwhile, people don't watch, because they don't have faith that programs will last long enough to learn the characters' names. We've seen the Big Four attempt more miniseries and limited-run series on the drama side of things in the past couple of years—with limited success, it must be said. Next the networks should try some eight-episode sitcoms.
I know, I know, the U.S. system is very different from Britain's, where abbreviated runs are the norm. But let's face it, the majority of new comedies end up airing fewer episodes than Fawlty Towers anyway, so why not do it intentionally? They could even go full Brit and try an anthology approach: a recurring cast of players and a shared sensibility. Call it American Comedy Story.
It's surely worth a try. If we're conditioned to believe that good shows launch in the fall, all those midseason replacements that will start to air early next year already seem like losers. The way things are going, it doesn't seem crazy to imagine that the broadcast networks will soon give up on comedy altogether—and I hate to think of a TV schedule filled with nothing but grim dramas and sharp-edged cable comedies.
No, you are journalism's smartest audience,
June
---