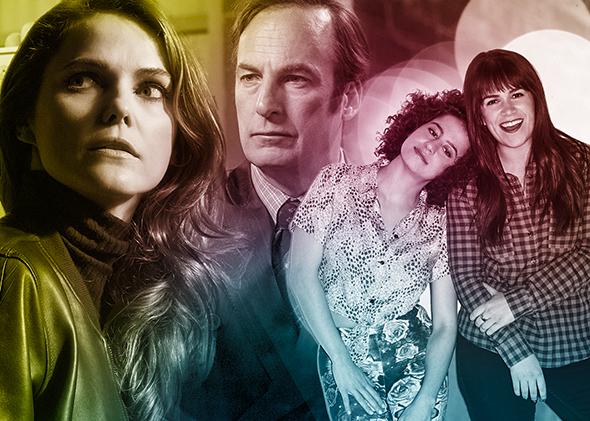 Jim, June, Mo,
The TV year, like the school year, used to start anew for real in September, with the fresh network season. But since the networks have fallen on hard times, the start of the calendar year feels like as good a place as any to mark the spiritual beginning of the TV season. We've covered a lot of television with this TV club, but looking ahead to January alone, I can sees dozen of new and returning shows I wish we could start discussing right this very second.
The Americans, Girls, Looking, Broad City, Downton Abbey, and the underrated Shameless are all back next month. Parks and Rec, Justified, and Glee also return for their last seasons—which, by the way, reminds me that we never talked about Justified and the phenomenon of shows going on for way too long. (Sorry, Justified, this is the last post, so there's no opportunity for any of my fellow-TV Clubbers to defend your honor! Can't promise I didn't do it on purpose.) ABC is whipping out Agent Carter, another superhero-inspired show, this one starring a woman. Dwight Schrute is coming back to television in Backstrom. TLC is airing a special called My Husband's Not Gay. And Fox is premiering a new series, Empire, about a hip-hop mogul and his family, that I found completely fascinating and a lot more musically compelling than the zaniest sounding show to hit network TV in quite some time: Galavant, a half-hour musical comedy about a swashbuckling, warbling prince trying to get his mojo back. And that's just January! Better Call Saul, the comedy spin-off of Breaking Bad, awaits us in February.
2014 felt a bit like a transitional year for television. Or maybe it just felt like the new normal, with all different kinds of shows rubbing up against each other, and format and style being a very poor predictor of what would actually be good. Who knows how 2015 will compare, but given that it's kicking off with Leslie Knope, Saul Goodman, a singing prince, and a drama that uses Frank Ocean as a lodestar for one of its main characters, I have high hopes.
Same time, same place next year? Until then, happy watching,
Willa
---