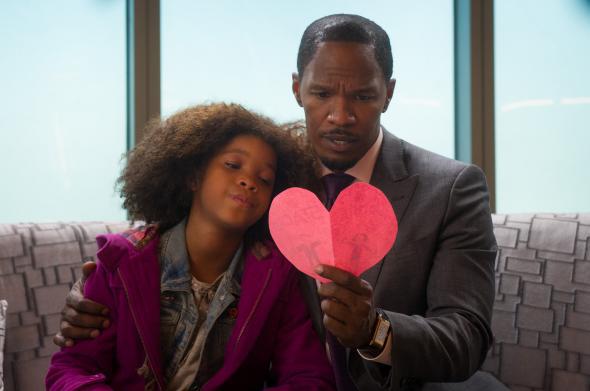 One name that came as a surprise when the Golden Globe nominations were announced earlier this month was Quvenzhané Wallis, who's up for Best Actress in a Musical or Comedy for Annie. To be sure, the 11-year old is no stranger to awards: In 2013, she became the youngest actress ever to be nominated for a Best Actress Oscar. But the critically acclaimed Beasts of the Southern Wild was poised for awards season recognition in a way that the splashy, modernized musical remake, released this past weekend, isn't. What's more, that previous nomination prompted a whole debate about whether children could really act, and some seemed inclined to dismiss Wallis' performance in Beasts as a fluke.
Aside from sharing the same lead, the two projects couldn't be more different, of course: Beasts is an imaginative fantastical indie drama sprung from the mind of a young, innovative first-time director while Annie is the third screen adaptation (including a 1999 TV movie) of a sentimental musical based on a comic strip that debuted in 1924. But both depend almost entirely on how we respond to Wallis in the lead role—and it's her performance in a middling musical that really shows her potential to grow into a great actress.
That performance was no small task: The lead in Annie has always struck me as an inferior part to the nemesis Miss Hannigan, who has the best songs and just the right dash of dark, twisted humor. Unfortunately, in the new movie, a totally game Cameron Diaz is woefully miscast as Annie's perpetually sloshed foster parent; Diaz toils in the shadow of Carol Burnett (who played the part in the 1982 film), and every line she delivers lands with an uncomfortable thud. So it falls to Wallis to make the film watchable, let alone enjoyable—and she pulls it off. In fact, she makes the movie so much more fun than it really should be considering all of its weaker elements, from the awkward interstitial music that plays over scene changes to the clumsily incorporated references to social media.
Her performance is not a surprise, exactly. As she has in many of her interviews, she comes off as the bright kid who acts her age but has a self-awareness far beyond her years. Those are the qualities that the role requires: Annie is overly optimistic, able to warm the hearts of even the grinchiest human beings (like Daddy Warbucks, renamed William Stacks in this new version, and played by a convincing Jamie Foxx). Even when saddled with passé, cutesy dialogue that is all too common in contemporary children's movies ("Slow your roll," "I'm 10, I'm not an idiot!"), she wins you over with her earnest commitment.
It's the more "difficult" scenes, though, where you'll find the real glimmers of Wallis' possible screen future. Early on in the movie, Annie visits the New York State Office of Children and Family Services to gather information on her real parents, who abandoned her when she was 4. She comes up empty, and the camera takes a moment to follow her as she sulks away from the desk. Disappointment and sadness emerge on her face, along with the impression that she is trying to suppress them; it's a complicated moment. Later, there's a narrative revelation that's new to this version of the story: Annie (spoiler alert) is illiterate. It's a misguided plot point, but it allows Wallis to tap into some of the emotions we saw from her in Beasts: She conveys real anguish and shame when, crying, she tells Will her secret.
Around this time two years ago, when Beasts was on its awards campaign, some critics suggested that Wallis' performance should be credited mostly to director Benh Zeitlin, and that it was foolish to believe that someone so young could thoughtfully inhabit the part of Hushpuppy. (The idea was that she was just being herself, and Zeitlin was crafting the part.) I disagreed then and still disagree now. Even if I didn't, though, it's awfully hard to argue that the less than artful direction of Annie by Will Gluck (Easy A, Friends With Benefits) brings much to Wallis' performance that she didn't bring herself. It's too early to guess just where her career is headed. Maybe she'll tire of the spotlight in her teen years and crave something entirely new. And history tells us that the odds are stacked against child stars. But after seeing Annie, I feel confident saying her chances are far better than most.
---