In 1980, a relative unknown named Penelope Fitzgerald surprised the London literary establishment by getting shortlisted for the Man Booker Prize for her second novel, The Bookshop. The author—61, recently widowed, mother of three, the author of two biographies as well as a previous novel—was an unlikely comer. Critics were largely dismissive, and Fitzgerald even thought her publisher was mistaken in sending her the news—this was impossible.
The outcry following that short-listing was, it turns out, just a preview to the way the press sought to humiliate Fitzgerald when she actually won the prize the very next year, for her third novel, Offshore, —in an upset: V. S. Naipaul had been expected to claim the prize. Penelope Fitzgerald: A Life, Hermione Lee's newest biography, describes a fateful episode of The Book Programme, a television show that aired after the prize was announced. The host, Robert Robinson, insults Fitzgerald on air by saying the judges made the wrong choice, then asks first Fitzgerald and then the other guests—including Fay Weldon, who would later apologize for her remarks—to weigh in on who really should have won.
In the aftermath, Fitzgerald created a new persona, a "role which she would now adopt as a useful camouflage," as Lee puts it. This new persona was firmly established by a profile that ran in the Evening News headlined, "The Original Boat Person: the lady who sailed away with £10,000," which described Fitzgerald as "that wonderfully dotty and endearing sort of lady other people always seem to have as a favorite aunt."
Her prize-winning novel drew in large part on her experience living on a barge in Battersea, cold and in poverty, during some of the most difficult years of her married life—and it was no facile autobiographical tale, but a darkly original, spare, witty novel about those who had made careful and desperate lives in those old boats along the Thames. The Booker should have made her truly famous, celebrated even. But instead, her win seemed to have made her a kind of target. And so she drew this other figure, the dotty lady, over her own image, and she hid inside it.
In her introduction to the biography, Lee describes that public illusion as part of what drew her to the writer—that, and a deep love for her writing. Lee, a long-time fan of Fitzgerald's, wanted to tell the story of a mysterious and brilliant person who spent a great deal of time pretending to be an absent-minded old lady, losing the trail of anyone who might get to know her, especially, perhaps, a biographer.  
Lee's task here is different from what faced her in her previous biographies of Virginia Woolf, Willa Cather, and Edith Wharton—all much more famous than Fitzgerald. The expectation for a literary biography is that the secrets come out. But because of the way Fitzgerald obscured, with that performative public personality, who she really was, we have never really known her before now. In the case of this biography, the real secret to come out is Penelope Fitzgerald.
* * *
The first question for many fans about the life of Penelope Fitzgerald is a plain one: Why did her career begin so late in life? Could the nine novels have been 18 if she had begun by 40? What if Fitzgerald had had a wife instead of becoming one? What could she have done?
Lee, to her credit, offers no simple answer. And she finds other, better, more interesting questions and moments. Lee introduces her to us first as Mops, as she was known to her family, also Mopsa, Penelope Mary Knox on her birth certificate, the daughter of a man and woman both descended from Anglican bishops—"BISHOP'S SON WEDS BISHOP'S DAUGHTER" read the headline for their wedding announcement in the newspaper. Her family circumstances look a little like every Evelyn Waugh novel mixed into one: There is a Bishop's palace, World War I, influenza, wounded Belgian troops boarding at the palace, margarine lines, conscientious objectors. There are brilliant parents, suffering for love, and their brilliant relations. These are her forebears, doing their best in a world that doesn't seem as good as they are.
Fitzgerald wrote about her family in her second book, The Knox Brothers, a biography of her father and his three brothers—and Lee quotes from it liberally, and memorably, throughout, as when she provides the index to describe this family's "collective characteristics":
Bath, inspiration in; Bible, knowledge of; critical spirit; Edwardian; emotion at war with intellect; family feeling; fearlessness; foreign travel, distrust of; games, love of inventing rules for; generosity; honesty; intellectual severity; love, need for; pipe-smoking; poetry, love of; rhyming, skill at; speaking ability; temper, loss of; tender-heartedness; transport, passion for forms of (railways, trams, bicycles, motor-bikes); understatement, tendency to.
Penelope "is the only member of the family to get no entry in the index," Lee notes. But by this point in Lee's book we know that these characteristics apply to Mops, too. The Knoxes were all writers and thinkers, and both Penelope and her brother, Rawle, "expected to become rich by writing novels" at an early age, Lee tells us. Did Fitzgerald leave herself out of the book because she was uncertain whether she belonged? That seems unlikely—the biography was her second published book, after all. It seems more likely an expression of that impulse to disappear.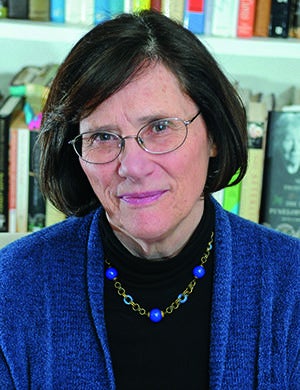 Before she disappeared, though, she glowed. Her father, a Punch magazine columnist, was so taken with the way she could build imagined worlds, he put her in one of his columns, when she was just 7 years old. At Oxford in the late '30s, she was called "The Blonde Bombshell" and "Our Penny From Heaven," and ran with a crew of Oxford women called "Les Girls." She eventually declined graduate study at the school, and she pursued her literary career with high hopes, initially writing for Punch, like her father.
Soon, as readers, we are a little in love with our Mops, now the Blonde Bombshell, beautiful and brilliant, funny, a little at sea in a four-way love affair at Oxford that "sounds like an Iris Murdoch novel." We even admire how she fell in love with the wrong person so regularly, and nod knowingly at the news that she eventually made those loves into the characters that populate many of her novels. But one of those wrong loves was a dashing young officer, Desmond Fitzgerald, and she married him.
What could Fitzgerald have written in a life without Desmond? That question falls apart once we find ourselves caught up in the story of her life—she was writing all along, but in a way that was never going to make her mark. She and her husband were two idealistic young literary people in love, who took over a magazine, the World Review, shortly after marrying, even as they also had three children. These two missions soon proved incompatible, especially as Desmond also drank too much. The Blonde Bombshell struggled for decades to pay bills and to feed and clothe her children by writing scripts for the BBC and by teaching, which she disliked and felt she had no feeling for. Desmond likewise struggled to find an occupation once the magazine failed—he tried to return to lawyering, but his time away as a writer had ruined that career. For a time, Fitzgerald even wrote a comic strip for children, Jassy of Juniper Farm. When she debuted as a biographer in 1975, with a book about Edward Burne-Jones, a Victorian painter and designer, she said, by way of an explanation for writing it, "I found I hadn't enough money."
Desmond was by then dying of cancer; he was 59. He liked mysteries, and so, to amuse him, as she wrote that first biography, Fitzgerald also wrote her first novel, The Golden Child, a mystery novel. And so we see she began her career as a novelist with a book written for her husband, who did not live to see it published, and her talent for world-making came into its own just as the one she had known until now fell apart.  
* * *
Lee structures this biography as a chronological presentation of Fitzgerald's life, but the descriptions of each period are colored by the novels and biographies they would later become a part of; the result is pleasingly impressionistic. There are various tangents, sometimes thrilling, sometimes pithy—like the recipe to what Beryl Bainbridge was drinking at a book party or the detail that Fitzgerald's first publisher, Colin Haycraft, used to call his fiction list "a branch of gynaecology." But the primary result of Lee's structural conceit is a lightly uncanny doubling of Fitzgerald's life and her work, lending the biography some of the dramatic irony of a novel. She brings us into the day of Fitzgerald's Booker win knowing the woman they were mocking that day was no befuddled aunty, but the one-time star of Oxford's literary scene, rising to the fore at last.
Fitzgerald is a bit like the mysterious Miss Froy in Hitchcock's The Lady Vanishes, the spinster teacher who turns out to be a hardened spy. In this befuddled aunty disguise, she would go on to become a major British writer by the mid-'80s, and win the National Book Critics Circle Award in America for The Blue Flower in 1997, bringing her the literary celebrity at the age of 80 that her Booker win failed to deliver.* That persona was her own long joke on those who taunted her all those years ago. Thanks to Lee's sumptuous biography, we know just how funny it was.
Correction, Nov. 9, 2014: This article originally misstated that The Blue Flower won the National Book Award. It won the National Book Critics Circle Award. (Return.)
—
Penelope Fitzgerald: A Life, Hermione Lee. Knopf.
See all the pieces in this month's Slate Book Review.
Sign up for the Slate Book Review monthly newsletter.