Throughout the 1980s and early '90s, Denis Johnson sent a half-dozen tortured protagonists careening through lower class Arizona, post-apocalyptic southern Florida, Sandinista-controlled Nicaragua, soggy Provincetown, and the heroin-rattled Pacific Northwest. These men (and one woman) were all emotionally and financially desperate, often compelled to substance abuse, and tended to drift from one awful decision to another. But Johnson always found the hypnotic energy in these low-life stories. His prose adjusted subtly for each novel, molding to each character's mindset while maintaining an imagistic, druggy stillness. Even in their titles—Angels, Fiskadoro, The Stars at Noon, Resuscitation of a Hanged Man, Jesus' Son—Johnson's early books convey a roving, exotic energy, one that belies their hardscrabble characters and dirty struggles. And then he went to Africa.
Johnson first visited Monrovia, Liberia, in 1990, then went back two years later to profile the aspiring warlord (and later Liberian president) Charles Taylor for The New Yorker. Here, it would seem, was a setting commensurate with Johnson's violent, hallucinatory gifts—a place where criminal plans could go awry as in Angels, political unrest could unravel a journalist as in The Stars at Noon, or catastrophe could level civilization altogether, as in Fiskadoro. It was also seemingly a place where Johnson could indulge his extraordinary talent for physical descriptions (years later I still remember an Arizona sunset from Angels: "fields of alfalfa breathed green heat into space") and his unrelenting focus on disquieted souls in limbo between terrifying situations and natural beauty.
Instead, he brought back two pieces of gritty nonfiction, "The Civil War in Hell" and "The Small Boys' Unit," which bookend his underrated essay collection Seek: Reports From the Edges of America & Beyond. Johnson himself is the protagonist of both, and while the writing is still inspired, these are straightforward travelogues with little of the addled glow of his fiction. Johnson travels unpaved back roads, befriends war correspondents, and reflects on humanity's appetite for conflict. He faces down bureaucratic nightmares, tours bombed-out villages, and endures endless shouting from gun-toting Liberian mercenaries. But surprisingly for a writer who found a way to make every conceivable locale seem like a pinwheeling fever dream, Johnson finds that "West Africa is the land where God came to learn to wait. And then wait a little longer."
Only now, a quarter-century after his first trip to the region, and after subsequent protagonists have pressed through contemporary rural California and the Midwest, the early-20th-century frontier, and Vietnam, has Johnson found a fictional frame to speak about West Africa. His new novel, The Laughing Monsters, takes place in Sierra Leone and the Congo and certainly reflects that earlier contention about waiting. This is a novel where action is either nonexistent or purposely confusing, and nobody ever figures out where they're going or why they're going there. The narrator, a Danish-American spy named Roland Nair, finds himself entangled and immobilized at every turn—by the deadening heat, by his uncertain mission, and most especially by his old confrere, an African businessman-soldier named Michael Adriko, who drags Nair deep into the wilderness and never quite reveals his allegiances or goals.
The monsters of the title are a nickname supposedly given in frustration to two Congolese mountains by the Victorian missionary James Hannington, the first Anglican bishop of East Africa. But they could just as easily stand for Nair and Adriko, old friends in their mid-30s whose work necessitates that they always at least partly distrust each other. These are curdled souls, worldly but so cynical they don't even respect their own cynicism. Early on, Nair reveals himself capable of horrific detachment when necessary. Between unsuccessful attempts to find a hotel Internet connection to email his fiancée, he brings a teenage Ivoirian prostitute to his room and attempts to prove himself worthy of his lawless surroundings:
I was glad she didn't know English. I could say whatever I wanted to her, and I did. Terrible things. All the things you can't say. Afterward I took her downstairs and got her a taxi, as if she had somewhere to go. I shut the car's door for her and heard the older drive saying even before he put it in gear: "You are a bad woman, you are a whore and a disgrace …" but she couldn't understand any of it.
Johnson doesn't present this behavior at all sympathetically, but it's not the only time that an African woman is reduced to rubble in this novel; others are run over, raped, and promptly discarded. The only prominent female character in the book is Adriko's fiancée, Davidia, who Nair describes strictly in terms of her unbelievable sexiness. The Laughing Monsters' moral universe is so ugly that misogyny only counts as a minor crime, but it's never clear just whose ugliness Johnson is ultimately indicting.
Like Tree of Smoke, Johnson's justly lauded Vietnam War epic, the new novel initially feels like a well-trod genre piece before a harrowingly violent scene midway through leaves all the characters and their concerns strewn like shrapnel in its wake. At the outset, Nair is in Sierra Leone to keep tabs on his old friend and uses the occasion to practice a little freelance extortion, stealing unspecified multinational secrets on a flash drive and sending them back to his girlfriend in Amsterdam. The first 50 pages are like a Johnsonian take on Graham Greene's humid morality-play potboilers. Nair keeps meeting shifty European acquaintances and distrusting everything they say. He drinks, eats, and curses his superiors. And the writing here is often spectacularly, drily funny. After one unwelcome conversational partner approaches him at a cantina, Nair grows frustrated:
The entertainment got too loud. I adjusted my screen and put my fingers on the keyboard. Rude of me. But I hadn't asked him to sit down.
"My wife is quite ill," he said, and he paused one second, and added, "terminal," with a sort of pride.
Meanwhile, two meters off, by the pool, the performer had set his shirt and pants on fire.
Johnson has always excelled in this surreal-hardboiled register, whether in his laconic private-eye novel Resuscitation of a Hanged Man or in the more traditional girl-and-a-gun register of the recent Nobody Move. I was sad to see him jettison it once Nair, Adriko, and Davidia head in-country and fall prey to a series of political and tribal nightmares. Once this happens, the love triangle that seemed to be blooming becomes a complete nonissue, and the gallows-humor narration gives way to the same staccato journalistic descriptions that Johnson employed in his Liberia reportage. The fun, or least the challenge, of the novel's opening section is in attempting to discern Nair's own trustworthiness. Is he a good man gone bad, a bad man who wants to do good, or something else altogether muddier? Once he's taken hostage and the narration is half-ceded to his own journal, any moral momentum is swept away, replaced by, to borrow a phrase, waiting:
[OCT 16 8 AM]
The commander claims to be regular Army but could easily be lying, or just confused. His cammy uniform bears no insignia. Beneath his open tunic he wears a T-shirt with the faded emblem of a bottle on it, soda or beer.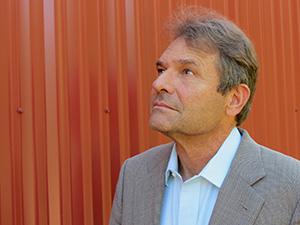 Denis Johnson has written some of the greatest nothing-doing passages I've ever read, and some of the most horrifying. His two signature books are picaresque trips through the Pacific Northwest in which the protagonists never seem in control of their lives. In Jesus' Son, set in the 1980s, that lack of control is a symptom of the narrator's heroin addiction; divided into taut, emotionally severe short stories, the book sputters and falls as characters die then reappear, or events get rearranged. In Train Dreams, the hero is Robert Grainier, an early-20th-century laborer, and though the narrative is more linear than in Jesus' Son, Grainier's path feels similarly determined—by the natural world, and by the technological progress that cuts through it in the form of trains, planes, and settlements. In both books, Johnson skillfully depicts a specific community and period of time, but he does so impressionistically. A wonderful poet as well as a novelist, Johnson's prose moves from image to image, punctuated by his characters' quiet sensations of grace or mystification. Wherever his characters are in the world, Johnson's interest is in their interior states.
But there is something in West Africa that apparently overwhelms him, and neutralizes his gift for poetic emotional chaos. This new novel never quite settles on a coherent tone, which is odd since his language is typically calibrated to exact a specific mood or mental state. His books rarely have page-turning plots, but they all have momentum. The Laughing Monsters plods, however, and Nair's isn't a full-enough consciousness to make up for it. You should still read this book; Johnson remains capable of tiny life-giving descriptions. ("Nothing now but the sound of my breath and the prayers of three small cooling fans.") He's my favorite living writer. But after The Laughing Monsters, I had to reread a few pages of Angels to remember why.
—
The Laughing Monsters by Denis Johnson. Farrar, Straus and Giroux.
See all the pieces in this month's Slate Book Review.
Sign up for the Slate Book Review monthly newsletter.