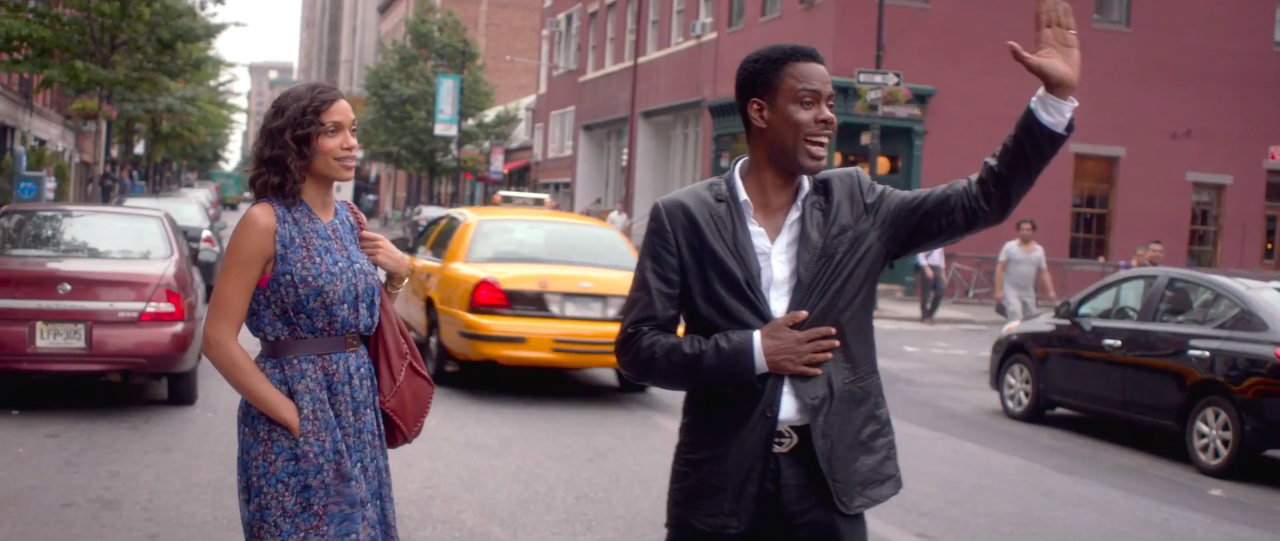 On Tuesday, we learned that Chris Rock will host the Nov. 1 episode of Saturday Night Live. Like many SNL hosts, he's got a movie to promote: In December, he'll star in Top Five, the comedy he also wrote and directed that was the breakout hit at last month's Toronto Film Festival and set off an intense bidding war for distribution rights. Now, with Paramount as its distributor (and Jay Z and Kanye West signed on as co-producers), we finally get a glimpse at what to expect from Top Five with this first trailer.
The film follows a day in the life of Andre Allen (Rock), a comedian in a rut after the shine from his Hammy the Bear film franchise—in which he apparently played a cop in a bear suit—has faded. Just as his confidence appears lowest ("I don't feel funny," he tells his assistant), and with a tabloid wedding to a reality star (Gabrielle Union) looming, in walks Chelsea Brown (Rosario Dawson), a New York Times reporter who's come to profile him and wants to get, as she says, "a couple really honest things." Then she hits him where it hurts: "How come you're not funny anymore?"
And while the rom-com undertones look a little obvious—there are several affectionate glances between Andre and Chelsea—the movie's ensemble cast of comic veterans is a big selling point. Kevin Hart, Tracy Morgan, Cedric the Entertainer, and J.B. Smoove all have great lines here—even Whoopi Goldberg has an unexpected and heartfelt cameo. (Relative newcomer Michael Che shows up briefly, too.) Adam Sandler and Jerry Seinfeld reportedly round out the cast of what sure looks like the next movie with a black star to kill it at the box office. It opens Dec. 5.
Previously
Chris Rock on Directing Jerry Seinfeld and What He Learned from Joan Rivers
---