Just two weeks after Warner Bros. and DC Comics revealed their slate of superhero movies for the rest of the decade, today Marvel announced its own equally big-name roster of films for the next five years. That list, according to a press conference, will include:
- May 6, 2016: Captain America: Civil War
- Nov. 4, 2016: Doctor Strange
- May 5, 2017: Guardians of the Galaxy 2
- July 28, 2017: Thor: Ragnarok
- Nov. 3, 2017: Black Panther
- May 4, 2018: Avengers: Infinity War – Part I
- July 6, 2018: Captain Marvel
- Nov. 2, 2018: Inhumans
- May 3, 2019: Avengers: Infinity War – Part II
Marvel's phase three plans most notably include the studio's first ever female-led superhero movie as well as its first ever stand-alone film for a superhero of color. Chadwick Boseman, who might have a shot at an Oscar nomination for his portrayal of James Brown in this year's Get On Up, will play Black Panther in a stand-alone film scheduled for 2017. (The studio also confirmed that his character will play a "big part" in Captain America: Civil War, now officially confirmed to co-star Robert Downey Jr. as Iron Man and involve the previously rumored Civil War plotline.)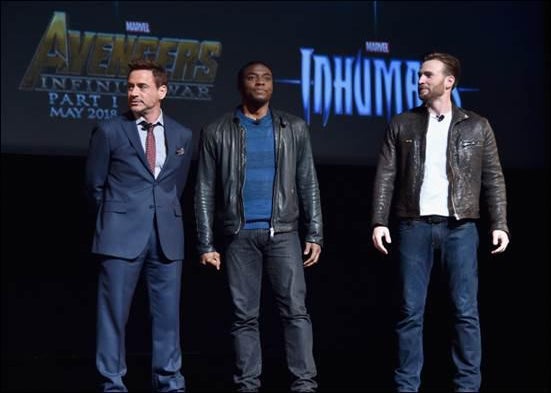 And while it appears Avengers favorite Black Widow (Scarlett Johansson) won't be getting her own franchise anytime soon, another of Marvel's female superheroes will. Captain Marvel, also known as Carol Danvers, will get her own film in 2018. Though no casting news was mentioned at today's conference, her character is already rumored to make an appearance in next year's Avengers: Age of Ultron.
Rounding out the day's big news, Marvel also revealed it will split the third chapter of the Avengers movies into two parts, subtitled Infinity War – Part I and Infinity War – Part II, to be released in 2018 and 2019. The studio also announced what most already suspected, that Doctor Strange will also get his own stand-alone film—though studio chief Kevin Feige did not confirm reports that Benedict Cumberbatch is in negotiations to star. In addition to these films, Marvel will also release its previously announced Edgar Wright-less Ant-Man, starring Paul Rudd and tentatively planned for 2015—which means the time to start preparing for a very long and overcrowded superhero movie schedule is now.