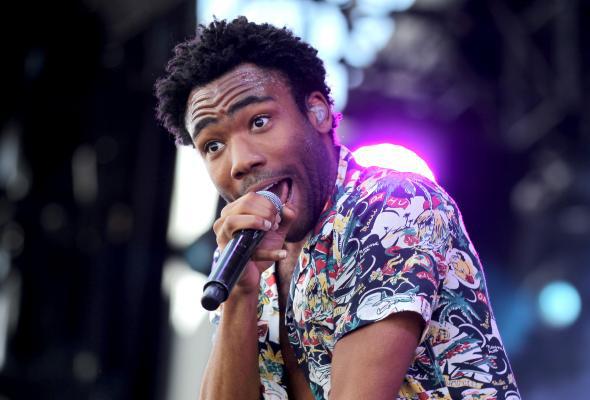 The STN MTN/Kauai mixtape, which Childish Gambino (aka Donald Glover) released today, opens in a foggy haze: "I had a dream I ran Atlanta, and I was on every radio station. And 107.9 was 97.5 again."* As ambient noise pulses in and out of the background, the rapper discusses his wistful vision for taking over the southern mecca, which includes bringing back LaFace Records and giving strippers Mother's Day off.
This is Gambino's master plan for the first half of his latest musical project, which indulges his Atlanta roots more than he ever has before. (The title refers to Stone Mountain, the Atlanta suburb where he was raised.) Over the course of 11 tracks, he exuberantly samples southern hip-hop and R&B, from Ludacris to Usher. Rapping dexterously on nearly every track, he reminds us again and again, emphatically, that he is an Atlanta native.
It can feel a little ham-fisted at times. But considering Gambino's frequent wrestling with his identity—and with the misguided notion that he is a "white rapper"—it's understandable that he would be so adamant. "I say I'm Atlanta to make a point," he recently told Complex. "If you ask like a little kid, who's more Atlanta, me or Iggy Azalea? They might be like, Iggy. So, I'm trying to say something."
And this is what makes Gambino—who seems to have dropped the "Childish," judging from the cover art and iTunes listing—one of the more interesting hip-hop artists around: He's attempting to craft his image on his own terms, even when the public doesn't care to see him in that light. On "Hold You Down" from Camp, he raps about his childhood experiences: "Culture shock at barber shops 'cause I ain't hood enough/ We all look the same to the cops, ain't that good enough?" At its best, STN MTN is an insightful and playful look at a slightly different side of Gambino, as when he breaks down his family history on "U Don't Have to Call" or briefly breaks into the melody of "The Electric Slide" on "All Yall."
In that same interview, Gambino described the mixtape—which has a second half, Kauai, featuring more of Gambino's great vocal chops—this way:
"It's a Gangsta Grillz mixtape that goes into an EP. The Gangsta Grillz mixtape is a dream, and the dream ends when I wake up in Kauai. And they go into each other; it's one complete project, but you can download the mixtape and you can go buy the EP. The money from the EP goes to help keeping Kauai clean, and … also to pay for mixers and stuff."
You can stream STN MTN/Kauai in its entirety—and download STN MTN—here. Kauai, which features the previously released, 1980s-style "Sober," will be available for download on iTunes "soon," according to the site.
Correction, Oct. 3, 2014: This post originally misspelled STN MTN/Kauai. 
---