This post originally appeared on Food52.

For the sake of your relationship with your children, I hope you made waffled grilled cheese for dinner yesterday and that you are making pasta carbonara tomorrow. Because tonight you will be having Brussels sprouts and chickpeas.
Think of it this way: You know how at dinner families are supposed to engage in the ritual known as dinner conversation? You know how children stubbornly refuse to acknowledge the existence of this ritual? Well, this problem is neatly solved by a meal of Brussels sprouts and chickpeas: There will be no stopping the conversation this evening. 
I am kidding, of course: Children love Brussels sprouts and chickpeas. Really, they do—or they might at least like them, if given the chance.
I say this knowing that the only competition Brussels sprouts have in the hotly competitive Least Tolerated Vegetable category is broccoli. But those were the Brussels sprouts of our forefathers, a time when vegetables were supposed to have moral fiber, and moral fiber meant cooking the vegetables for several hours, until you could be sure that any contrary, dissolute impulses had been reduced to mush.
These are not the Brussels sprouts of today. The Brussels sprouts of today are browned and fish sauced, shaved and zesty, crispy-fried and honeyed. They are not the sort of vegetable you bring home to mother. They may or may not be good for you. They have zero moral fiber. 
And chickpeas? If your children love hummus, just explain that chickpeas are the original hummus. But they may not need much persuading: The chickpea, with its snappy exterior and its creamy middle, is a Halloween candy of a legume, assuming your children have not eaten actual Halloween candy for a solid year now.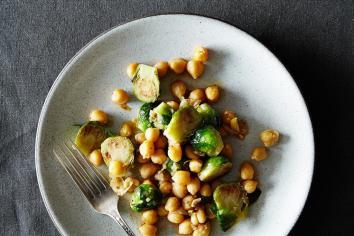 The idea for combining the two comes from Jennifer McLagan's new cookbook Bitter. (The title? Not especially child-friendly. But the subtitle, A Taste of the World's Most Dangerous Flavor? Exceedingly child-friendly.) When I wrote about it before, I was struck by this recipe (and by the Campari granita, which you can have after bedtime), which worked well as a stand-alone dinner. For added heft, strew some chunks of feta or toasted walnuts, or as always, eat with a fried egg.
Brussels Sprouts and Chickpeas
Serves 4 to 6
1 cup dried chickpeas, soaked overnight
¼ cup olive oil
1 shallot, finely chopped
¾ cup chicken stock
1 pound Brussels sprouts, trimmed and halved
2 tablespoons dry sherry (optional)