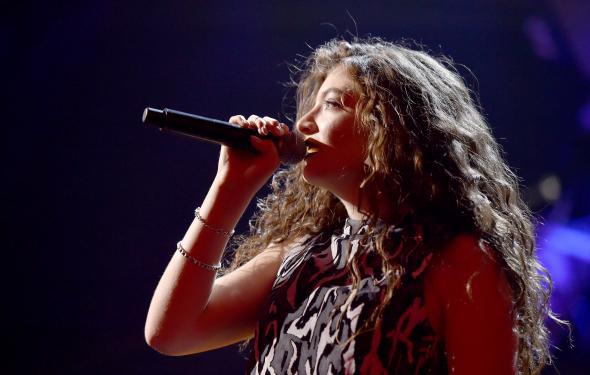 Over the summer, Lorde revealed that she was in the early stages of writing the follow-up to her Grammy-winning debut album, Pure Heroine. There's still no word on when we'll hear material from that project, but today she shared something else: "Yellow Flicker Beat," from The Hunger Games: Mockingjay Part 1 soundtrack. (She previously covered Tears for Fears' "Everybody Wants to Rule the World" for last year's Catching Fire soundtrack.)
The song opens with Lorde's vocals draped in harmonized humming as she sings, "I'm a princess cut from marble, smoother than a storm/ And the scars that mark my body/ They're silver and gold." From there, it explodes into the kind of synth-carried chorus that Lorde is known for. But while much of Lorde's previous work was written from her own perspective, here she attempts to tap into the mind of the film's heroine, Katniss Everdeen (as Lorde herself explained on Tumblr).
In addition to writing and performing "Yellow Flicker Beat," Lorde will also curate the entire Mockingjay soundtrack, which, given her wide-ranging music tastes, should be worth a listen.
Previously
Lorde Does an Excellent Cover of Kanye West's "Flashing Lights"
Katniss Is a Reluctant Hero in the New Hunger Games Trailer
---