John Ridley, who won the Best Adapted Screenplay Oscar for 12 Years a Slave, wrote and directed Jimi: All Is By My Side, which opens Friday. It's a biopic about Jimi Hendrix starring André Benjamin, better known as Outkast's André 3000, as the rock legend. In contrast to the many music biopics that portray a star's career—or entire life—from beginning to end, Jimi focuses on the brief period from mid-1966, before Hendrix released his first album, to just before his landmark performance at the Monterey Pop Festival in 1967.
The film was done without the Hendrix family's consent, which explains why you won't hear "Purple Haze," "Foxy Lady," or any other of Hendrix's most iconic songs in the movie. Nonetheless, critics have praised Benjamin's performance as "phenomenal" and "perfect" and celebrated Imogen Poots' and Hayley Atwell's as "outstanding." Meanwhile, Salon has called Jimi the "weirdest rock biopic of all time."
But how accurate is it? As is often the case, it depends whom you ask. But we did our best to sort the fact from the fiction. While much of the movie reflects the historical record, some of its most incendiary scenes are also the most disputed.
His Big Break
The film begins with Hendrix at New York's famed Cheetah Club, where he played backup guitar for Curtis Knight and the Squires. During a performance, we see Hendrix catch the eye of a 20-year-old Linda Keith (Imogen Poots), then best known as the model girlfriend of the Rolling Stones' Keith Richards. Ridley has said that the story of their meeting, and Keith's immediate disbelief at Hendrix's stunning guitar work, inspired him to focus on the musician's early days.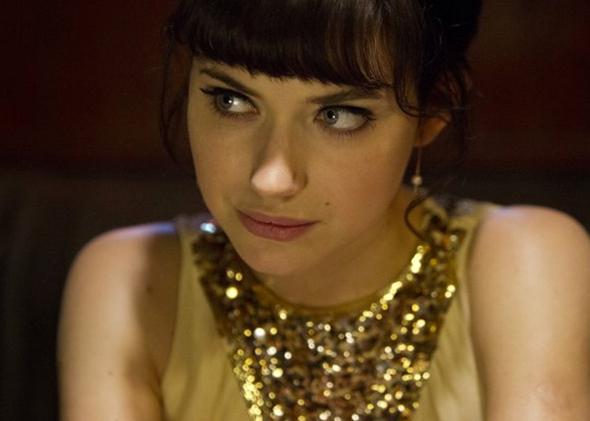 Keith has shared a similar version of her first encounter with Hendrix in interviews with both the Guardian and for the 2013 documentary Jimi Hendrix: Hear My Train a Comin'. ("The guy on guitar just completely blew mind," she says in the latter.) The meeting laid the groundwork for Keith to become Hendrix's de facto manager. In the film, we see Keith, after the show, invite Jimi to her apartment, where she introduces the idea of going solo—and gives him his first acid trip. All of this checks out with Hendrix biographer Charles R. Cross, whose book Room Full of Mirrors also confirms a famous quote about LSD heard in a subsequent scene: "I looked into the mirror and thought I was Marilyn Monroe," Hendrix later said.
After several failed auditions with record label executives that Keith knew—an experience that "flabbergasted" them, Keith says—she set up a meeting at Café Wha? with Chas Chandler (Andrew Buckley), the bassist for the Animals, who'd expressed interest in managing his own artists. "I thought he would change the music face of England," Chandler told PBS of that initial introduction.
In the film, Chas makes it his mission to get Jimi to London. But, as the movie suggests, it wasn't as simple as booking a flight: At that point, Hendrix had no passport and was contractually bound to Curtis Knight. To sort things out, we see Chas turn to his former Animals manager, Michael Jeffrey (Burn Gorman), a decision that William Saunders describes in his book Jimi Hendrix: London.
The Jimi Hendrix Experience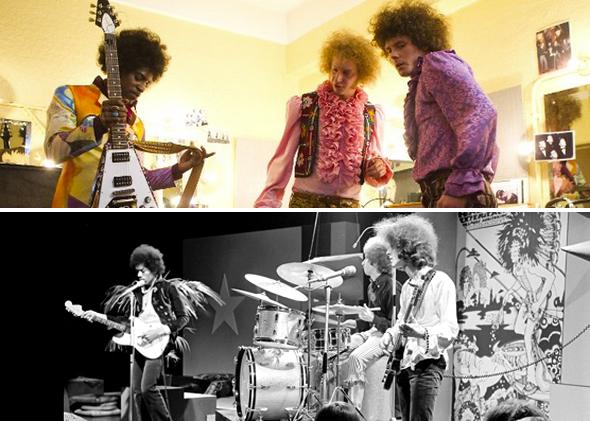 Once Hendrix was in London, Chandler helped him quickly assemble the Jimi Hendrix Experience. We see Jimi and his new girlfriend, Kathy Etchingham (Hayley Atwell), audition Noel Redding (Oliver Bennett) for the role of bassist in the band. And though the two appear impressed by his playing, Jimi seems even more impressed by Noel's curly red hair. Hendrix did, in fact, say that Redding's hair got his attention, in an interview that appears in the PBS documentary.
The details surrounding the hiring of drummer Mitch Mitchell (Tom Dunlea) are a bit fuzzier. In the film, we see tension bubbling between Jimi and Mitch during his audition. And he's eventually chosen as the band's drummer when Chandler flips a coin—which, according to the Jimi Hendrix lore, is the way it went. Though whether or not that's actually what happened is difficult to say with real certainty.
Meeting Eric Clapton and Performing for the Beatles
At one point in the film, Jimi asks Chas to make good on his earlier promise of face time with Eric Clapton (Danny McColgan). He finally gets it at a gig at the Regent Street Polytechnic, where Jimi more or less invites himself on stage to join Cream on Howlin' Wolf's "Killing Floor," a song Clapton doesn't appear to have learned yet. Visibly frustrated about not knowing the song and having to compete with Jimi's arguargably superior guitar playing, he storms off the stage midway through the song and confronts Chas backstage, saying, "You never told me he was that fucking good." This is a true story.
The Experience released their debut, Are You Experienced, to lukewarm reviews in the U.S., and played a few messy concerts at which Hendrix repeatedly delayed the show to tune his guitar. Their make-or-break moment in the film comes when the band books a headlining show at London's Saville Theatre—with the Beatles in attendance. It was days after the release of Sgt. Pepper's Lonely Hearts Club Band, the title song of which Hendrix memorized over the weekend. In an incredibly bold move, he asked his band open their set with that song. The risk paid off: Paul McCartney later called it "the ultimate compliment."
Hendrix and Race
In one scene, just as Jimi is becoming popular in the U.K., one of his groupies, Ida (Ruth Negga), takes him to the apartment of black rights activist Michael X. There, X pleads with Hendrix to play music for "his people"—implying black people—to which Hendrix responds, "They're all my people." According to Ridley, this exchange "really did happen," though maybe not quite the way he's imagined it on screen. First, Ida is a fictional character, though she is based on the real-life groupie Devon Wilson. Second, Kathy Etchingham, in her 1999 book Through Gypsy Eyes, tells the story differently: She describes a meeting at X's apartment wherein he "insulted me and berated Jimi for being in a mixed relationship," and the meeting soured from there.
In another scene, Jimi and Kathy are walking together when several British policemen, including one on a horse, stop them and question Kathy about whether or not Jimi is bothering her. Despite her insistence that he's not, they harass Jimi about the British military jacket he would later be well-known for wearing, forcing him to hand it over. Hendrix himself told exactly this story, and it was published as part of a collection of his writings that came out last year.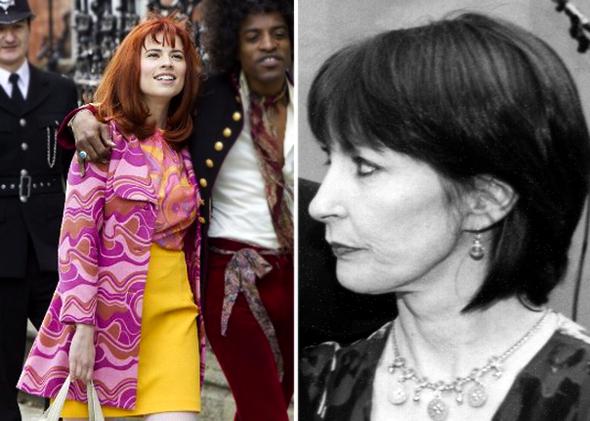 Domestic Abuse
Likely the most controversial scenes in the film are also the ones most up for debate in regard to their accuracy. Both involve domestic abuse. The first depicts an altercation between Jimi and Kathy following a recording session which Chas bullies her out of, calling her a "bitch."  Jimi shoves Kathy himself after she calls him out for not standing up for her. This becomes a shouting match that ends with Kathy beating up on Jimi until they're both on the ground crying. (They eventually make up and walk away holding hands as if the fight never happened.)
The second scene is much worse: After Jimi sees Kathy talking with another man at a club, he motions for her to join him at his table, then proceeds to sit in silence with her. Annoyed, she gets up to call a friend she'd invited to the party. Jimi gets up, too, walks into another room, seeming calm, then he turns around, makes a beeline for Kathy, and begins hitting her over the head violently with a payphone. The assault leaves Kathy with a concussion—and it's later implied that she overdoses on her pain medication.
According to Etchingham, these accounts of domestic abuse are "not true." And they may be partly attributable to the stories in unauthorized Hendrix biographies, including Curtis Knight's Jimi: An Intimate Biography, which Etchingham says Knight later admitted he never interviewed her for. Cross' Room Full of Mirrors may be the source for the second scene, as it describes a similar scenario. Etchingham says Cross later apologized for getting it wrong and not consulting her first—and Cross has gone on to say that, though he conducted more than 300 interviews for the book, none of them supported claims of domestic abuse.
Etchingham has also said that any suggestion of her having been interviewed by Ridley for this film is "rather dishonest," but in a press packet for the film, Ruth Negga (Ida) is quoted as saying, "John [Ridley] helped me a lot because he interviewed Kathy and asked her about Devon [Wilson] … Kathy said she was quite funny." Etchingham also says that neither Ridley nor any of the film's fact-checkers contacted her beforehand despite her repeated requests to be interviewed for the film.
Previously
How Accurate Is The Knick?
How Accurate Is Get On Up?
How Accurate Is Jersey Boys?
How Accurate Is The Monuments Men?
How Accurate Is Lone Survivor?