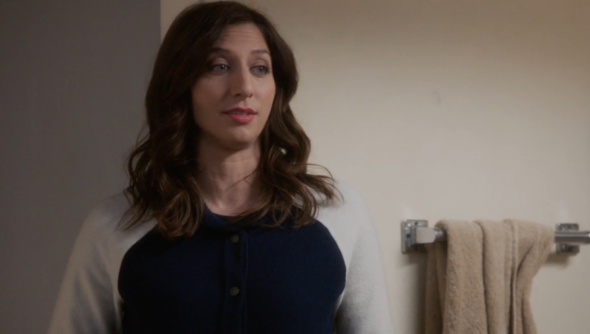 Brooklyn Nine-Nine can appear, at first glance, more than a little dated. When the show about a misfit group of precinct employees premiered last fall, single-camera workplace sitcoms seemed to be on the decline, creatively; 30 Rock and The Office had just ended their long runs, and Parks and Recreation was beginning its sixth season, nearing its own conclusion. And the Brooklyn Nine-Nine characters owe a lot to their predecessors. A goofy, overconfident protagonist a la Michael Scott? Check. A socially awkward, borderline creepy man-child like Kenneth the Page? Yup. Near-monotone, sarcastic female character unfazed by everyone around her (cf. April Ludgate)? You've got it.
But as Slate TV critic Willa Paskin noted in her review of the pilot, Brooklyn Nine-Nine is smarter than it looks: "The characters aren't just archetypes, they are twists on archetypes. [Andre] Braugher's not just the macho boss. [Andy] Samberg's not just the reckless detective savant. [Samberg's character, Jake] Peralta's love interest is also his rival."
And as the season wore on, this aspect of the show became even more notable, and admirable. Case in point: Gina Linetti (Chelsea Peretti), the precinct's wry, sardonic administrator. For the first few episodes, it seemed as though Gina could be counted on for a couple of silly, offbeat one-liners, and little else. With an ensemble cast this big, it was hard to imagine the show finding time to develop her character. As the administrator, she's rarely directly involved with the cases, and the series seemed focused on Samberg, Braugher, Terry Crews, and others.
But much to the show's credit, Gina was given more room to grow and, unlike her counterpart on Parks and Recreation, Donna Meagle—played by the woefully underused Retta—it took less than a season to do so. (The creators of Brooklyn Nine-Nine, Michael Schur and Dan Goor, are the showrunner and frequent co-writer of Parks and Recreation, respectively.) "The Ebony Falcon," for instance—in which Gina's apartment is broken into and she insists that Amy and Santiago investigate—brings her much closer to her co-workers, as Amy and Santiago are finally able to relate to her in a way that they hadn't before.
But Gina really got the chance to grow as a character in "The Apartment," in which she advises Peralta on financial responsibility after learning that his building—he's lived in his nana's rent-controlled apartment for years—is going co-op. Gina and Peralta grew up together, and she shares fond memories of spending time in the place he still calls home. "Nana made me into the strong, sensuous woman I am today," she quips. She has an abundance of funny lines in this episode, but, what's more, her character's background and intelligence really come through. We learn that she's been engaged eight times ("But never married once," she says, proudly), has a surprising amount of money saved up due to her thrifty ways (cutting her own hair, walking to work every day), and considers Ray J to be a national treasure. (She's still pretty weird, thankfully.)
These small but important revelations fit her bizarre sensibility, making Gina more than just the sassy administrator she might have been. She has smart advice to give, and her personal relationship with Peralta makes her more a part of the group that is precinct 99.
Of course, even with good writing, Gina wouldn't work nearly so well if it weren't for the deadpan, dead-on delivery of Peretti. At least half the fun of Gina's quips comes from the actress and comedian's performance—she knows just when to elongate a syllable or whisper a particular word in some unusual way. Here's hoping that when Season 2 begins on Sunday, Gina has more revealing moments that balance and complement her utter silliness. If any current sitcom can pull this off, it's this one.
Previous Character Studies
Morello, Orange Is the New Black
Doug Stamper, House of Cards
Lady Mary, Downton Abbey
Avery Barkley, Nashville
Cersei, Game of Thrones
Betty Draper, Mad Men
---