This is one in a series of posts analyzing and celebrating typefaces. The series was originally published by HiLobrow.
COMIC SANS | VINCENT CONNARE | 1995
I understand the problem. For a while, Comic Sans was everywhere. Things get overused and then they're played out. People get excited about a thing and it's briefly cool and then it's tired, forever. Design matters and this isn't great design. Having preferences, aligning with other people who share those preferences and spurning people who don't align with those preferences is a big part of how we create our social identity. The font could be more elegant. It could, objectively, be better at being a font.
And so people pile on Comic Sans in a way that they'd never pick on nerds in school. And every time you see your library or your community center making a poster with Comic Sans—"Hey, come to the puppet show!"—there's a bit of a nose wrinkle, an almost-sneer. Like they didn't get the memo. Like they don't even know. Like a puppet show is serious business.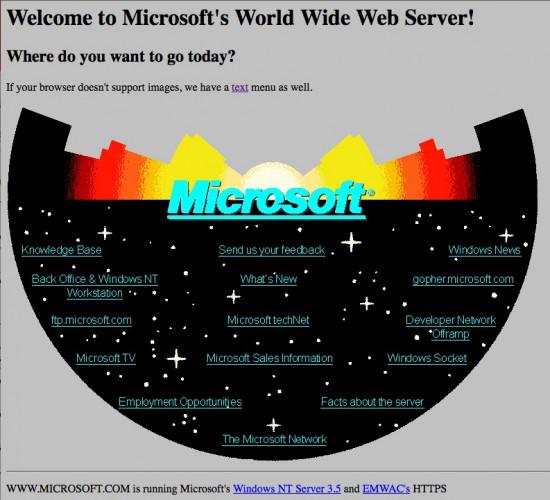 But think back to 1994. We'd just gotten the graphical web and all web page backgrounds were grey. Cutting edge at this point was changing that color to white. Microsoft's website—you know, the people who released Comic Sans—looked like this.
Your other font choices were Times and Arial. And neither one of them was very … fun.
As Vincent Connare, creator of Comic Sans explains, Microsoft needed an informal font for an informal purpose, Microsoft Bob. And yeah, that didn't turn out too well. But it had a friendly dog, and that dog talked to you and, as Connare says, "Comic dogs don't talk in Times New Roman." A point that's hard to argue with.
"It's often badly used," he goes on, but that's really a problem with society and not a problem with the typeface. And so Comic Sans joins the ranks of Nickelback and Hot Pockets as a thing you're only allowed to like in a so-bad-it's-good way. But I make posters for the library, and sometimes the puppet show poster looks best in Comic Sans. A victimless crime, no? So why does anyone care?
The internet is full of decontextualized symbology that winds up in the Kangaroo Court of Lulz, which finds things lacking in appeal—although they were not those things' intended audience. There are other things to aspire to than being cool or even appealing. Comic Sans is fine. You are fine.
Previously
How the Gotham Typeface Came to Define Our Era
The First Macintosh Font Made a Machine Seem Friendly
One of the World's Great Typefaces Was Created Nearly 600 Years Ago