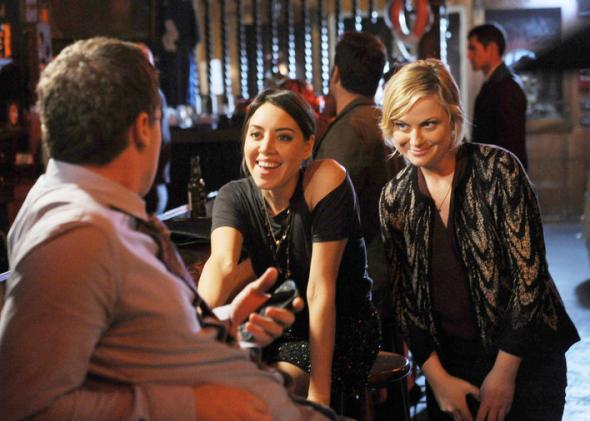 Welcome to Sweden is NBC's summer sitcom starring Greg Poehler (Amy's brother) as a Midwestern accountant named Bruce who moves to Sweden to be with his girlfriend Emma (Josephine Bornebusch). My wife Kristine, who was born and raised in Sweden, and I thought it would be fun to watch the show and see how well it matched our own cultural experiences.
In Wednesday's episode, Emma's uncle is unable to talk to a woman he has a crush on and he needs Bruce's help to woo her. Apparently, this represents the stereotype of Swedish men being super-shy.
"Bruce is supposed to show the awkward uncle how to do it, because Americans are straightforward, no nonsense, 'Hi I like you, let's go out to dinner,' " Kristine explains, whereas Swedes are less direct and it's more difficult to read their intentions. "That's my scientific study of men." Kristine has a story about the shyness of Swedish men that she thinks illustrates the point. A Swedish friend of hers didn't want to ask a woman for her phone number, so he waited for her to leave and asked her friends for it.
On the first of Thursday night's episodes, the second to last of the season, Bruce returns to America by himself after having a falling out with Emma. In the opening scene, a waiter confuses Bruce for a European because his clothes look "very European." (He is wearing a burgundy scoop-neck tee under an unbuttoned pink shirt with skinny jeans and what look like Converse-style sneakers. His clothes do look Swedish, Kristine agrees.) After it's made clear that he's American, the waiter then assumes the clothes mean that Bruce is gay, and so he hits on him. "These are clothes I bought at H & M, and they're super-straight," Bruce says. This is the second time the show has made this observation/joke—that gay men and European men dress similarly—and I still have to "Ask a Homo" about whether it's OK or not.
Back in Sweden, Emma's mom has left her father and is having a mid-life crisis. So she dresses like a 20-year-old, drags Emma to a bar for a girl's night, and tries to flirt with uninterested younger Swedish guys who are trying to watch a game. Emma points out that she's acting like one of the Golden Girls, and this yields my favorite cultural nugget of the entire series. In Sweden, Golden Girls was called "Pantertanter," which translates roughly to Panther Ladies. "Yes, that's the name of the show, why is that funny?" Kristine wonders. "What do you want the name of the show to be? 'Golden Girls'? That doesn't mean anything." It is funny because Swedes had a word for cougars before the concept was popularized in the U.S., and it is the same as the word for the series Golden Girls.
In the season finale, Emma's mother's mid-life crisis continues, and at one point she brings her husband to tears. "Swedish women can be mean," Kristine says matter-of-factly. "Because they say it like it is. That's how they do it. Maybe American women sugarcoat things?"
The season ends with Bruce returning to Sweden to reconcile with Emma and give his ode to the country. He loves "lagom," the Swedish concept of moderation. And he loves saying "Hej Hej!" And he loves Jantelagen, a concept that I had never heard of before and needed Kristine to explain. "It's the law that says you shouldn't think you're the shit," she says. "You can look it up. It's a law." This is essentially right. The direct translation of the word is "Law of Jante," which really means nothing in English; it is an entirely Scandinavian idea. The New York Times defined Jantelagen as the concept "that the culture within Scandinavian countries discourages people from promoting their own achievements over those of others." So, basically, what Kristine said.
---