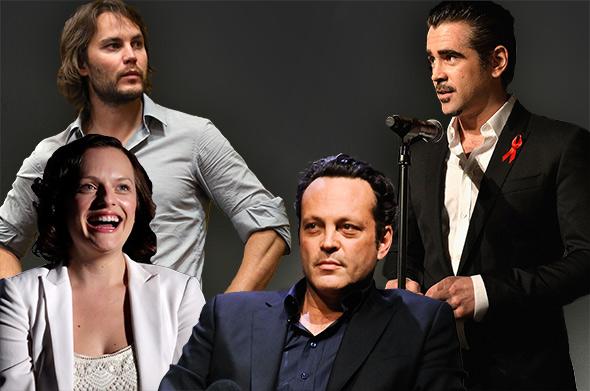 After months of rumors and memes, many details about True Detective Season 2 are now being reported by multiple outlets. Most notably, the Wrap reported yesterday evening not only on the actors who are either "in talks" or "being eyed" for the lead roles, but also on what those roles will supposedly be.
Colin Farrell is "nearing a deal to star," Jeff Sneider writes, while Taylor Kitsch is "angling for the role" of a California Highway Patrol officer and Elisabeth Moss is "being eyed" for the part of a Monterey sheriff. Finally, Vince Vaughn is "in talks to play the central antagonist," a part that, according to Sneider, was written by series creator Nic Pizzolatto with Vaughn in mind.
Sneider also says that he has obtained a breakdown of the Season 2 storyline, which he describes thusly (possible spoilers follow, of course):
The second season of True Detective will follow the death of Ben Caspar, the corrupt city manager of a fictional California city who's found brutally murdered amid a potentially groundbreaking transportation deal that would forever change freeway gridlock in the state. Three law enforcement officers from different cities and branches of the government are tasked with finding out who did it. They soon discover their investigation has much broader and darker implications than they initially thought.
Caspar's 52-year-old corpse is found on a lonely stretch of Pacific Coast Highway near Big Sur—satanic symbols etched on his chest. It turns out he had a penchant for rough sex and may have been involved in the occult.
The three investigators are the Farrell, Kitsch, and Moss characters, apparently, and they all—in keeping with the first installment of the series—have personal demons: Farrell's character "has been damaged by years of turmoil," the Monterey sheriff (Moss, maybe) has taken to "gambling and alcohol," and the CHP officer (Kitsch, perhaps) was "put on leave after soliciting" sexual favors from a woman he pulled over for drunk driving. (That last detail, along with a few others, seems to have disappeared from the Wrap story—but you can find it quoted from the original version of the story elsewhere.)
Vaughn's character, meanwhile, is "a former thug turned businessman" working with local politicos on "a high-speed railway system" that would run along the California coast and provide a variety of financial opportunities, or something. This account of the plot seems to match Pizzolatto's earlier remark that Season 2 would be about "hard women, bad men and the secret occult history of the United States transportation system." (It also matches a description provided by Film Divider a few weeks ago.)
That said, none of this has been officially confirmed by HBO, and the Wrap story does not say that any of the actors have actually signed on just yet. But executives from the network did say last month that casting details would arrive soon, so official news is likely forthcoming before long.
---