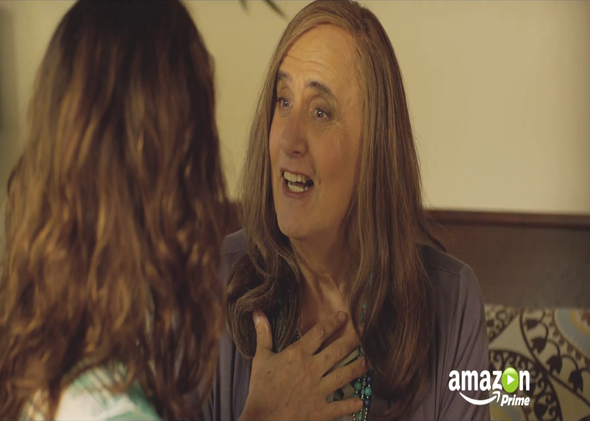 Next month, Amazon will release the full first season of Jill Soloway's new series Transparent, whose pilot debuted back in February to rave reviews—including from Slate TV critic Willa Paskin. On the surface, it's a comedy about a seemingly normal Jewish family living in L.A. whom we're introduced to character by character in the show's new trailer: two divorced parents (played by Jeffrey Tambor and Judith Light), and their three adult children (played by Amy Landecker, Jay Duplass, and Gaby Hoffmann). But, deeper than that, it's a show that explores their individual "little private kinks" (as the mother puts it) and how they intertwine.
We see two of the more atypical kinks in the trailer's first few seconds: Landecker's Sarah is apparently rekindling a relationship with her college girlfriend—despite now being married to another man (Rob Huebel)—and Tambor's Mort, who walks in on them, is dressed in women's clothing. (He's the trans parent of the title.) From the looks of the trailer, Transparent could deliver on the promise of the pilot and become Amazon's best and smartest original series to date—not to mention a bit of a tearjerker.
All 10 half-hour episodes will hit Amazon on Sept. 26, but for now you can still watch the show's pilot for free on Amazon.
Previously
Amazon Has Finally Made Its House of Cards
---