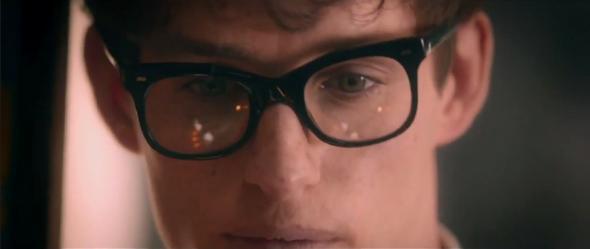 Does the world need a new biopic about Stephen Hawking? The obvious answer is no: Benedict Cumberbatch won critical acclaim for portraying the world-renowned physicist in the 2004 BBC film Hawking, and a 2013 documentary of the same title featured several actors playing the scientist at various ages. And yet this year's Oscar season will offer us a new Hawking drama directed by James Marsh, best known for the excellent documentaries Man on Wire and Project Nim. The Theory of Everything will star Eddie Redmayne (Les Misérables, My Week With Marilyn) as Hawking and Felicity Jones (Like Crazy, The Amazing Spider-Man 2) as his first wife, Jane Wilde.
The trailer, released today, follows Hawking as a young graduate student at the University of Cambridge in the 1960s. The central conflict seems to arise, unsurprisingly, from Hawking's diagnosis of Lou Gehrig's disease at the age of 21, at which time doctors predicted he'd live only two years longer. (Of course, Hawking has long surpassed that life expectancy; he celebrated his 72nd birthday in January.)
The trailer features a few of the usual film tropes surrounding illness: Stephen drops a coffee mug, collapses while walking down the sidewalk, and smashes a wooden chair in frustration at his declining faculties. And yet, in spite of these clichés and the schmaltzy love-conquers-all message of the trailer, I'm looking forward to The Theory of Everything. Impersonating a man who's as recognizable for his disability as for his academic accomplishments is a fraught exercise, rife with opportunity for overacting and ripe for accusations of "crip drag" (not to mention Oscar bait). But if there's any actor who's capable of pulling off the role with grace and humanity, it's Redmayne, who was hands down the best thing about Les Mis, and who seems every bit as magnetic here. Whether the movie overcomes stale sick flick conventions remains to be seen, but Redmayne's performance should be worth watching either way.
---