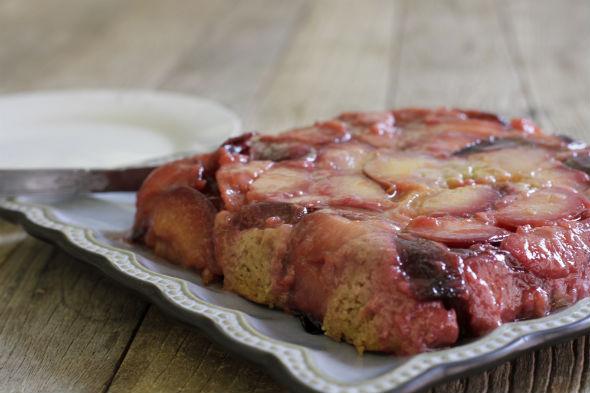 With all due respect to William Carlos Williams, no one should be eating plums cold from the icebox. Forgive me, but a chilled plum is an inferior plum—like all cold edibles, it will hurt your teeth and numb your tastebuds. Should you find yourself in possession of a perfect specimen, soft and full-to-bursting with sweet juice, eat it at room temperature, for crying out loud.
You're unlikely to be able to discern perfection from the outside, though. The plum is more fickle and harder to read than its fuzzy cousin, the peach. A plum that feels tender and heavy might yield sour mush, not succulent flesh. A bite into a plum is an invitation to be disappointed.
It's better to dispense with the drama and cook plums instead of eating them raw—that way you can smooth over their imperfections and draw out their juice. Just a few minutes in a saucepan or skillet will bring tart pink liquid seeping out of plum slices, regardless of how moistureless they seemed to begin with. You can keep cooking them until you have a rough compote, but it takes only a little extra effort to make them the centerpiece of an elegant summer dessert.
Upside-down cake might not seem elegant—it's best known for its maraschino-cherry-studded pineapple variation, an icon of post-war American cooking—but it can be, when you use a not-too-sweet batter made tender with olive oil and yogurt. (You can use a more neutral oil if you insist, but you should try making dessert with extra-virgin olive oil at least once—its slightly bitter edge provides a hint of intrigue in otherwise unadventurous baked goods.)
Upside-down cake is traditionally crowned with a sparse coating of fruit, but I like a higher fruit-to-cake ratio. There should be enough batter to bind the fruit together, but not so much that the plums become an afterthought. Between the tender crumb and lacquered fruit, you'll find a thin layer of moist, gooey batter—half cake, half fruit, all good.
Plum and Olive Oil Upside-Down Cake
Yield: 9 to 12 servings
Time: 1¼ to 1½ hours, largely unattended
Oil or butter for greasing the pan
⅓ cup plus 2 tablespoons olive oil
1½ pounds plums, sliced
⅔ cup plus 2 tablespoons brown sugar
½ cup whole-milk Greek yogurt
1 large egg
Grated zest of 1 lemon
1 teaspoon vanilla extract
1 teaspoon almond extract
1¼ teaspoons baking powder
½ teaspoon salt
1 cup all-purpose flour
1. Heat the oven to 350°F and grease an 8- or 9-inch square or round pan. Put 2 tablespoons of the olive oil in a large skillet over medium heat. When it's hot, add the plums and cook, stirring occasionally, until they're tender and swimming in juice, 5 to 7 minutes. Add 2 tablespoons of the brown sugar and cook until it dissolves, 1 to 2 minutes. Remove from the heat.
2. Put the yogurt, the remaining ⅓ cup olive oil, the egg, the lemon zest, the vanilla, and the almond extract in a medium bowl. Whisk to combine, then whisk in the remaining ⅔ cup brown sugar, followed by the baking powder and salt. Add the flour and stir just until combined.
3. Transfer the plum mixture to the greased pan and spread into an even layer. Spread the batter evenly over the fruit, and bake until the cake is golden brown and a knife inserted into the center of the cake comes out mostly clean, 50 to 60 minutes. Cool thoroughly, then run a knife around the edge of the cake to loosen it from the pan, place a large plate over the pan, and invert the cake. Serve at room temperature. (Store leftover cake in an airtight container in the refrigerator for up to a few days.)
Previously in You're Doing It Wrong:
Curd
Raspberries
Strawberry Shortcake
Crisp
Cobbler
Pie
Ice Cream

---