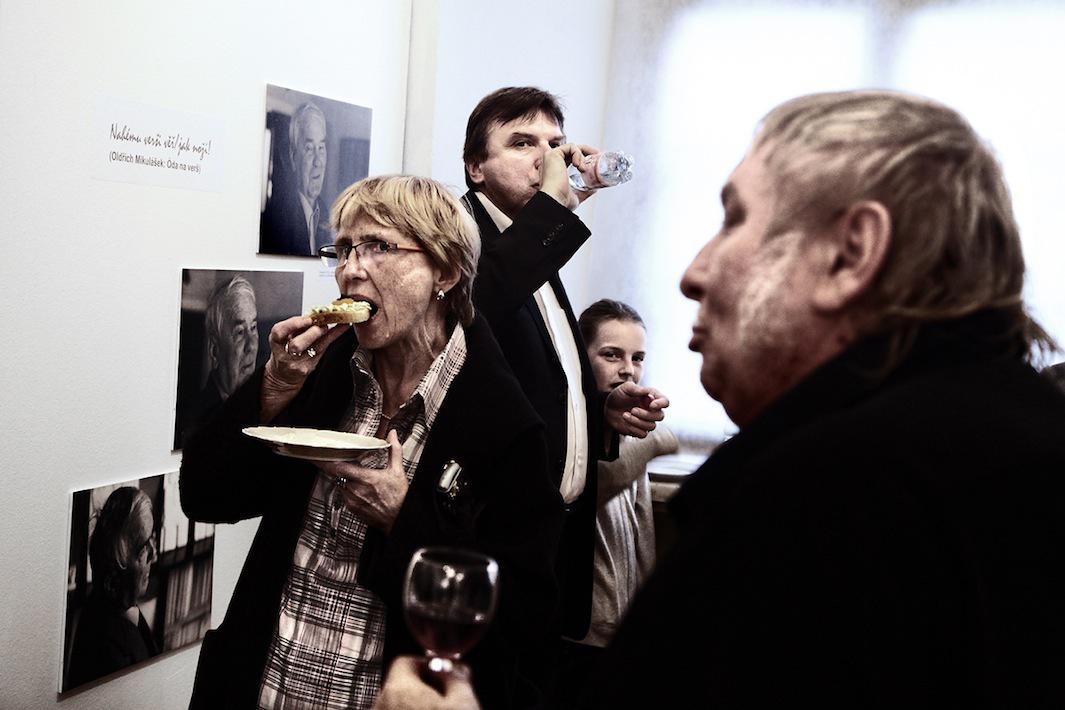 Brno, the second-largest city in the Czech Republic, has a vibrant art scene known for, as photographer Jan Caga calls it, "strong personalities." Among them are the members of the ever-present, unstoppable Pigeon Fleet.
Anyone who frequents the various museum and exhibition openings around Brno knows the Pigeon Fleet. Composed of former arts journalists and older art lovers, its members have made a name for themselves in Brno's art community for their unrelenting pursuit of a single goal: to "eat as much food and drink as much wine as possible." Even before events formally begin, Caga said, they can be found at the refreshment table going at it, sometimes taking away extra helpings of free food in bags. What's more, he said in a statement, they "do not hesitate to loudly criticize the quantity or quality of the food."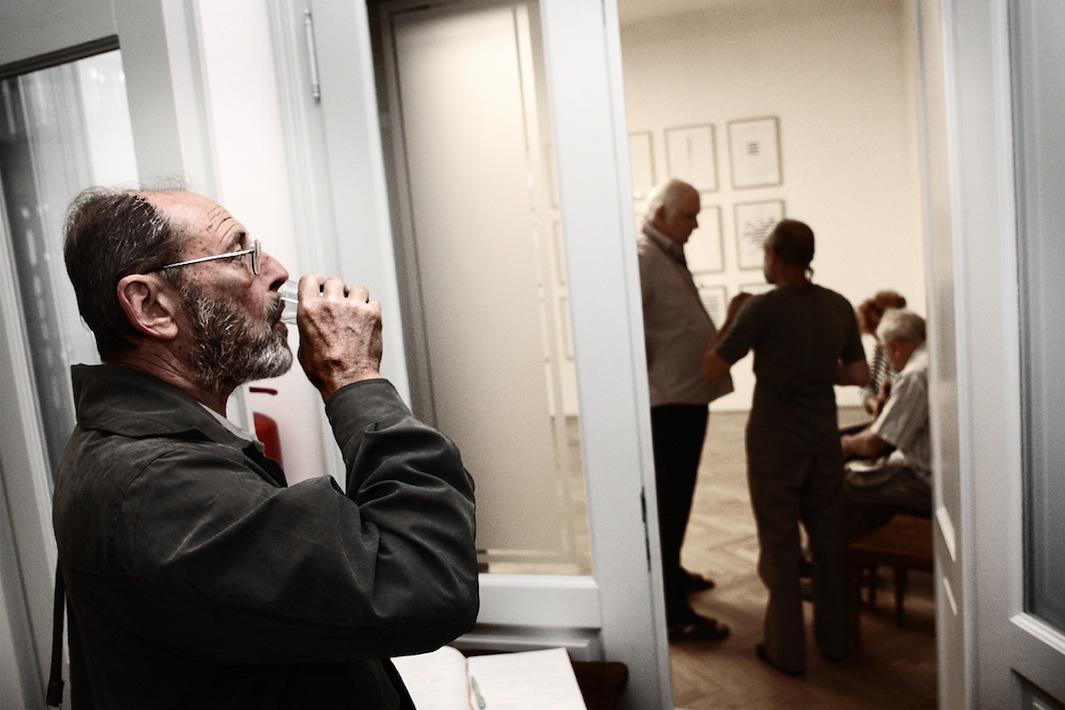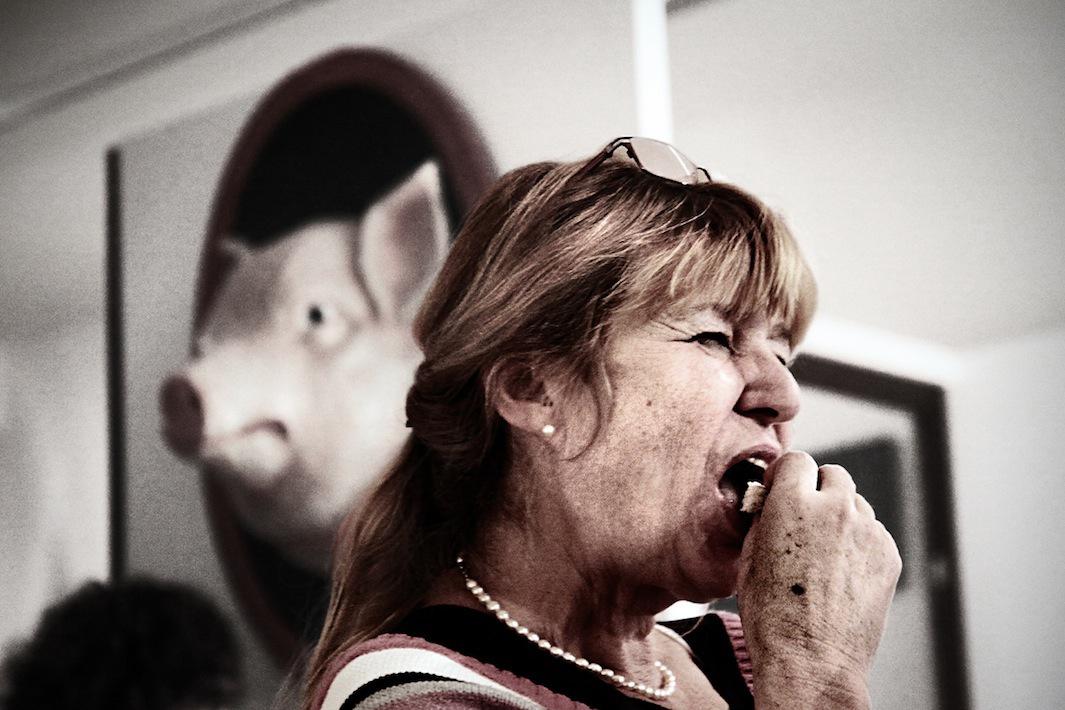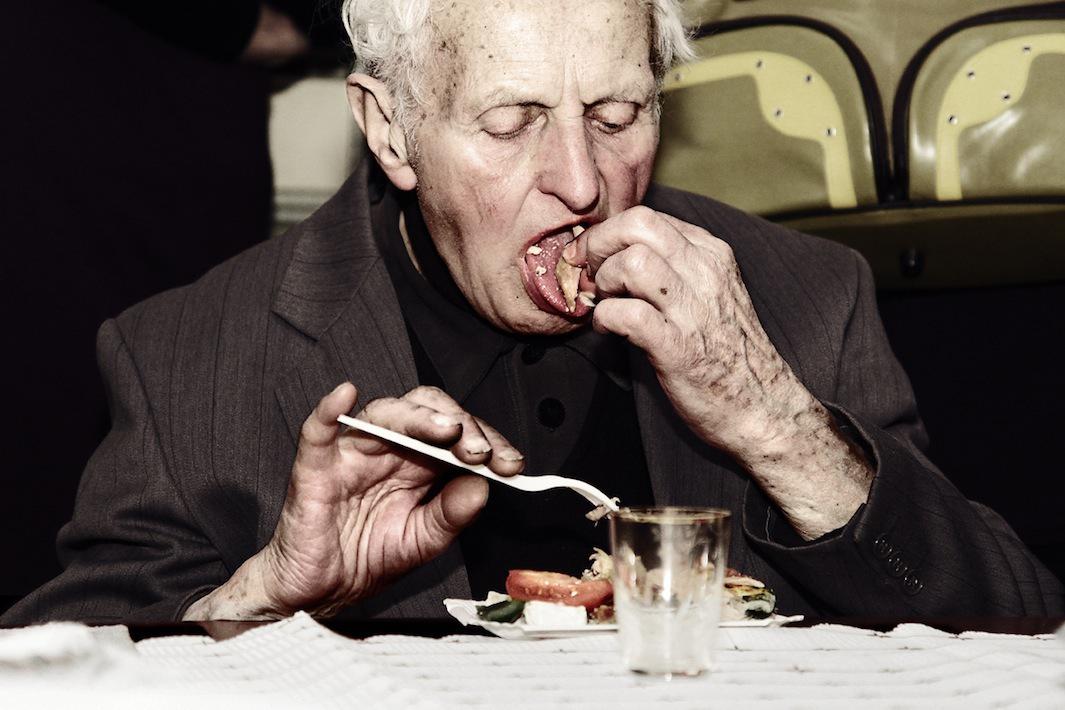 Caga was photographing various museum events a few years ago when he first began noticing that despite the variety of the types of openings he was attending, all the same people seemed to be there. Initially, he was too busy photographing the events themselves to turn his camera on the Pigeon Fleet. But after observing the group for a while with "growing interest," Caga realized he couldn't ingnore the fascinating social phenomenon any longer.
According to Caga, the Fleet's founder was Miroslav Holub (whose last name means pigeon in Czech), a magazine editor who, even after his magazine's demise, continued to attend art openings "for the refreshments." "Gradually, more people joined him and the group has grown to several dozen people. Over time, the phenomenon spread to other cities and there was probably partly a generational replacement," Caga said.
Organizers, Caga said, are generally not happy to see members of the Pigeon Fleet at their openings because they are afraid they will consume all the refreshments. "Other attendees either ignore them or they don't care as long as there is still something to eat," he said.
To combat the Pigeon presence, art organizers in the city have been trying to send more targeted invites to their events, but they've only achieved "partial success." Still, despite the frustration and havoc they cause, Caga said, there is surely an upside to having the Pigeon Fleet around. "The Pigeon Fleet is often very interested in the exhibited works and sometimes has lively discussions about the exhibits," he said. "And if too few people come to an opening, well, at least the Pigeon Fleet will always be there."
Caga's photographs are on display as part of the exhibit, "Museum 24/7" at Kaunas Photo until Aug. 30.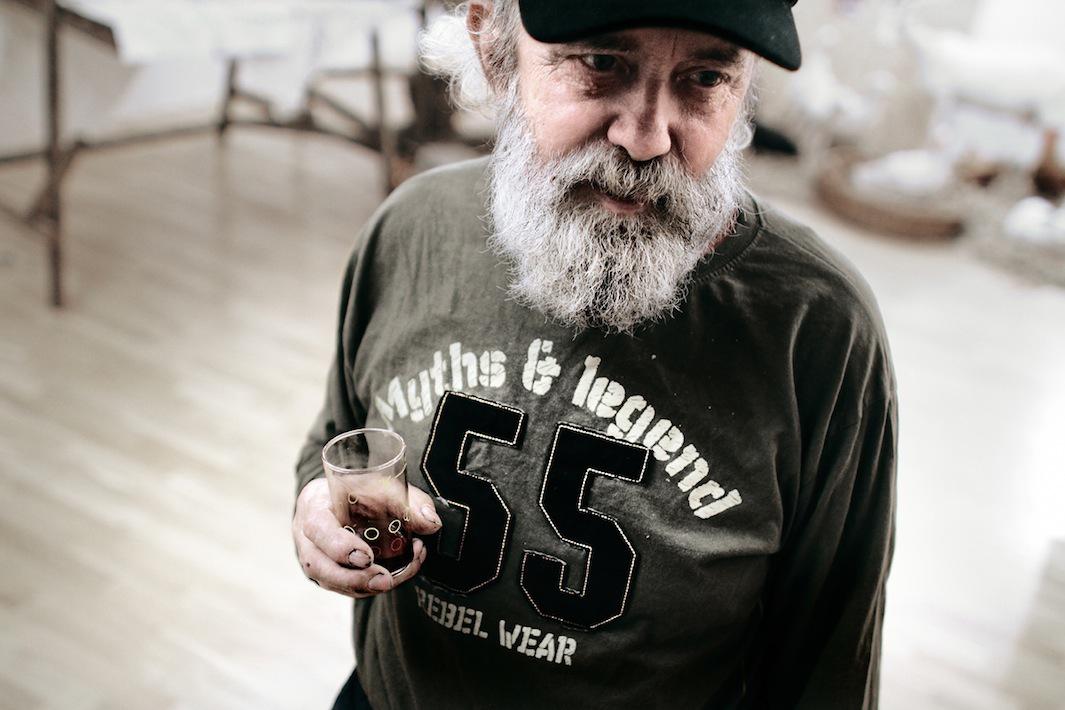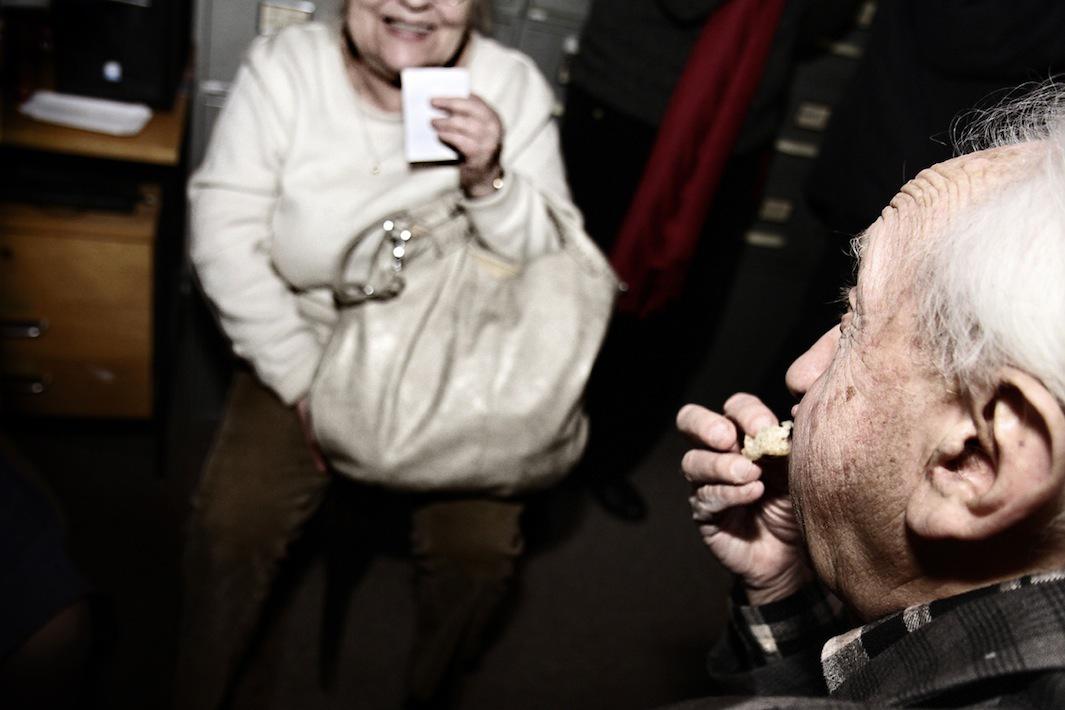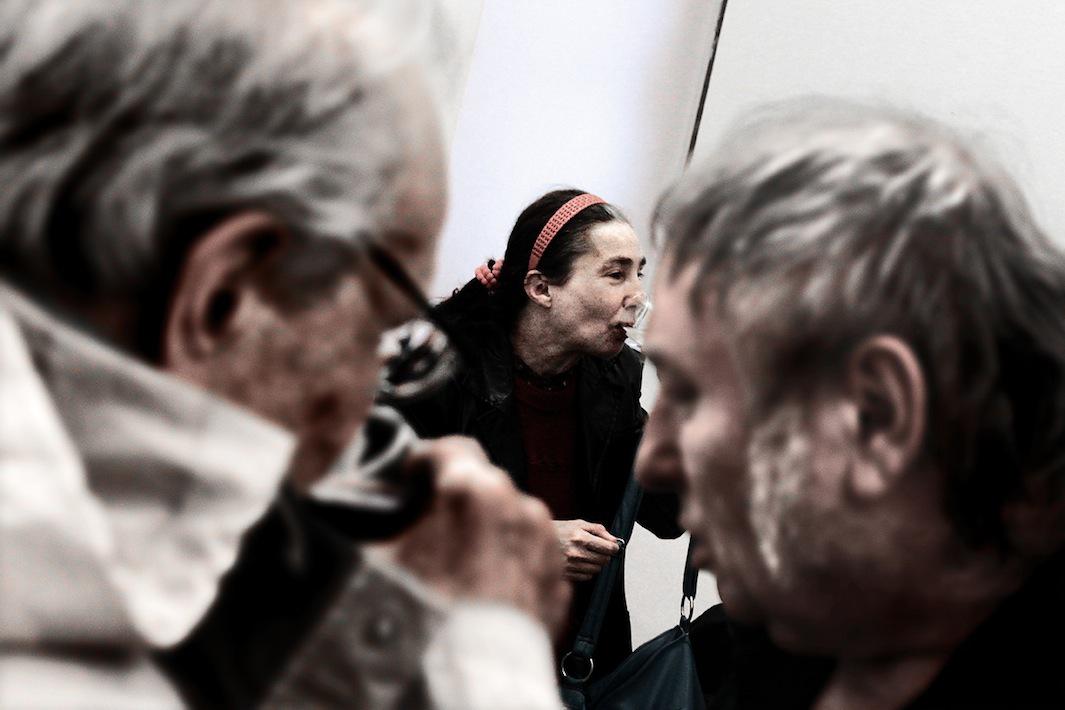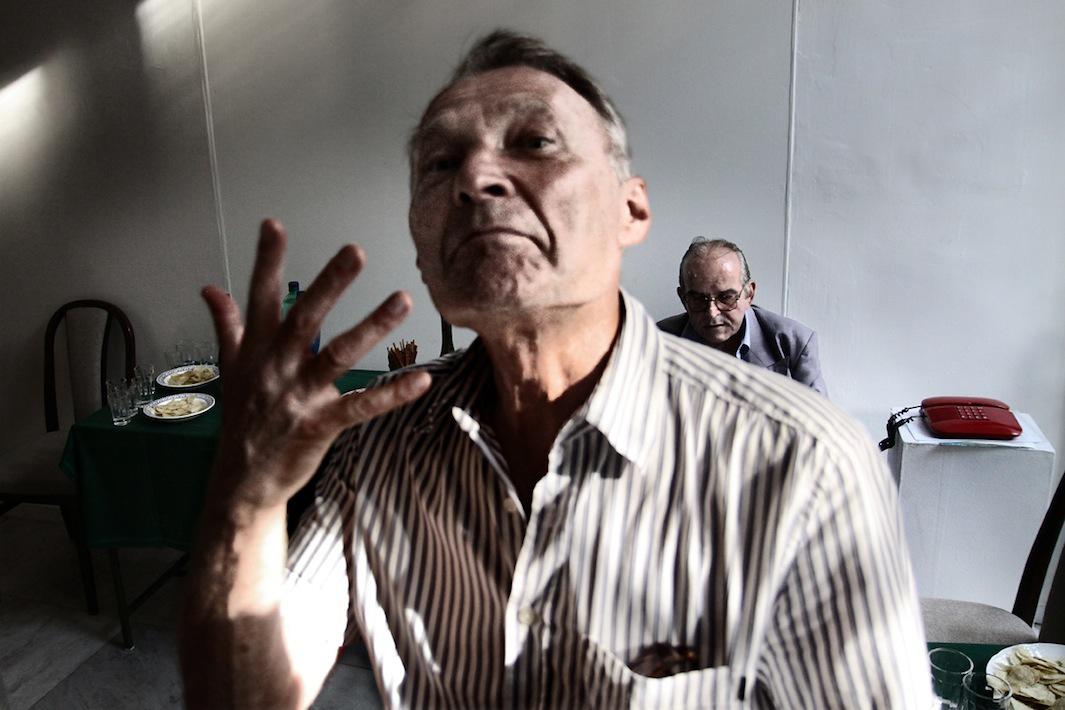 ---