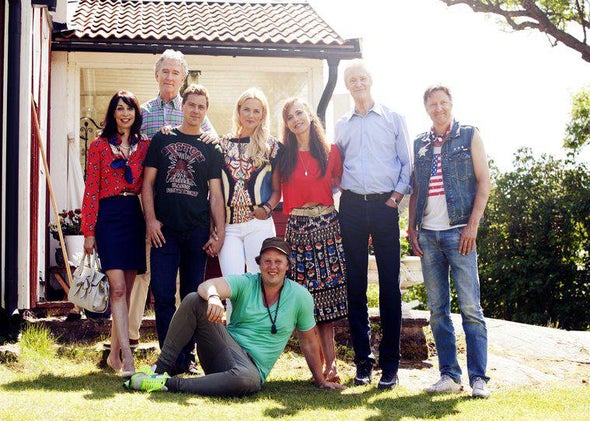 Welcome to Sweden is NBC's summer sitcom starring Greg Poehler (Amy's brother) as a Midwestern accountant named Bruce who moves to Sweden to be with his girlfriend Emma (Josephine Bornebusch). My wife, who was born and raised in Sweden, and I thought it would be fun to watch the show and see how well it matched our own cultural experiences.
Thursday's first episode starred Patrick Duffy as Bruce's conservative father and Illeana Douglas as Duffy's taken-for-granted wife. "Did you see who it was, Jer? Bobby. Bobby from Dallas," Kristine noted when he came on screen. "He doesn't look much older than in Step by Step." Kristine then started singing the theme song from Duffy's '90s sitcom. "Step by step, day by day— remember, there was a roller coaster at end?" Apparently they had TGIF sitcoms in Sweden.
The premise of this episode is that Duffy is an uncouth American who can't stop saying obnoxious things about Europeans. But the show missed an opportunity when Bruce and his parents walked past a famous Stockholm photography museum: It would have given Duffy a ton of fodder to criticize had they gone in. When Kristine and I visited with my brother-in-law and our then 2-year-old niece, they were hosting a Robert Mapplethorpe exhibit. I had never seen so many mothers and small toddlers in a room full of phallocentric photographs in my life. Patrick Duffy would not have approved. 
Duffy makes a sexist comment about his wife, and Kristine does not take kindly to it. Then he jokes that Swedish women are "easy." "Oh my God I'm gonna murder Bobby Ewing," Kristine says. "Do you know how we've suffered from that reputation. Try to live in France with that reputation. Try to vacation in Spain with that reputation." Soon after that, Duffy shushes Illeana Douglas and his fate is sealed.
Later, Emma's father explains to Duffy the Swedish concept of "allemansrätten." It's basically a Swedish property law that gives people the right to roam in nature even when trespassing. "I don't think people can come walking into your garden, but basically that's the idea," Kristine tells me. Duffy jokes about shooting trespassers, which Kristine considers another heavy-handed stereotype about Americans.
At the dinner table, he becomes even more of a cliché, trashing cohabitation as a sin against God. The Swedish family tries to explain that the practice—they even have a special word for it, "sambo"—is perfectly normal. Kristine and I are married, but she defends sambo. If you have a wedding, she notes, "You have to pay for an expensive venue, invite all your friends and have your family fight over where to have it," she says. Sambo apparently is the way to go.
The episode's final gag involves Bobby Ewing thinking that all the Swedish men are gay because they're stylish. Bruce and Bobby Ewing walk into a gay bar, because they can't tell it from a regular European bar. The punchline: Duffy loves the place. It's a cheap gag, but it reminds me of the first time Kristine was in Washington, D.C., and she said that everybody walking around in Dupont Circle, historically D.C.'s gay neighborhood, looked European. That stereotype will become a running gag in the show and I'm still not sure if it's homophobic, accurate, or both. (We should probably "Ask a Homo.")
Thursday's second episode guest-stars Greg Poehler's real-life sister Amy as a version of herself who is an abusive jerk that needs Bruce to get her out of a jam with the IRS. "Celebrities love to play themselves as evil," Kristine points out.
The episode opens with Bruce eating a disgusting looking breakfast of blood pudding and tube caviar on a Swedish cracker. Kristine asks, "Is he putting caviar on his knäckebröd? Also, is he putting the blood pudding and caviar together?" I can't tell the difference between the disgusting things you're supposed to eat and the disgusting things you're not supposed to eat, but in the show Emma asks the exact same question. "That's frozen pig blood. No wonder he's miserable," Kristine says. "I wouldn't even eat that. It's literally the most disgusting thing ever."
Kristine didn't used to feel this way about refried pig blood. When she was a kid, she loved it, until her brother told her what it was. "When you don't know what it is and you eat it fried with Lingonberry jam it's not that bad," she says. "You can eat it cold, too. It comes wrapped in plastic. Just heat it up, eat it. Nom." Kristine is now a vegetarian.
Emma mistakes Bruce's attempts to immerse himself in Swedish culture—by say, eating a disgusting breakfast sandwich—as a sign that he's depressed. (Kristine also thinks he's starting to dress like a Swede, but I can't really tell.) So Emma's mother tries to psychoanalyze him. "I bet my parents are watching and they're trying to find similarities with you," Kristine says.
Aubrey Plaza also guest-stars on this episode as Bruce's ex-girlfriend, and she plays an even bigger jerk than Amy Poehler. She stalks Bruce, makes fun of all the Stockholm activities he takes her to, and litters, which is the thing that stands out to Kristine. "She's throwing trash into nature?" Kristine says. "That's just rude." Kristine thinks it's a Swedish cliché about American disdain for the environment, and at this point she takes offense on behalf of her adopted country. "Just because Bush refused to sign the Kyoto protocol? That's offensive."
---