Name: Arjen Robben
Home country: Netherlands
Known for: Cutting inside and shooting with his left foot, diving, apologizing for diving, diving after apologizing for diving, promising not to dive again, diving after promising not to dive again, inspiring memes, Jerk Face.
Why he might be a jerk: He looks like a pretty big jerk. The main manifestation of this jerkiness is the way his entire body explodes in apparent death throes every time he's touched or nearly touched in the penalty area.
His theatrics at the 2014 World Cup have set off this year's version of the perennial hand-wringing over diving and whether it ruins soccer. And, hey, what do you know, his theatrics at the two major international tournaments before this World Cup had the exact same effect. At Euro 2012, Eurosport's Alex Chick called Robben and his flops "the pouting, sulky personification of the Netherlands' disastrous tournament." Writing two years earlier in Slate, Brian Phillips described Robben's performance in the 2010 World Cup thusly:
[Robben is the] public face of diving in this World Cup—a player whose theatrical displays of Horrible Roiling Anguish inspired an Internet meme and drove his opponents insane.
Robben continues to drive his opponents insane. The Dutch forward capped off the Netherlands' come-from-behind 2–1 victory over Mexico by earning the game-winning penalty on a light but clumsy challenge from Rafael Márquez. After the match, Mexico coach and human GIF Miguel Herrera blamed Robben's diving (and the referee who bought it) for his team's defeat. Robben, who actually kind of deserved a penalty after getting hit in the box earlier in the game, then had the chutzpah to apologize for diving in the first half, but not on the game's decisive play. This confession led some to call for him to be suspended for his cheating. He was not.
This wasn't Robben's first apology for diving. While playing for Bayern Munich in 2011, he accidentally stayed on his feet following a challenge in the box, realized his horrible mistake, and corrected it with a ludicrous post-recovery fall. "It was probably a penalty, but I should have fallen earlier," he said afterward. "I shouldn't do things like that, and I apologize."
Robben's history of phony repentance is nearly as old as his career. Back in 2006, when he was maybe the most hated man on the most hated team in England, the then-Chelsea player went down as if Mike Tyson had punched him after Liverpool goalkeeper Pepe Reina lightly touched his face. At the end of that campaign, he promised reform. "Next season I won't be in the headlines for diving again. That's a promise," guaranteed the contrite Dutchman in the Guardian. "Next year you won't write about me diving again." The following year, the Guardian was writing about Robben diving again.
Like other serial perpetrators, all of Robben's apologies and promises to change ring hollow. He's like Anthony Weiner guaranteeing that his Carlos Danger days are over, then getting caught with his hand in the sexting jar again, and then again.
After the cries of diver continued following the Netherlands' quarterfinal victory over Costa Rica, a fed-up Robben called the accusations "bullshit." He added that his team needed a penalty shootout to beat the CONCACAF upstarts because he "didn't get the ball enough," which leads us to the other big complaint about Robben: his ego.
Robben can consistently be seen moping, pouting, and generally looking like a cranky pants when things aren't going his way. When he was subbed off in a Euro 2012 loss to Germany, he jumped over some on-field signage, tore his shirt off, and sulked off rather than, you know, just accept being subbed out like a normal person.
His petulance has drawn the ire of teammates and fans. After Bayern teammate Thomas Müller gestured that he was being selfish during one game, Robben grabbed the German star by the throat. "We have got to be role models and should not make such gesticulations," Robben said to justify his actions. He shoved another Bayern teammate, Philipp Lahm, during a training session. Franck Ribéry punched him in the locker room after a dispute over who would take a free kick. His Bayern teammates gave him a special German nickname, Aleinikow, because of his selfishness. Dutch teammate Wesley Sneijder's criticism of the "pathetic egos" on the team has also been seen as a swipe at Robben.
And then there's Robben's signature on-the-field move, which he does over and over and over again. No, not the dives. We're talking about cutting inside from the right and shooting with his left foot. Phillips, writing last year for Grantland, had a perfect description of Robben's predictability:
Arjen Robben may not actually have a right foot. His right foot may be a hologram, or a ball of tin foil attached to his shin with twine. There's a good chance. No one would ever know, because he never shoots or passes the ball with it. If you're defending Robben, the only thing you need to remember is to force him to use his right foot. That's it. That's the whole strategy. Everyone knows this. And yet his one move is so beguilingly effective that he's scored 67 times in 119 games for Bayern. Every other game—more—his "oh hi opposing left back maybe I'll just take the ball toward the corner for a nice simple right-footed cross HAHAHA NO YOU FOOL I AM CUTTING INSIDE YET AGAIN AND WILL NOW SURPRISE YOU BY SHOOTING WITH MY LEFT FOOT FOR THE 9,000TH CONSECUTIVE TIME" trick actually pays off. It's mind-boggling.
Can a player's go-to move be jerky? As others have noted, doing the same thing over and over again when everyone knows exactly what you're going to do is the height of arrogance. And the worst part is, it works.
Why he might not be a jerk: There are two arguments in defense of Arjen Robben. The first is that he is often fouled. The fouls and the dives might happen because he is insanely fast and an exceptionally talented dribbler, and just a generally great attacking player. These fouls have led him to be injured for a good part of his career—his former manager at Chelsea dubbed him "Arjen Faint Heart" for all the time he missed. So Robben's dives are perhaps merely a defense mechanism to protect himself from more fouls and eventual injury.
The second defense is that it's not his fault that people are predisposed to hate him. You see, Robben suffers from a very serious medical condition. It's called "Jerk Face Syndrome," or JFS. While it has never been properly diagnosed, we're not the first observer to note the condition.
What is the evidence that Robben has JFS? In the below photo you can see quite clearly an instance of SJL, Shrugging Jerk Look, one of the major side effects of JFS. Notice the obvious FLJ (Flailing Liar Jowls) and ISE (Involuntary Squint Eyes).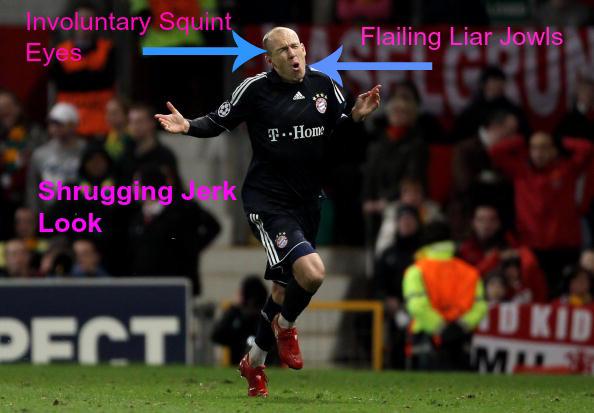 Here's another case where Robben is clearly dealing with an outbreak of Jerk Face. This side effect is called MFP, or Mr. Frowny Pants. Notice the clear instances of IWF, HOD, and PSLC.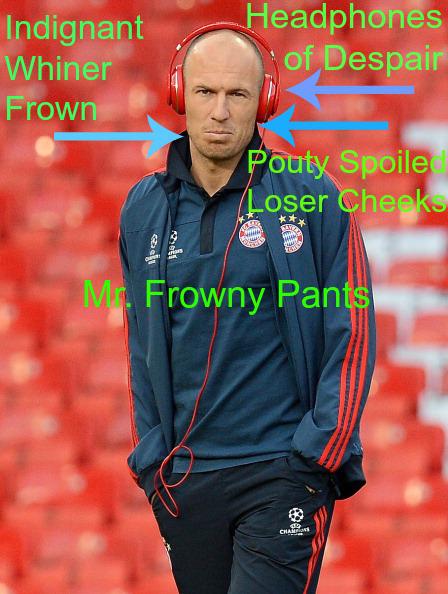 The instances of Robben being photographed while dealing with a bout of Jerk Face are too numerous to count. All the symptoms are there, including SJJC (Slack-Jawed Jerk Chin), SGJM (Smug Grinning Jerk Mouth), HJCS (Happy Jerk Celebration Shout), and CJMA (Concentrating Jerk, Mouth Agape).
Robben has suffered in his life because of JFS. He has been punched by teammates, had balls thrown at his Jerk Face by opponents, and been booed by his own fans. Even those close to Robben have suffered because of his JFS. After the victory over Mexico, fellow Dutch attacker Robin van Persie was berated by an obscene Mexico fan who somehow mistook him for Robben and his Jerk Face.
When considering his ailment, I actually feel sorry for Arjen Robben and his smug, grinning, diving Jerk Face. In all sincerity, I do.
Jerk Score: 2 out of 3 for style, for IPDS (Indignant Post-Dive Screams). 2 out of 3 for technique, because of RPB (Roly-Poly Ball). 3 out of 3 for consistency, because of PGLS (Predictable Going Left Syndrome). And 1 out of 1 in the category of "Kissy Face." 8 out of 10 for Arjen Robben.
Previously on World Cup Jerk Watch:
Is Uruguay's Luis Suarez Horribly Entertaining or Just Horrible?
Why You Hate Cristiano Ronaldo
Mario Balotelli Is the Paul Bunyan of International Soccer
Is U.S. Coach Jürgen Klinsmann Maybe a Little Jerky?