Lionel Messi seemed to recognize that he had lost the World Cup several minutes before the final whistle had blown. Moments after substitute striker Mario Götze scored a wundervolley in the game's 113th minute to put Germany up by the decisive margin of 1–0, the Argentine legend had his last somewhat realistic chance at goal. Defender Marcos Rojo sent a high arcing cross deep into the German area and Messi came flying in for a free header from about 15 yards out. Had his shot gone in, it would have been a glorious goal. Instead, the ball fluttered harmlessly over the bar, and Messi walked away with his head down, staring desperately at the turf.
There were three minutes left in extra time, enough time to conceivably score an equalizer under other circumstances. But not in this match, not against Manuel Neuer, the best goalkeeper of the tournament, and not against one of the strongest teams world soccer has ever seen.
Those inscrutable, brilliant, stoic—and in that moment sad—eyes had to know. This is probably the smartest soccer mind of our generation, and perhaps ever. He probably knew it the moment Götze's beautiful left-footed volley went into the back of the net. When ESPN later showed Messi's reaction after the goal, he was also boring his eyes deep into the turf. When he looked up at the camera, Messi lifted his hand to his face and gave a bemused grin. It was as if to ask: They can't possibly expect me to do this now?
He flashed the same smile, even wider this time, after he sent an impossible-to-score-on free kick well high on Argentina's final shot of the game. "If anyone can, he can," said ESPN's Ian Darke. No one could put that shot in, and no one could save Argentina against an unstoppable German machine.
Die Mannschaft, coming off of one of the greatest wins the sport has ever seen, deserved to lift this World Cup trophy. The German victory was a fitting end to a great tournament, one that tied the record for goals scored and for the number of matches that went to extra time. This is one of the best German sides in history, and that's saying a lot. It has finished in the top four in five consecutive major tournaments. It is ranked first in the world according to ESPN's Soccer Power Index. It has more points than any team in history in the highly touted World Football Elo Ratings, which places it ahead of Ferenc Puskás' 1954 Hungary team, Pele's 1962 Brazil team, and Spain's 2013 reigning Euro and World Champion team, in that order.* Most important, it is a team that has won Germany's first major trophy in 18 years and its first World Cup crown since beating Diego Maradona's Argentina in 1990.
"I think this is one of the best generations we ever had in Germany, at least the best generation I saw in Germany," said Mats Hummels, who was right the first time before realizing he was supposed to be slightly more humble. "You see in the Champions League, half of our team won the Champions League. Some of us stood against Bayern last year and lost in the final. So we just have a good team." Hummels is talking about his Borussia Dortmund club that fell to one of the great Bayern Munich teams of all time in last year's continental title match. Six members of Germany's starting 11—Neuer, star midfielder Toni Kroos, leading goal scorer Thomas Müller, talismanic captain Philipp Lahm, and World Cup final standouts Bastian Schweinsteiger and Jérôme Boateng—come from that Bayern side. Not to mention 22-year-old World Cup final golden goal scorer Mario Götze, who came on as a substitute. Yes, there's a lot of talent in Germany.
Against an Argentine team that put up an incredible fight, this German team was commanding. According to FIFA, the Germans had more than twice as many dangerous attacks as Argentina, 60 percent of the possession, and seven shots on target and one that hit the woodwork. The stats provider Opta, which measures possession differently, had Argentina's possession at just 36 percent, its lowest number at any World Cup game since 1966.
The statistics don't tell you that the game was fairly even in terms of number and quality of chances, but they do indicate that Germany largely dictated the pace and played the type of controlled, possession-based game it wanted to play. Germany capped off the title win by scoring its 18th goal of the tournament, the most of any World Cup team in 12 years.
To have such a team claim the title—the first European side to ever win in the Americas—is fitting. That's true even though it comes at the expense of one of the greatest players the world has ever seen and an impressive Argentina team that played stalwart defense in the tournament's final stages.
The Argentines deserves to be proud, and despite the sting of Sunday's loss, it seems as though they are. Prior to conceding that Götze goal, Argentina hadn't surrendered a score in 485 minutes, the third-longest such streak in World Cup history. The team trailed for a grand total of seven minutes in this World Cup, and unfortunately those seven minutes came at the end. Argentina also only conceded four goals, just two more than Spain did during its brilliant 2010 run and the same number the German champions did at this year's tournament. Argentina had come into the World Cup with a second-string goalkeeper from the weak French league and a couple of defensive journeymen holding up the backline. But it proved to be one of the best defenses in the tournament, led by holding midfielder Javier Mascherano, who was again all over the field in this final.
Though Argentina was clearly the second-best team at this tournament, La Albiceleste did have several opportunities to steal the game from a better side. In the 21st minute, Gonzalo Higuaín failed to convert an open chance on goal that will likely haunt him for the rest of his life. He blew another fantastic scoring opportunity 10 minutes later by running offside on a perfect cross from Ezequiel Lavezzi. In the second minute of the second half, Messi missed his own one-on-one chance with the keeper, though from a much tougher angle, zipping his shot wide. And in the seventh minute of extra time, another gorgeous pass sent substitute and Jet Li character Rodrigo Palacio one-on-one with the goalkeeper only to harmlessly see his chip go, again, wide. In all, Argentina had 10 shots and just two on target, according to FIFA. (Opta says that Argentina had zero shots on target, though I'm not sure why the discrepancy.) Neuer, who ended up winning the Golden Glove for best goalkeeper, was asked to make zero saves.
Surely many will put Argentina's offensive failure at the feet of Messi, and say his inability to score somehow tarnished his game, his tournament, and his legacy. Some already are saying so.
ESPN commentator and former Venezuela international Alejandro Moreno made the inevitable Maradona comparison afterward, saying that Messi's failure to replicate his predecessor's title-winning glory would lower him in the eyes of his countrymen. "I'm going to speak for the Argentinian men in this room and I'm going to say there is going to be no charity for Lionel Messi," Moreno said. "Yes, he has driven this team to the finals and yes he has had moments, but in order for him to win the heart of the Argentinian people, he had to carry this trophy home. And in not achieving that—he would always fall short to Maradona, but if he had won this title at least he gets in the room with Maradona."
There was much harrumphing to similar effect on Twitter when Messi was awarded the tournament's Golden Ball after the game. Many even suggested, not unreasonably considering FIFA's notorious corruption, that the prize was a gift to Adidas, who sponsored the trophy and, coincidentally enough, also Messi. For his part, Messi looked embarrassed to be handed the prize.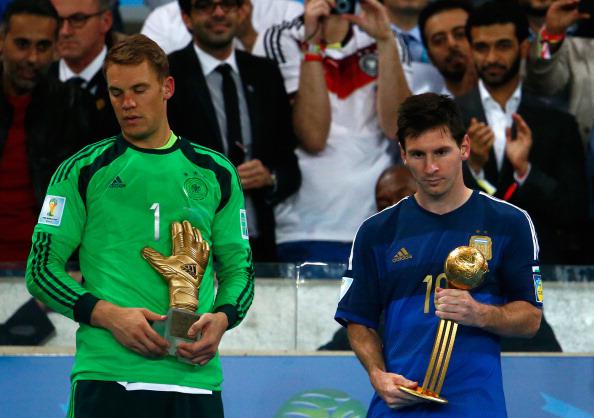 While it may have seemed farcical in that moment, it's not crazy to give Messi that Golden Ball. His final wasn't that bad—he made some dangerous attacking runs and was Argentina's most-threatening offensive player. And his tournament, while maybe not deserving of top honors, was amazing. He scored four goals and assisted on one, but was involved in seven of Argentina's eight goals. He led the tournament in successful take-ons and chances created. According to Opta, his 46 take-ons were the third-most since they started counting, behind only Jairzinho in 1970 and Maradona in 1986.
There's Maradona again. Unfairly for Messi, that title-winning 1986 performance is the one against which he'll be judged. That he couldn't beat one of the all-time great teams—a team that is historically stronger than any Maradona faced at the 1986 Cup—without any offensive support in the last few rounds is supposed to mark him as a failure for all-time (or until he wins the World Cup). As his coach Alejandro Sabella noted after the match, Messi attempted to achieve this feat on one day less rest than the Germans and having played 30 more minutes than them. Messi was also playing without the team's second-best attacking player Ángel di María and on legs that he felt weighed "100 kilos."
When 22-year-old match-winner Mario Götze came on in the 88th minute, Germany coach Joachim Löw was said to have told him "go out there and show everybody in the world that you're better than Messi."
Taken literally, this statement is insane. Götze played more than 400 fewer minutes than Messi at this tournament. The German's career thus far pales in comparison to one of the greatest the sport has ever seen.
But by the logic of those who still say that Messi has failed somehow, that he hasn't had his defining World Cup moment, Götze should be remembered as the better player. Most people are too smart to buy that malarkey. In truth, Messi did nothing to cement his legendary status in the final, but nor did he need to do so. If Messi played on a team as good as Germany, the World Cup wouldn't be a fair competition. The fact that Argentina took the Germans to extra time is an achievement to be applauded. But most of all, we should applaud Germany, one of the best teams most of us have ever seen.
*Correction, July 14, 2014: This post originally implied that Spain's 2013 team had won the Euro and World Cup championships. Spain at the time was merely the reigning holder of those titles.