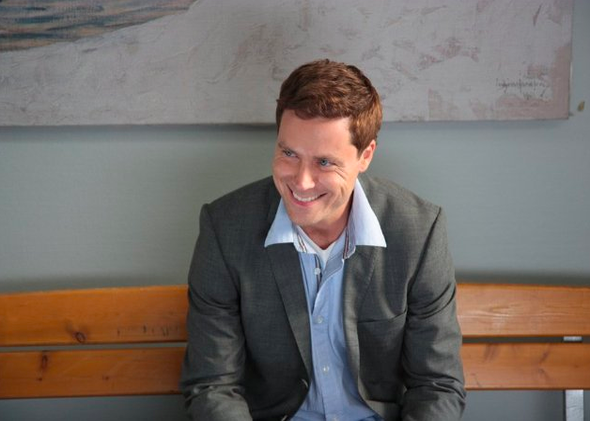 Welcome to Sweden is NBC's new summer sitcom starring Greg Poehler (Amy's brother) as a Midwestern accountant named Bruce who moves to Sweden to be with his girlfriend Emma, played by Josephine Bornebusch. My wife Kristine, who was born and raised in Sweden, and I thought it would be fun to compare our own experiences to the cultural clashes presented in the show.
Episode three, which aired tonight, begins with Emma compulsively checking her apartment's peephole to make sure she won't bump into any neighbors. Going to extreme lengths to avoid having to interact with other Swedes is apparently not unusual behavior. "I know someone who refuses to live in a house because he doesn't want to have to say hello to neighbors," Kristine says. "His partner wants a house with a garden for their kids. But he's worried about the neighbors."
The running gag throughout the rest of the show is that Bruce tries desperately to be neighborly to Swedes and they shun him. "In Sweden, basically, you more or less leave each other alone," Kristine says.
The primary plotline of this episode involves Emma and Bruce proving their relationship status to a Swedish immigration officer. Kristine and I went through something similar with U.S. immigration when we moved here, and it is a bit nerve-wracking even if you have nothing to hide. But while Kristine and I talked to a functionary in a DMV-like booth together, Emma and Bruce must go to an office to meet with an immigration officer separately. And their officer comes to their apartment to investigate them. Nothing like that happened to us. (I recall at one point in our meeting instinctively picking a piece of lint off of Kristine's back during the interview, making eye contact with the immigration officer, and thinking "we're home free.")
But the next scene is instantly familiar to Kristine. Emma questions Bruce about all of the furniture he has moved from the U.S. to their new apartment. "He's ruining the entire apartment with his ugly furniture, no? Going to have to get rid of all that," Kristine suggests. I ask Kristine what she's insinuating. "She's probably insinuating that the furniture is tacky, that Bruce has got no taste, and that I recognize the situation," she says. The idea that Americans are less stylish than Europeans will be a running theme throughout the show, as it is in our lives.
Emma's idiot brother shows up and becomes enthralled by Bruce's La-Z-Boy. "It's like a Transformer… But it's a chair. It's a Transformer chair!" I ask Kristine if no one has "Transformer chairs" in Sweden. "Is it just a folding chair?" she asks. I try to explain the concept of a La-Z-Boy while in the show the idiot brother character gets stuck in the La-Z-Boy.
In the next scene, Bruce chases down a neighbor to try to say hi and the neighbor runs all the way back to his apartment to escape. "The neighbors are fleeing. That doesn't happen," Kristine says. I thought she said that's what her friend does. "No my friend is preempting having to do that. You don't run away like a maniac."
In the episode's final act, Emma goes into a dramatic spiel about how she's never moved in with a boyfriend before and is "not used to accepting stupid wooden bars and stuff like that." Again, Kristine empathizes. "It's tough, Jer. It's tough having to accept stupid tacky furniture ruining the entire apartment."
The episode ends with Emma having a nightmare about Bruce's stalker ex-girlfriend/client, Aubrey Plaza, showing up in their bed and having sex with Bruce. She wakes up and smacks him in sitcom-like fashion. Bruce has spent a lot of time in this episode taking and rejecting calls from Plaza, the cause of Emma's nightmare.
"Can't trust men acting funny on the phone," Kristine says. "Just like Tiger Woods being funny on the phone." Tiger Woods was married to a Swedish woman before she found him "being funny on the phone" and then in real life. It did not end well for him. Duly noted.
---