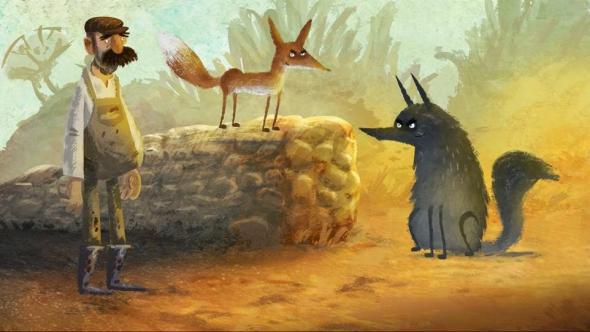 I have just spent the most delightful few hours in recent memory playing around on The Seamus Heaney: Five Fables app for iPad. It is glorious. Run, do not walk, to the App Store. It will cost you almost $14. If you can, you should pay it.
Heaney made five beautiful, homespun translations of poems by the 15th century Scot Robert Henryson. The poems and translations are collected on the app, along with fabulous color animations by the Irish studio Flickerpix. You can hear everything read aloud by actor Billy Connolly. Or you can hear everything read aloud in Scottish by Dr. Ian Johnson. You can watch Seamus Heaney, who died last year, talk about how and where he first encountered the medieval tales—based on Aesop—and why he "feels at home with Henryson." Experts discuss the poems' language, rhyme scheme, morals, and context, for those who are not sated by the line-by-line commentary. Mellifluous accents abound. Never before have I seen or heard an iPad do anything quite so charming.
Part of the spell is the fables themselves, of course, which Heaney renders in his gorgeous, fluid style. He knows exactly how to draw out the rascally humor in the fox's advice to the wolf, or what word will evoke both the brightness and the multitude of the stars. But what makes this app an app and not an audiobook-with-text is the animation, which transforms the folktales into five visually stunning, whimsical, wryly funny cartoons—think Chaucer by way of Adventuretime. (The films were originally created for BBC broadcast.)
In "The Preaching of the Swallow," for instance, the personified seasons come to life at a dinner party, Old Man Winter huddled glumly in his corner while Summer beams and Autumn pours out the wine. The music shifts as we move from the horn of plenty to Winter's meager plate and glowering gaze. It is a great (comic, touching) bit of dramatic foreshadowing for the story to come, in which birds who don't heed the swallow's fair-weather warning meet a bitter end. It is also a startlingly effective combination of words, images, soundtrack, and narration, something that reminded me of being read to as a kid and imagining Treasure Island on every level.
Do you seek a deep, scholarly engagement with Henryson's fables? Great, you can get it from this app. Look over Heaney's preface, close-read the text of the translations, take notes on the professors lecturing under the "Insights" tab. Are you after an afternoon of fun, fantastical animal tales? Excellent. Curl up on the couch, close your eyes, and listen. Or just watch the cartoons. In the final one, the wolf gets a goofy grin on his face as he imagines all the stolen herring he plans to eat. I can relate. I've been wearing the same loopy grin since I first opened up "Five Fables" and clicked play. 
---