While LGBTQ rights advocates continue to make strides across the country, many LGBTQ individuals still struggle for acceptance within their own families. A recent exhibition, "Our Portraits, Our Families," at the Museum of Chinese in America, presented by the arts and advocacy group the Asian Pride Project, addressed this situation among Asian and Pacific Islander families by presenting their stories through photography. "If we want to change the culture of homophobia in Asian communities we have to help families process the coming out. There's not a lot of information out there though and a lot of API families are immigrant families, so they don't have the language for it. They're not used to exposing their issues to other people," said Aries Liao, the founder of the Asian Pride Project. "We thought the Asian Pride Project would give them access and it might help so parents can feel there's a community out there, that there are faces with which they can identify."
The project began when the Asian Pride Project put out a call for submissions for a public collection of photos of LGBTQ API families, some of which were included in the exhibition. At the same time, it asked those who submitted to indicate whether they'd be willing to be photographed by one of five professional photographers selected by committee. Turnout was lower than expected, but the organization was ultimately able to select five families representing a range of experiences, including people from many parts of Asia and different aspects of the LGBTQ spectrum.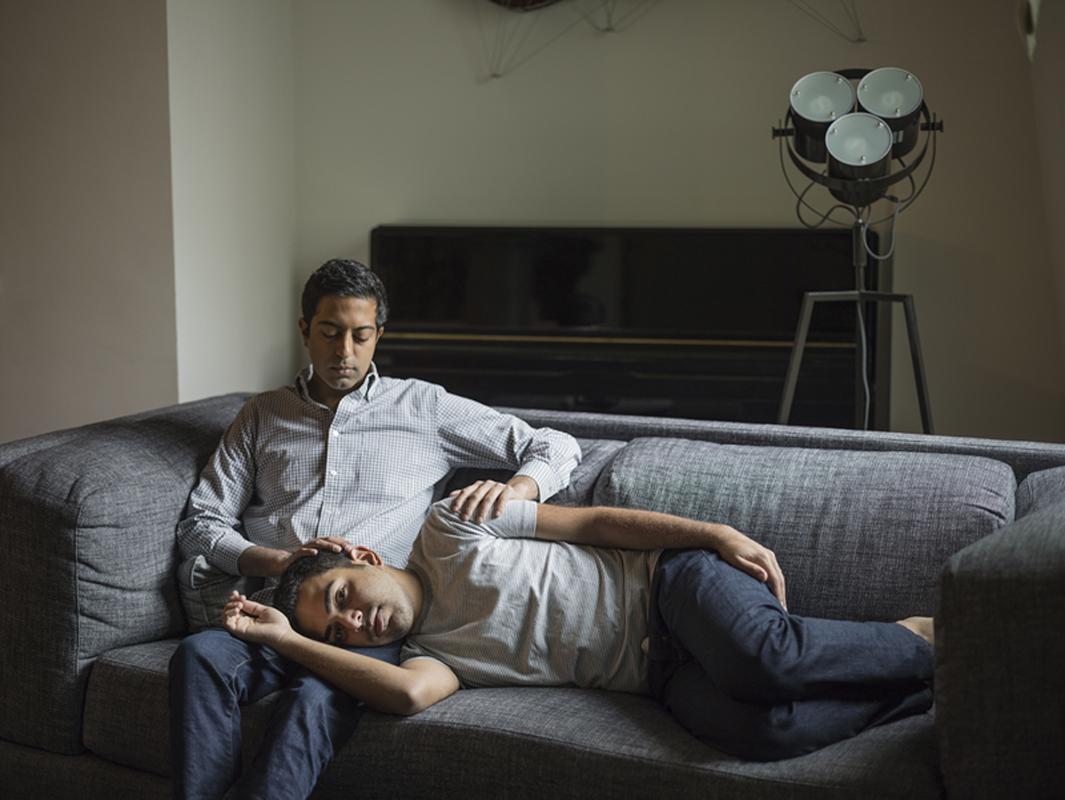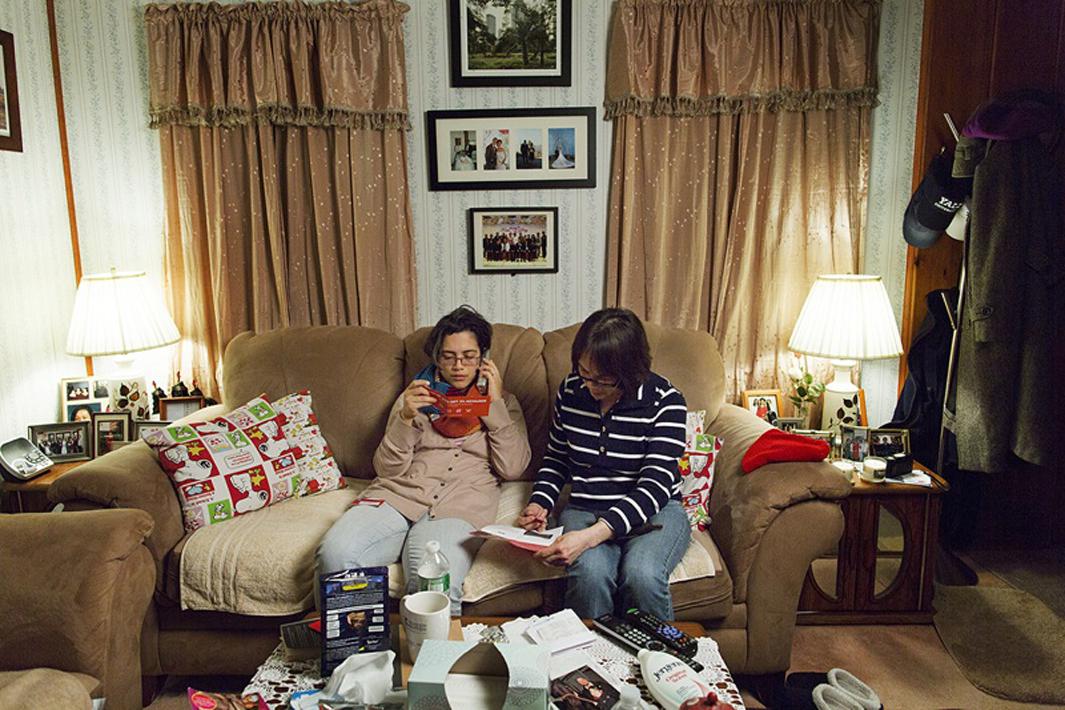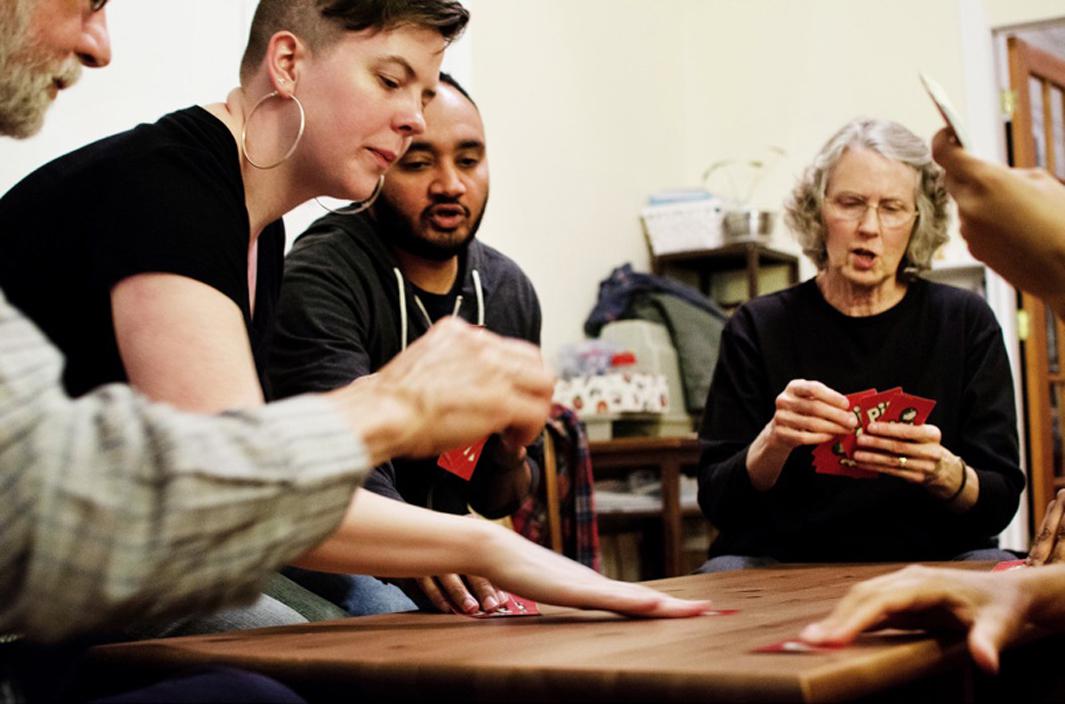 Alexis Padrigal Lim photographed Mashuq Mushtaq Deen, a queer transgender man of South Indian descent, with his partner, Elizabeth, on a weekend when her parents were visiting. Nelson Chan photographed two men named Navin—friends call the couple "Navin squared"—who come from Sindhi families in New York and Manila. "Our journey was not an easy one. Thankfully, both of us have mothers and families who, over time, have become loving and supportive," the couple wrote in a statement. "Looking back, it was our honest and open communication with our families that created the solid foundation for our relationship. The process made us realize how brave and unconditional our parents' love for us is, especially in the face of a community that sometimes called our union 'unacceptable' and 'disgraceful.' "
Two of the photographers in the exhibition shared stories of their own families. Pete Pin photographed his uncle, an immigrant from Cambodia, who lives with his aging mother in Stockton, California. "At 24, still struggling with his sexuality, he was pressured into an arranged marriage. Three years later, he came out to his family and left his wife," Pin wrote in a statement. "His mother accepted his coming out with neither open arms nor resentment; she simply understood he would be better off not being married to a woman."
Ka-Man Tse, who identifies as a Chinese-American lesbian, photographed her own experience with her parents and her wife, Cheryl. Though her parents and her partner had always been in her work, Tse said, the photos she took for "Our Portraits, Our Families," were the first she's made with all of them in the same room. "I wanted the images to be about how my parents now can share a meal with my wife, and welcome her into their home—and that we exist together as family. In our household, making and sharing a meal is the ultimate expression of love, and so the images center around that idea of preparing and sharing a meal—seemingly mundane or everyday occurrences, but wonderfully huge victories and gestures in our family story of how my parents have evolved over the past 16 years to come to accept their gay daughter," Tse said via email.
While getting her parents to come to terms with her sexual identity has been a long process, Tse said, "progress is measured in small steps and tiny gestures over time." But those victories, she said, are important. "As an artist and image-maker, I make pictures … for these moments of intimacy and human agency, and for the possibility of change through these small gestures that can resonate," she said.