Friday's World Cup quarterfinal between France and Germany is a repeat of one of the most iconic and dramatic games in World Cup history: the 1982 World Cup semifinal, notable for German goalkeeper Harald Schumacher's horrific challenge on Patrick Battiston, which left the French substitute unconscious, with two teeth knocked out and three cracked ribs. Schumacher was not booked and referee Charles Corver did not even award a foul.
The match ended 3–3 after extra time and went to penalties—the first World Cup match to be decided by a penalty shootout. Despite West Germany's Uli Stielike being the first player to miss, Schumacher ended up as the hero by saving penalties from Didier Six and Maxime Bossis. West Germany won 5–4 and were in the final.
In his new book Twelve Yards: The Art and Psychology of the Perfect Penalty, Ben Lyttleton details how each of the key players in that game saw the Schumacher/Battiston episode, and how it affected their mindset going into the shootout. In this excerpt, he explains what happened after the final whistle.
The game had finished at 23:41 local time, which goes some way to explaining why the Schumacher incident barely registered in the next day's analysis. "Fabuleux!" ran L'Equipe's headline, praising the France team for its attacking verve and coach Michel Hidalgo for fielding three playmakers in Alain Giresse, Michel Platini, and Bernard Genghini. "Si près du paradis"—"So close to heaven"—ran the inside headline: "It's hard, so hard to take, more than we can say. Germany will play in the final but France, we can say without bitterness or patriotism, deserved it more. This was a great day for French football."
One day later, the mood changed as the severity of Schumacher's challenge took top billing. "Red-handed!" was L'Equipe's front page, with an image of Schumacher's hip making contact with Battiston's jaw. "A story of unpunished violence. … Schumacher was a brute. It's a morality tale which we will tell our children." Hidalgo changed his tone from valiant loser to angry victim. "You say Corver is an international referee? I have my doubts, if he risks the safety of the players like that."
The hostility between the countries continued: L'Equipe's switchboard was jammed with anti-German calls and cars with German number-plates parked in French campsites had tires slashed and windows broken. To improve relations, Chancellor Helmut Schmidt sent an open letter of condolence to President Francois Mitterand. "Our hearts go out to the French, who deserved to go through just as much as the Germans."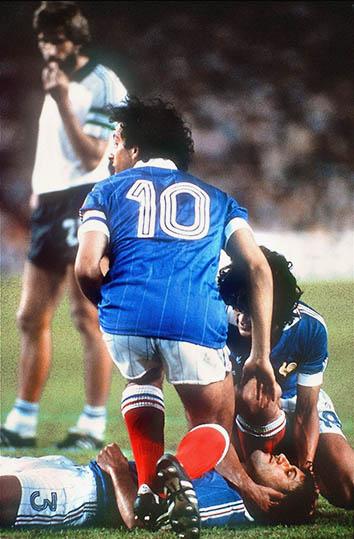 After Italy had beaten West Germany in the final—"Justice!" crowed L'Equipe—someone had the bright idea to send Schumacher on a diplomatic mission to France to apologize in person. Schumacher travelled to Metz on the day before Battiston's wedding and presented him with an FC Köln pennant and an apology. But the trip was not a success. "Schumacher forgets himself," said German magazine Kicker. "It was a gesture of reconciliation with unpleasant consequences." The pair were photographed sitting next to each other at a hastily arranged press conference, looking in opposite directions. Schumacher, objecting to questions from the French press, cut the conference short. "This is something that concerns only Battiston and me," he said. "If I had known, I would have brought my own German journalists with me." The peace offering had turned ugly. "The bad guy just wanted to poke fun at the good guy," wrote Le Figaro.
One day after the failed reconciliation, Mitterand considered asking Hidalgo to get his players to state publicly that they had no problem with Schumacher. Hidalgo had his response ready: "What, shall I ask them to take the Germans on holiday with them?" That gave France Football magazine an idea: It asked the France team where they would take Schumacher on holiday. Here are the answers:
Giresse: To visit the Padirac Cave.
Platini: To climb the Grandes Jorasses mountains [in Mont Blanc].
Maxime Bossis: To scale the heights of the Vallée Blanche [in Mont Blanc].
Dominique Rocheteau: To watch a sunset from the cliffs of Étretat.
Marius Trésor: To do a parachute jump with a delayed opening.
Battiston: To help me pick mushrooms in the forest as I still can't bend down.
It does not take a mastermind of psychology to spot the common theme.
Platini, the French captain, believes that France needed to lose this game—which in French folklore is simply referred to as Sevilla 82—to help them win their first competitive trophy, the European Championship, two years later. "The legend of this game comes from the fact that we lost it," said Platini.
"In losing it, we became a great team. It was the end, but also the beginning of something. In the history of French football, the two turning points were Sevilla 82 and the 1998 World Cup final. Sevilla marked a generation of football fans, gave them a collective state of mind: it's why books and plays have been written about the game. No movie in the world could have provided as much conflicting emotion as Sevila 82. It's certainly a beautiful moment in my career. It's the moment that makes you say afterwards, 'I'm glad I was there!' Even if you lose."
The heroic failure inspired creativity. France's 1982 defeat indeed spawned books, documentaries, plays and music, all created by a generation for whom the game was a defining moment. In 2006, scenic-representation artist Massimo Furlan pretended to be Platini in his performance Number 10, in which he mimed the France midfielder's pass to Battiston, reaction to his injury, and his penalty kick, in an empty stadium save for one observer: the coach Hidalgo, watching from the sideline.
Red, a French musician, played a concert he called Sevilla 82 against a visual backdrop of the game. France-Allemagne was a play examining the relationship between the two countries, set in a Frenchman's living room as he entertains a German guest with the game on in the background. French choreographer Pierre Rigal, who was nine in 1982, produced a dance piece, Injury Time, which he took to Potsdam in Germany. "I remember it as a great injustice and frustration, an event that went beyond sport," he said, "and my piece was a way of looking at how we treat childhood memories."
Twenty-seven years after the game, totally out of the blue, Battiston received a package from his old teammate Platini. It was his full kit from the game—blue shirt, white shorts with the distinctive circled number three, and red socks—which had been left in the dressing room, kept in a Seville museum, and then presented to Platini on one of his UEFA presidential trips. Battiston was emotional when he opened it; the kit now hangs in his son's bedroom. Schumacher also gave Battiston his goalkeeping jersey before a friendly between the two sides in Strasbourg in April 1984. Battiston has no idea where it is now, or even if he still has it.
This article is excerpted from Twelve Yards: The Art and Psychology of the Perfect Penalty by Ben Lyttleton, out now from Bantam Press.