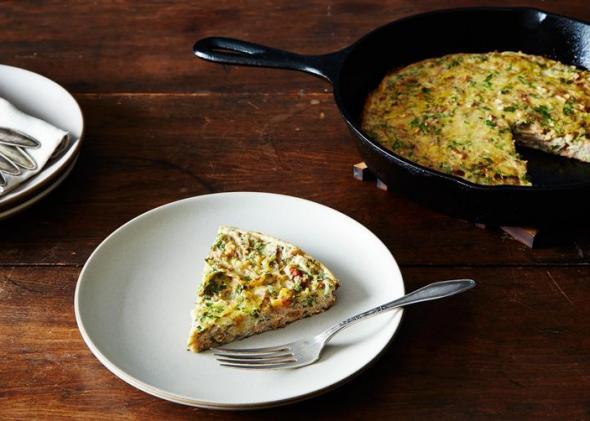 You can tell a lot about new parenthood from the relentlessly advancing hour of brunch.
Before you have children, you invite friends for brunch at a time when reasonable people wake up—like, say, 1 p.m. (Or is that too early? Are you up by then? Are you sure?) After you have children, you start out pretending nothing has changed. Brunch moves modestly earlier, to something like 11 a.m. (Does that work for you? We'll have coffee!)
But then you realize none of your friends without children come to brunch earlier than noon, and also what happened to all your friends without children? Did they move? And all your friends with children have been up so long that that by 11 a.m. they expect dinner.
So then you only invite friends with children and at like 9:30 a.m., which is embarrassingly early to see humans who did not cosign the mortgage but still not early enough, because days seem to pass before 9:30 a.m. I eagerly await the future Richard Linklater film After Sunrise, in which a toddler and his father take a long, intimate early-morning walk around the neighborhood which ends with the father asleep in the park, curled lovingly around his child, who is obliviously stuffing ants in his mouth.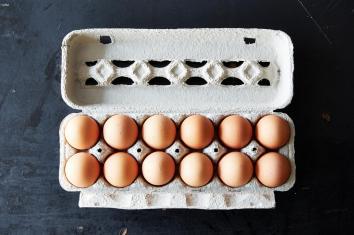 So then you scrap 9:30 a.m. and your brunch invitations just read, "NO SERIOUSLY PLEASE COME AS EARLY AS YOU WANT WE'RE UP ANYWAY LOL." 
All this inevitably lowers the stakes for brunch itself. You can go the way my son Isaiah suggested the other day: Buy a dozen doughnuts, a dozen doughnut holes, and then insert the doughnut holes back inside the doughnuts. Or you can make Martha Rose Shulman's frittata, which requires less fine motor control.
Shulman's frittata is the sort of thing that you can manage when you have invited people to basically show up at your house whenever. A frittata is not a complicated thing to begin with, but this version is even less complicated. Instead of starting the frittata on the stove, or finishing it under the broiler, or somehow flipping it, she simply bakes it the entire time. If the top is less browned, the texture is perfect—not too dry or tough in places, but beautifully tender the whole way through. And it means you can, in the immortal words of Ron Popeil, set it and forget it. Which is important because while the frittata is baking you have doughnuts to fill with doughnut holes.
The other brilliant part of Shulman's recipe: yogurt. Specifically, strained or Greek yogurt. Once you have this master recipe—the oven, the yogurt—the frittata can be customized however you like. (That's the whole point of Shulman's new book, The Simple Art of Vegetarian Cooking: Learn a basic template first, then fill it in—freedom within structure.) Below is Shulman's version with melted onions and walnuts, because obviously. But the template is really the point here.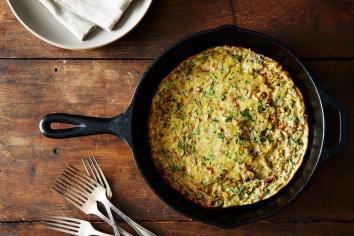 As they say, to make a child, you need to break a few eggs.   
Baked Onion-Walnut Frittata
Serves 4 to 6
For the melted onions:
1 pound onions, either chopped or thinly sliced

2 tablespoons olive oil 

1 teaspoon fresh thyme leaves

1 garlic clove, minced
For the frittata:
2 tablespoons olive oil

6 large eggs
½ cup Greek yogurt 

⅓ cup walnuts, finely chopped

¼ cup fresh parsley, finely chopped
---