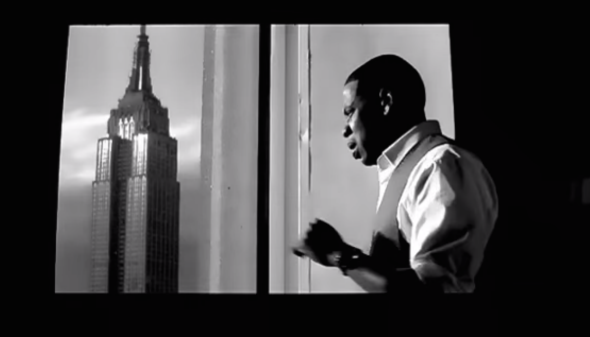 Earlier this week, RZA and rock band Faulkner released a music video for their song "NY Anthem." As with many songs about the place, its lyrics describe a city where big-time success is there for the taking ("Go to New York, New York/ And take over the world"). Another thing the song has in common with many NY-themed ditties? Its video is shot in black and white.
Call it the Manhattan Effect, maybe: Woody Allen's 1979 classic is rightly held up as a gold standard in depicting the city on film, and could be an influence here. Or perhaps NYC is just more aesthetically pleasing in black and white than it is in color. Maybe it's the nostalgia many people feel with regard to New York: People who live here love to long for an older New York that never really existed.
Whatever the reason, NYC and black and white just go together. For further proof, here are a few more videos that, like "NY Anthem," make New York look like the best city in the world.
"Empire State of Mind," Jay Z and Alicia Keys
Dreams are made here, so the chorus goes, and the black-and-white images of street signs, skylines, and famous landmarks gives the video a dream-like quality.
"Downtown Train," Tom Waits
The images in this Tom Waits video are a cross between film noir and Edward Hopper. They also recall the 1957 film classic Sweet Smell of Success. Like that movie's J.J. Hunsecker, Tom Waits seems to love this dirty town. And doesn't it look more lovable in black and white? 
"An Open Letter to NYC," Beastie Boys
The rap trio's love letter includes many long, black and white takes—adding to the nostalgia factor of the post-9/11 song that references Diana Ross' 1983 concert in Central Park and a time when 42nd Street "was all porno flicks."
"Bad," Michael Jackson
Unlike the iconic music video it prefaces, the short film leading up to "Bad" is in black and white, and visually it's aged much better than the harsh color of the dance-heavy main event. The entire video was directed by Martin Scorsese.
"Fairytale of New York," The Pogues and Kristy McColl
Once Upon a Time in America was an inspiration for the Pogues' great Christmas song, but when it came time to make the Matt Dillon–featuring video, they opted not for that film's color cinematography, but wistful black and white instead, a perfect match for the melancholy tune.
 "212," Azealia Banks
There are only a few shots of New York City here, but the title refers to an NYC area code (Banks grew up in Harlem).
"The World Is Yours," Nas
Nas, who raps about living in the "Rotten Apple" here, is an artist who represents NYC by sheer presence alone—and the black and white reinforces the mood of this classic.
"Englishman in New York," Sting
The Oscar nomination was many years away, but David Fincher was well into his storied music video career when he directed this one for Sting, alternating between shots of Sting, gay icon Quentin Crisp (to whom the song is dedicated), and the foreign city they both loved.
---