Does this photo of Lionel Messi taking on four defenders in Argentina's World Cup quarterfinal against Belgium look familiar to anyone? We'll give you a hint: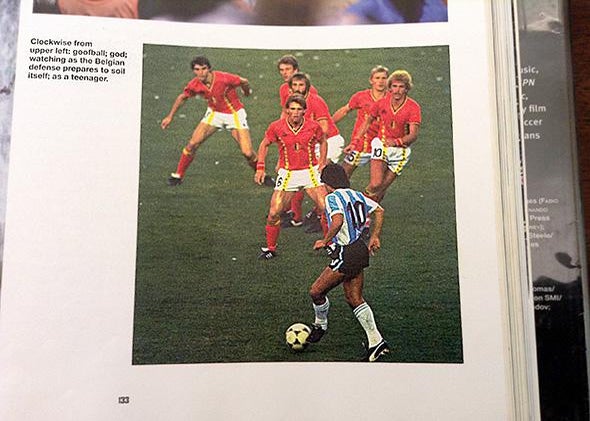 There was always going to be a moment in Saturday's match that recalled the above photo of Diego Maradona appearing to take on half of Belgium's team at the 1982 World Cup. With Messi having been the focal point of the Argentine attack throughout the tournament, with every team he's played stacking defenders against him, with Messi wearing Maradona's No. 10 jersey, and with both sides wearing the same traditional, iconic colors as 32 years ago, such a moment seemed inevitable.
It happened near the end of the first half when the Barcelona striker danced around Belgian midfielders Axel Witsel and Marouane Fellaini before being hacked down multiple times from behind by Fellaini on the edge of the penalty box. Messi just missed drilling the ensuing free kick into the top righthand corner of the net for what would have been his fifth goal of this World Cup, but the moment did leave us with the new photo.
While the Maradona photo is more impressive looking and will remain more iconic, the Messi moment was actually far more magical. He brought down the ball beautifully with his chest before dribbling through the Belgian defense to earn a free kick just outside the box. As we mentioned in an earlier post comparing another great Messi moment to that Maradona photo, the 1982 photo is actually incredibly misleading.
According to an analysis by the Irish website The Score, footage of that game showed that the Belgians had been set up in that shape to defend a free kick, not to defend Maradona. Like Messi, Maradona had it in him to move through entire defenses with apparent ease. But the 1982 image did not demonstrate that fact, it merely encapsulated it.
Again, here are the two Messi and Maradona images side-by-side.

The other big difference between the two photos? In that 1982 game, Belgium defeated Argentina 1-0. On Saturday, Argentina won 1-0 to reach the semifinals on a strike by Gonzalo Higuaín. On that goal, Messi dribbled around two Belgians and sucked in the Belgian defense with the gravitational pull of a small planet before laying the ball off to Ángel di María, who set up the Higuaín score with a ball into the box.
Messi wins this round of the constantly evolving parlor game of comparing the two Argentine legends.