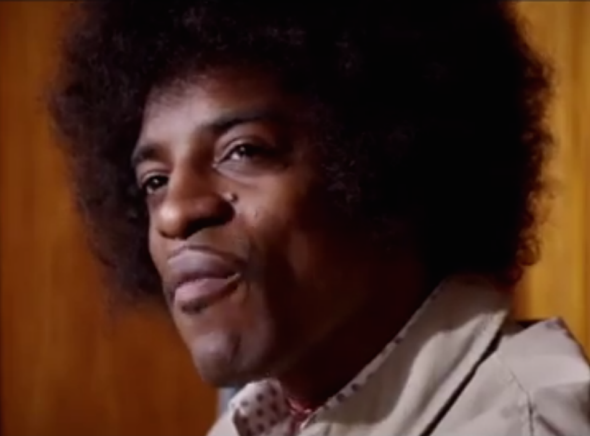 If there must be a biopic about Jimi Hendrix, there may be no famous performer alive better suited to lead it than André Benjamin. Thankfully, the creative stars aligned, and the long-gestating project featuring the more eccentric half of OutKast premiered at the Toronto Film Festival last year to surprisingly favorable reviews. Jimi: All Is by My Side now has a trailer that offers the rest of us a peek into the film's style and Benjamin's approach to the role.
Zeroing in on Hendrix at the cusp of fame, the trailer bounces between the rocker's ascent through the music world, his relationship with Linda Keith (the then-20-year-old girlfriend of Keith Richards who helped bring Hendrix's talents to a wider audience, played by Imogen Poots), and his affair with Kathy Etchingham (Hayley Atwell). Benjamin does a fine imitation of Hendrix's loose yet impassioned pattern of speech, convincingly delivering lines like "When the power of love takes over the love of power, that's when things'll change."
It's impossible to tell from this glimpse how much the film will suffer from its lack of actual Hendrix recordings. (Ridley was unable to secure the rights from the late musician's estate.) As good as Benjamin may be, when you can't include the very thing that made a biopic worth doing in the first place, you've got a serious hurdle to overcome.
The film is set for release in late September.
---