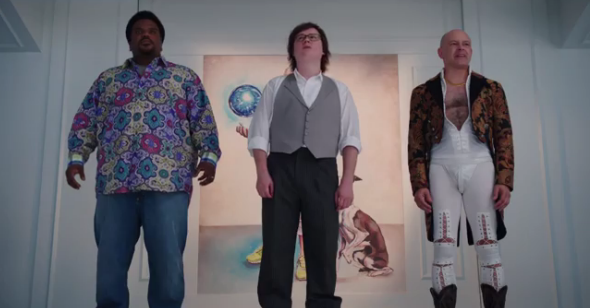 Though I do remember a handful of hearty laughs in 2010's raunchy time-travel comedy Hot Tub Time Machine, I don't recall fans clamoring for a sequel. But as far as gratuitous sequels go, the (NSFW) trailer for Hot Tub Time Machine 2 certainly has potential—that is, if the movie can somehow, as few sequels do, overcome the flaws of its predecessor.
A reprise by director Steve Pink, the sequel reunites Rob Corddry, Craig Robinson, and Clark Duke, though it notably lacks John Cusack, who seems to have decided that one trip to the past was enough. Capitalizing on their knowledge of the future, Corddry's Lou has struck gold by inventing the Internet, and Robinson's Nick by plagiarizing as-yet-unwritten pop songs. But when Lou is shot by an unknown assailant, the trio must travel back in time to solve the mystery and save his life. Instead, an apparent glitch ends up sending them 10 years into the future.
There's always the possibility that all the best jokes were squandered on the trailer. But as long as screenwriter Josh Heald has given these three stooges enough material to work with, I'm willing to give them the benefit of the doubt that they'll deliver. And it can't hurt that Adam Scott and Kumail Nanjiani appear in supporting roles. The movie hits theaters on Dec. 26.
---