For sheer spectacle and shock value, if not quality of play, the 2014 World Cup will go down as the most memorable in history. With three matches to play, this tournament is four short of the 1998 record for most goals scored in a World Cup. It already has a first-class villain in Luis Suárez and his teeth, and an indefatigable underdog in Costa Rica. Now, with Germany's semifinal 7–1 humiliation of hosts Brazil, the tournament has a match that will be remembered for as long as people care about soccer. "Something like that happens every 100 years," said former Germany captain and current ESPN commentator Michael Ballack. This was not an exaggeration.
As Germany kept scoring and the hosts kept disintegrating in one astonishing 18 minute and 27 second period, then disintegrated a bit more over the course of the second half, the record-keepers had to keep looking further and further back to find anything like what happened in Belo Horizonte on Tuesday.
When Thomas Müller scored in just the 11th minute after being left unmarked on a corner kick, you could compare the moment to Zinedine Zidane's brilliant header off a corner to put France up 1–0 over Brazil in the 1998 World Cup final. When the Germans struck again, this time on a mesmerizing team goal in the 23rd minute, it meant that Miroslav Klose had scored his 16th World Cup goal, breaking the record of Brazil's Ronaldo. When Germany scored its third before anyone had even a minute to process the second, it seemed like a knockout blow, the makings of a historic embarrassment worse than Brazil's 2–1 loss to Uruguay in the 1950 World Cup final—the last time the tournament was contested in Brazil. That game, known in Brazil as the Maracanazo, or the "Maracanã Blow," has been melodramatically described as the nation's Hiroshima or 9/11. After this defeat, that 1950 match can finally be forgotten. It will be replaced with a new national sporting travesty, one that the country can lament for five or so decades.
But there was still a whole lot more to come. When Germany scored its fourth goal just two minutes after its third and three minutes after the second, it was the first time the Brazilians had conceded so many in a World Cup match since 1954. At that point, ESPN's Ian Darke declared Brazil's World Cup "surely over" … but there was still a whole lot more to come. The Germans kept pushing forward and breaking through the non-existent Brazilian defense, scoring their fifth and final goal of the half just three minutes later. It was the first time Brazil had conceded five goals in a World Cup game since 1938 and the first time any team had scored five in a World Cup semifinal since 1958 when Brazil did it to France. It was the fastest any team had reached five goals in the history of the tournament, the third time it had ever happened in one half, and the most recent instance since Haiti lost to Poland 7–0 in in 1974. (Zaire had accomplished the same dubious feat one day earlier in a 9–0 loss to Yugoslavia.)
At that point, the 5–0 margin would have equaled the largest ever for a World Cup semifinal. "Been to eight World Cups and have never seen a performance like those 30 minutes from Germany. Simply incredible," tweeted U.S. Soccer president Sunil Gulati.
But Germany still wasn't done. Brazil came out a bit more animated in the second half and forced Germany's Tim Howard, Manuel Neuer, to make a couple of impressive saves. But Die Mannschaft struck for a sixth goal in the 69th minute, this one by 23-year-old Chelsea star André Schürrle. That goal meant that Brazil's margin of defeat had overtaken a 6–1 U.S. loss to Argentina in 1930 and two other similar scorelines as the worst semifinal loss in history. The last time a team had scored six in the semifinals was Germany's 6–1 victory over Austria in 1954.
When Schürrle scored his second and Germany's seventh on a wicked left-footed blast into the top left corner, it tied the highest number of goals ever conceded in any World Cup game by a host nation, which was also in 1954. At that point, some Germany fans got a little too excited.
The game ended with a meaningless consolation goal for Oscar in the 90th minute that was only slightly less significant than the Denver Broncos' tally in the third quarter of the recent Super Bowl. Appropriately enough, the Seattle Seahawks tweeted "TOUCHDOWN" and "…and the PAT is GOOD!" after the last two German scores. (The Broncos were oddly quiet about the game, though they did mention that Manchester United is visiting Mile High!)
But to compare Tuesday's rout to the 43–8 scoreline of Super Bowl XLVIII is actually to do it a historic injustice.
With five previous titles and a culture that is synonymous with the sport, Brazil is plainly the greatest soccer nation in history. To win the World Cup at home was a plan nearly a decade in the making. On top of that, the team hadn't lost a competitive match at home since 1975—that was 62 consecutive games. Largely because of its enormous home-field advantage, pretournament statistical models made Brazil a huge favorite to win the tournament. Nate Silver, who'd proclaimed that this was "Brazil's World Cup to Lose," has deemed Tuesday's semifinal "the most shocking result in World Cup history." This loss was Brazil's worst ever, on the sport's biggest stage. Brazil had only conceded seven or more goals once before, in an 8–4 friendly loss to Yugoslavia in 1934. Tuesday's margin of defeat was the team's worst-ever, tying the 94-year-old mark of 6–0 to Uruguay in the 1920 Copa América. That came 10 years before the World Cup came into existence.
So, no matter what happens in the next three matches, it would be impossible to match the historic weight of what occurred in Belo Horizonte. Maybe not literally impossible. I suppose if Messi scored five goals in a 7–6 Argentina victory over Germany in the final in Rio, or if Neymar climbed off a stretcher, revealed that he'd been wearing a Germany jersey under his Seleção yellow this whole time, and started cackling maniacally, then that might prove a suitable climax to the 2014 World Cup. But I'm guessing that when the tournament finishes up on Sunday, Germany 7 – Brazil 1 will stand as the 2014 World Cup's defining moment.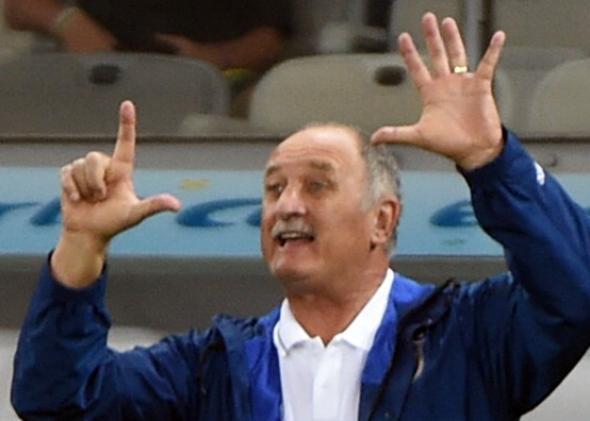 How did this happen?
From Brazil's perspective, there is loads of blame to go around. Some will focus on the absence of Brazil's early-stage savior, Neymar, who missed Tuesday's match with a spinal injury that had already bordered on national obsession. Others will say that without suspended defensive star and captain Thiago Silva there to organize the too-eager-to-roam Brazilian defenders, epitomized by David Luiz, Brazil's backline was destined to fall apart. And there's certainly a large opening to criticize coach Luiz Felipe Scolari for his tactical decision to play a very un-Brazilian, cynical brand of soccer. Without Brazil's foul-fests in the previous rounds, Silva might have been available to help hold the Germans to a more dignified score line.
But as the New Republic's Franklin Foer eloquently and accurately describes, those explanations are only skin deep. Brazil's real problems lie with a broken and corrupt domestic league that necessitates that their stars leave for more hospitable European environs before they are prepared to do so.
Even if you put aside the debacle against Germany, Brazil wasn't even a paper tiger at this World Cup. The Seleção was more like a paper puppy dog. After conceding the tournament opener on a mortifying own goal, the team needed the help of the referee to salvage its dignity against Croatia. In the last 16 against a superior Chile side, the Brazilians twice relied on the woodwork to save their World Cup. And in the quarterfinals, Brazil took tactical fouling to a new level to get past Colombia. Brazil did not deserve to be on the same field as Germany. Home-field advantage was the only thing that allowed them to make the semifinals, and it wasn't anywhere close to enough to save them against the Germans.
Germany, meanwhile, has seen its highly touted golden generation come of age. Klose scored his 16th goal in his fourth tournament. The opening goal-scorer, Müller, has an outrageous 10 goals and six assists in 12 World Cup matches. The 24-year-old is only the third player to score at least five goals in two different World Cups. He could have two more World Cups in him, and has a great shot at breaking Klose's just-achieved all-time record. With one more game to play, the Germans have scored 17 goals in this tournament, the most since Brazil scored 18 in 2002. The defense, led by the sweeper-keeper Neuer and talismanic Lahm, has conceded just four goals in six games. That's just two more than the legendary Spain team gave up in its title run four years ago. That Spanish side, considered perhaps the best of all time, won that tournament with just eight goals. In case you've forgotten, that's one more than the Germans scored in a single game. Against Brazil. In Brazil.
In a tournament where the best national teams are often fly-by-night collections of all-stars cobbled together from various club sides, the Germans are a real team. Like the 2010 Spanish squad, Germany's starting lineup boasts a majority of players from a club that's overseen by probably the best manager in the world, former Barcelona boss and current Bayern Munich coach Pep Guardiola. While Bayern faltered in the Champions League this year, it might have had something to do with its players feeling lethargic after having wrapped up the Bundesliga title at record-breaking pace and in the midst of a remarkable 53-match undefeated streak. That Bayern core of Lahm, Neuer, Jerome Boateng, Toni Kroos, Müller, and Bastian Schweinsteiger has been the core of Germany's World Cup squad, while Mats Hummels, Klose, Sami Khedira, and a few others have also had star turns.
As wonderfully as the Germans played on Tuesday, though, this semifinal was as much about Brazilian frailty as it was German genius. While Die Mannschaft did well to capitalize on the hosts' largesse, German players and their coach Joachim Löw conceded after the match that they were stunned by how easily Brazil had cracked. Coming into this game, the talk was that the tournament was wide open and that none of the teams looked like real world-beaters. That was largely because Germany had failed to replicate its 4–0 opening match destruction of 10-man Portugal, slogging through a 2–2 draw with Ghana and three difficult one-goal victories over weaker sides. (Sorry, U.S. national team!) To take its place among the all-time greats, Germany will have to confirm that the Brazil and Portugal matches were not flukes with a victory in the final.
If the Germans can pull it off, then this classic World Cup will have the classic champion it deserves.