Erin Feinberg began her career photographing concerts as a way of getting to see her favorite musicians up close and for free. But as digital photography got more popular, photo pits became overcrowded and restrictions for photographers at shows became overbearing. "The creative freedom I once had photographing concerts was disappearing and so to make things interesting for myself I needed to find other ways to document the live music experience," Feinberg said via email.
About a decade ago, Feinberg began turning her camera toward the other show at live performances—the activities of the sometimes weird, sometimes wild, but always joyous fans. Her photos of audiences from all over the world are now collected in the book, Diehards. "I just loved observing the excitement and joy surrounding a given show—everyone expresses it a little differently. While you are surrounded by complete strangers there is this unique bond that forms over the course of a show because, together, you are part of that show. It's a shared experience that is so incredibly powerful," she said.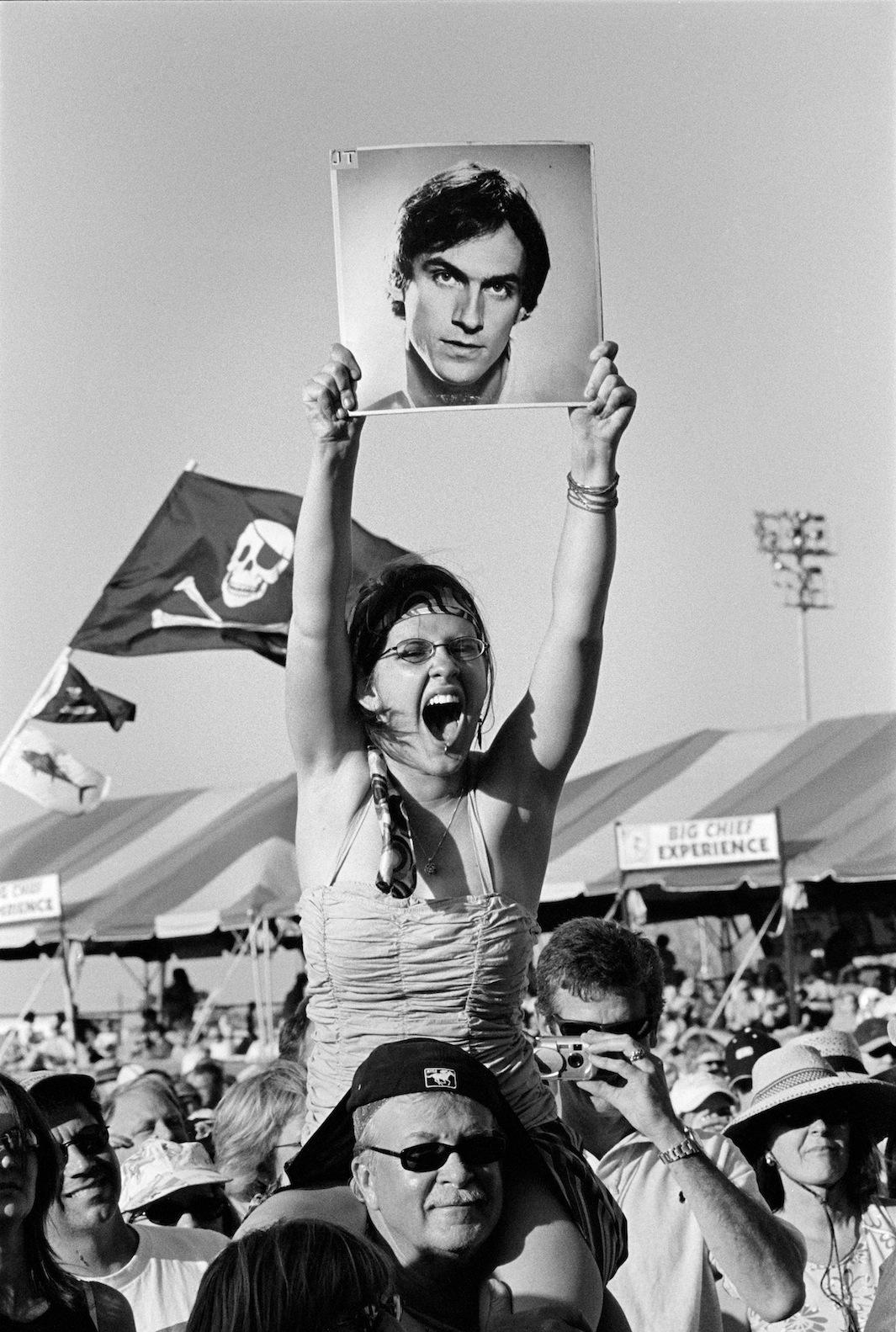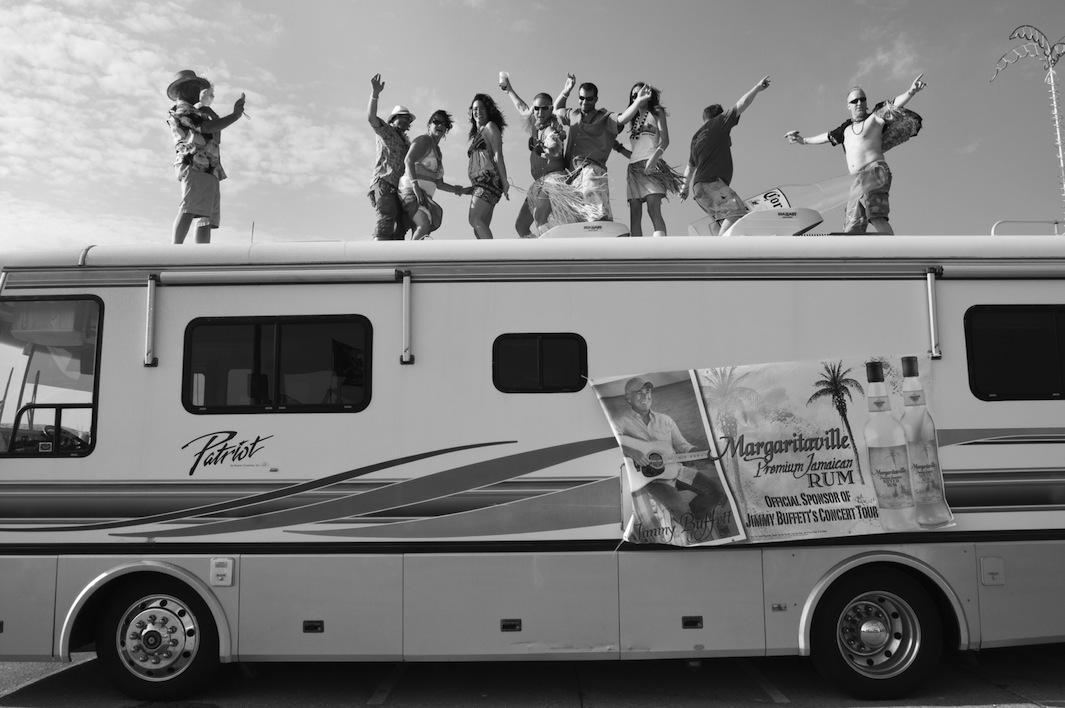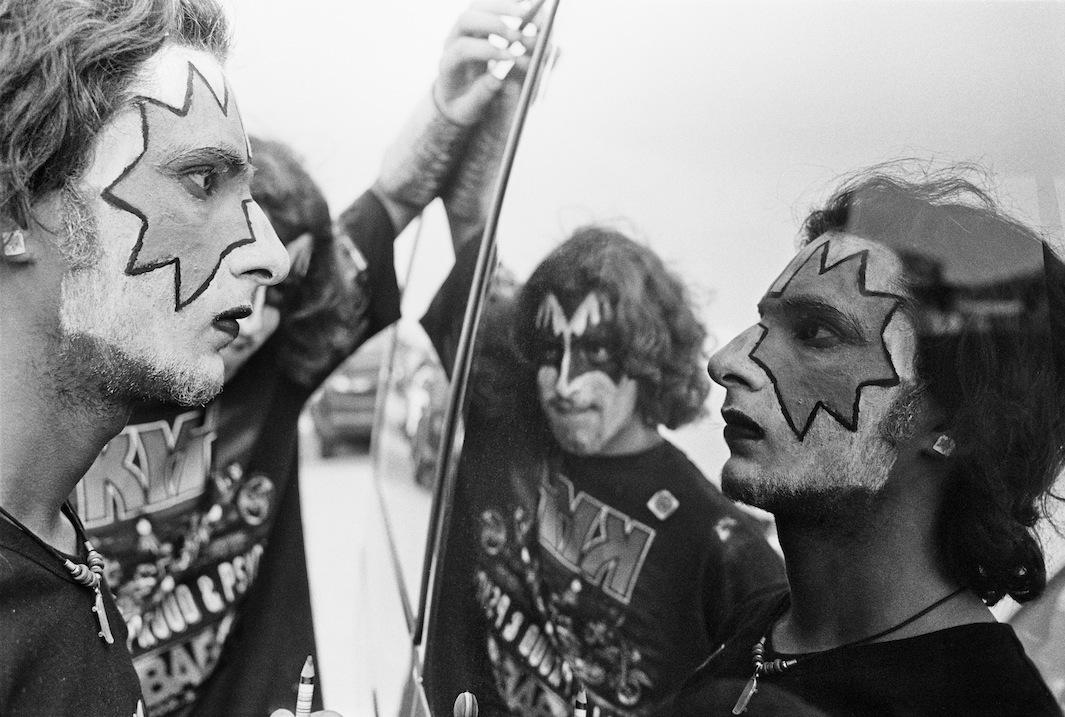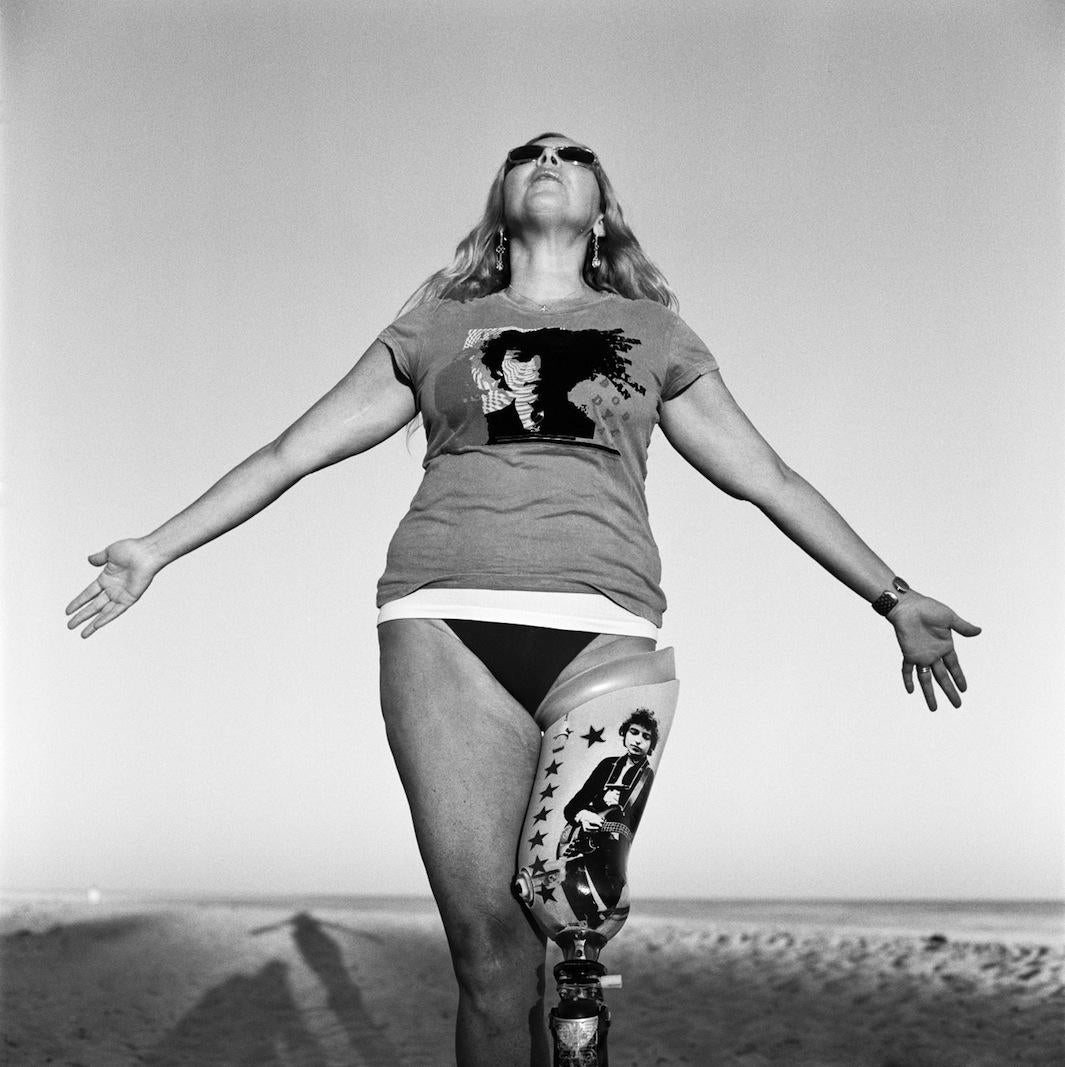 Feinberg's main challenge was getting access to enter the venues. When she was on assignment, she would shoot what she needed for her client and then spend the rest of the time photographing fans for her own personal archives. When she couldn't get access to a particular show, she would have to find a way to sneak her camera in. "There was a lot of finagling over the years! Most event promoters and producers couldn't understand why I'd be interested in photographing the audience over the performer, so it was often a struggle," she said.
In the last 10 years, Feinberg has met fans of all different types of music. She felt the raw energy of mosh pits at heavy metal concerts, captured crowd surfers at punk concerts, and admired the scarily precise air drumming at Rush concerts. She also hung out at tailgates in parking lots with Parrotheads, or Jimmy Buffet fans. "They'd always feed me whatever they had on the grill, and they made me cocktails from their mobile tiki bars! They know how to have a good time," she said. "The Parrotheads are kind of like Deadheads in that respect—the social 'hang' in and around the shows can be as important as the show itself. It's a lifestyle!"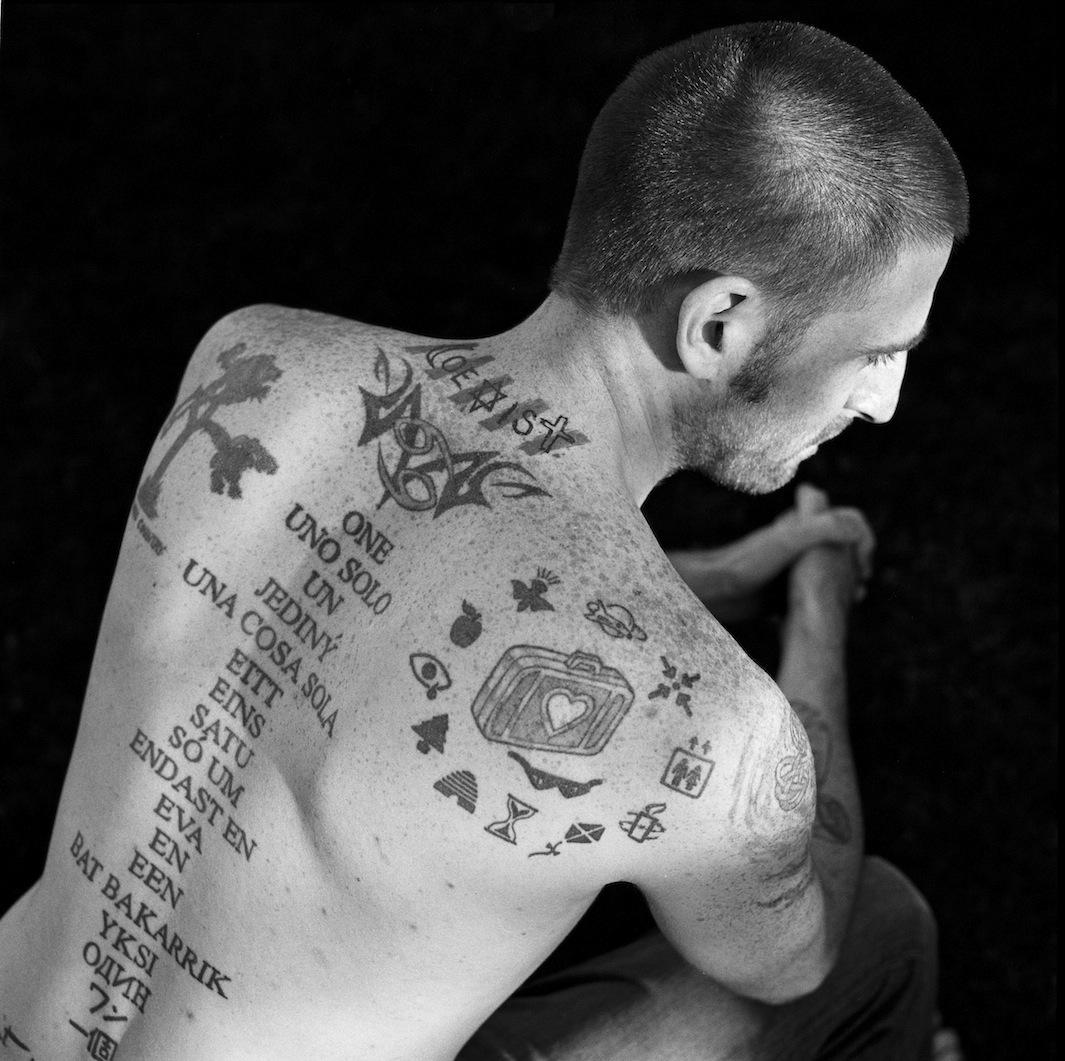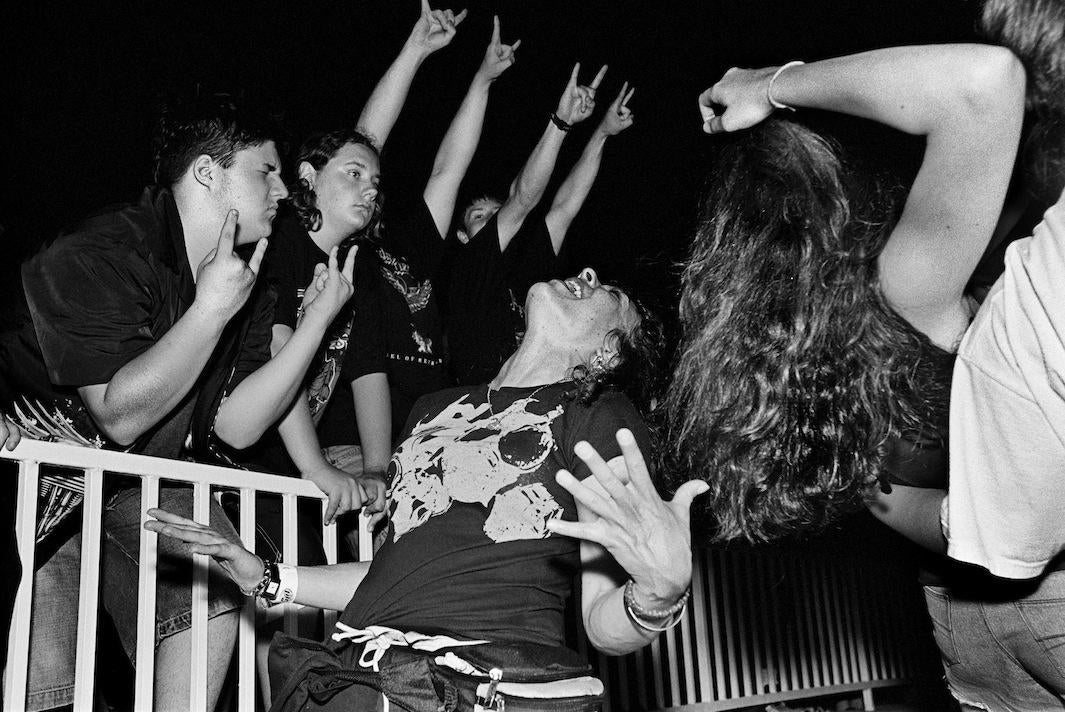 Along the way, individual fans have left their mark on Feinberg's memory, like the U2 fan whose back was covered with tattoos celebrating his favorite records, and the Bob Dylan fan who had a picture of the artist on her prosthetic leg. While many of her images are straightforward portraits of those fans, others capture people in candid, unexpected moments. "One of my favorite crowd moments was at a James Taylor concert. He has incredibly loyal, diehard fans, but he's not exactly known for boisterous crowds—so when this girl climbed up on a man's shoulders and screamed out towards the stage clasping her favorite record above her head, I grabbed my camera and framed the moment as quickly as possible," she said.
While Feinberg's black-and-white images often feel timeless, if she'd started her project today, her images would likely look a lot different, as the proliferation of cellphone cameras have increasingly changed the look and feel of live shows. "I can't imagine how hard it must be for artists to perform in front of all those little bright lights and fight for some eye contact in the crowd," she said. "I recently worked on a tour with a very popular country artist and each night I was just so perplexed —and irritated!—by the sea of cell phones out in the crowd. It was impossible for me to capture that thrill and radiance in the faces of his fans because all of those 'personal vanity appliances' were in the way," she said.