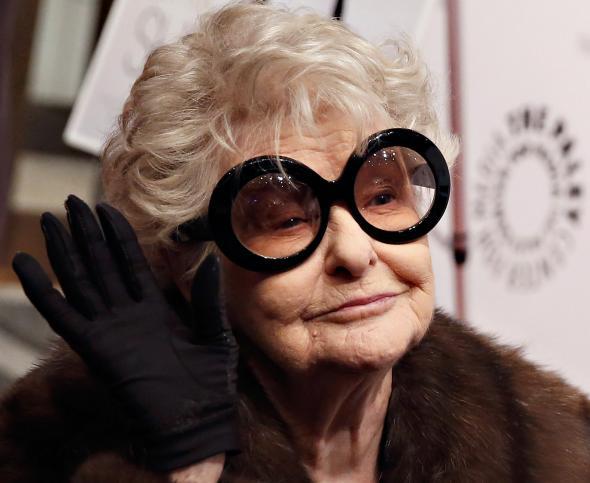 Broadway legend Elaine Stritch, whose TV career stretched from 1949's The Growing Paynes to 30 Rock more than 60 years later, died this morning at the age of 89. In February, June Thomas spoke to Stritch about alcoholism, her personal style, and her decision to leave New York after six decades in the city. At the time, she sensed that her life was coming to a close. "The bell's gonna ring pretty soon," she said.
Elaine Stritch: Shoot Me, directed by Chiemi Karasawa, is a hilarious, heartbreaking new documentary about the powerhouse performer, who just turned 89. Stritch may be best known in some circles for her role as Jack Donaghy's mother on 30 Rock, but she has enjoyed a long and remarkable career on stage, originating the role of Joanne in Stephen Sondheim and George Furth's Company, for instance, and winning a Tony for her one-woman show Elaine Stritch at Liberty.
The documentary, which opens in New York on Friday and expands across the country in March, shows Stritch dealing with health issues and struggling to remember lyrics as she puts together a new show.
I spoke with Stritch by telephone over the Presidents Day weekend.
Slate: At some points in the film you're quite vulnerable. Were there things from your life you didn't want to show?
Elaine Stritch: No, I learned long ago that secrets are dangerous. You keep something to yourself and you're in trouble. Big trouble.
Slate: Why did you keep working so long? You were over 85 when the documentary was being shot, and you were under a lot of stress about your new show and remembering lyrics. Why did you keep doing it when it was clearly so hard?
Stritch: Because it just thrills me to death to entertain an audience. I just love doing it.
Slate: You're famous for a specific look: big glasses, ties, hats, no pants. Where did that come from?
Stritch: I like to look a little different than most people, and I think I succeed in doing that.
Slate: You famously left New York last year to move back to the Detroit area. What do you miss most about New York?
Stritch: The noise, the constant activity—people move so fast. I always loved that, but it began to take its toll on me—as soon as I hurt myself physically, anyway. I had three bad falls, and that didn't help life at all. I want to settle down this last time. I say last, because I don't think I'm in any condition to live a long time from now. The bell's gonna ring pretty soon.
Slate: You're a gay icon. In fact, the New York Post's Page 6 says you're going to a gay bar tonight for "Stritch Night."
Stritch: I am?
Slate: Page 6 says so!
Stritch: I have nothing against going to a gay bar, but I'll have to change my outfit.
Slate: In the movie you talk about your alcoholism and how, having been sober for 25 years, you went back to having one or two drinks a day. Was alcohol everything you remembered when you went back to it?
Stritch: Yes! And more so. I love to drink. It helps me get through the day. It helps me get through the night occasionally, though I have very little of it.
Slate: Some of the people who see this documentary will mostly know you from television. Which stage production do you wish people had seen? What show meant the most to you?
Stritch: My favorite director of all time was Gerald Gutierrez. I was crazy about him, and he got the best performances out of me. I did his last show, A Delicate Balance, by Edward Albee. I prefer straight plays, because they take less energy. I like musicals as long as I just have two numbers. I don't want any more than that. I want the closing number, which stops the show, and I want the opening number, which is a lot of fun and allows me to do a little tap dance. I never said no to that.
This interview has been condensed and edited.
---