This column has tried to make the point that kids often eat things we don't think kids eat. It has made this point with the subtlety of a cleaver. Anchovies, for example. Also, sometimes, liver.
We tend to think of children as shy eaters. But a lot of the time children like things with an extravagance of taste. (Not all children, and not all the time; my children may or may not be currently eating sticks of butter for snack.) To the list above—anchovies and liver, not to mention sardines and miso—we should add: Things That Are Pickled. 
You can buy pickles, obviously. But I am here to encourage you to make them yourself, and not with vinegar: to make lacto-fermented green beans, with nothing but salt and time and some friendly microscopic volunteers. 
If this sounds like the sort of thing that only people who forage in their alley make, let's go through the reasons why this makes sense for non-alley-foraging folk: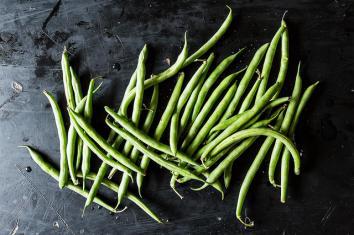 Reason No. 1: Fermented green beans are delicious—crisp, sharp, addictive—and dead simple. They're among the easiest fermented foods you can make, which makes them extremely easy, because even the hardest fermented foods aren't hard. 
Reason No. 2: Salt is cheap. Pickles are expensive.
Reason No. 3: It's a wonderful parent-child activity. I've written about cooking with children, and I think there's a lot to be said for it. But I also think there's a lot to be said against it. In short, you have to pick your moments, and this is a moment. Why? Because it involves the absolute minimum amount of actual cooking. It's mostly a science experiment. It's also an early lesson in responsibility. Think of it as babysitting, for children too young to babysit anything but bacteria. It's like a Chia Pet, except at the end you get to eat it.  
Reason No. 4: Because the current consensus is that fermented foods are the magical elixir of life. Well, maybe not the magical elixir. Maybe just a magical elixir. But the new science, possibly funded by the bacteria themselves, is wildly pro-microbe. It isn't just that you should be eating more fermented foods. As far as I can tell, if your kid isn't licking the sidewalk, you're failing as a parent. If you haven't adjusted to this new sidewalk-licking paradigm, fermented green beans seems like a good compromise.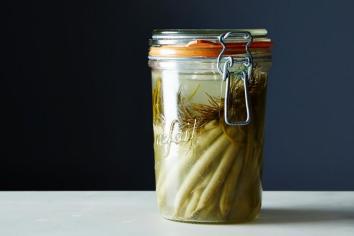 Fantastic Fermented Green Beans
Makes 3 quarts
1 gallon bottled water

6 ounces salt

2 pounds small green beans

6 garlic cloves, crushed

4 flowering dill heads, or 4 to 6 dill fronds plus 2 tablespoons dill seeds (optional)
See the full recipe at Food52.
Previously:
When You're a Parent of Young Kids, Brunch Starts Early. Here's What to Make.
How to Trick Kids Into Eating Salad
The Simple Trick to Making Delicious, Crisp-Skinned Salmon
Why You Should Pretend Your Kids Will Eat Anything
Why Kids Don't Like Cauliflower—and How to Trick Them Into Eating It