After 12 years working as a photojournalist, Cristina de Middle, tired of inauthentic images, felt it was time to move on from her work in the mainstream media.
Too often, she felt, photographers were given little time to capture and portray events and locations around the world, delivering for the most part what editors wanted to see: cliché images that rarely told a new version of a story. Instead of adding her work to the infinite amount that had been done before her, de Middle decided to mess around with the truth and to tell her own version of a story—part fine art photography, part photojournalism drawn from both the news and her imagination.
"I'm like my name, in the middle," she joked about her process and philosophy. "I take a little from here and there, my stories always come from news or contemporary issues but I don't think the best way to describe what is happening is through the mass media."
One of those stories, "Poly-Spam" is a reflection on what most everyone has received in their email box: a spam letter asking for money. De Middle began the project in 2009 and said the countless letters she received were a reflection of the relationship between the developed and developing worlds: a mix of emotions ranging from guilt to greed to compassion.  
"If you really want to understand what's happening in the world, read just one spam," she said. "They're perfectly designed to describe what they are, what we are, what they want and what we want in a very smart trick: They promise to save our soul and our bank account in just one click."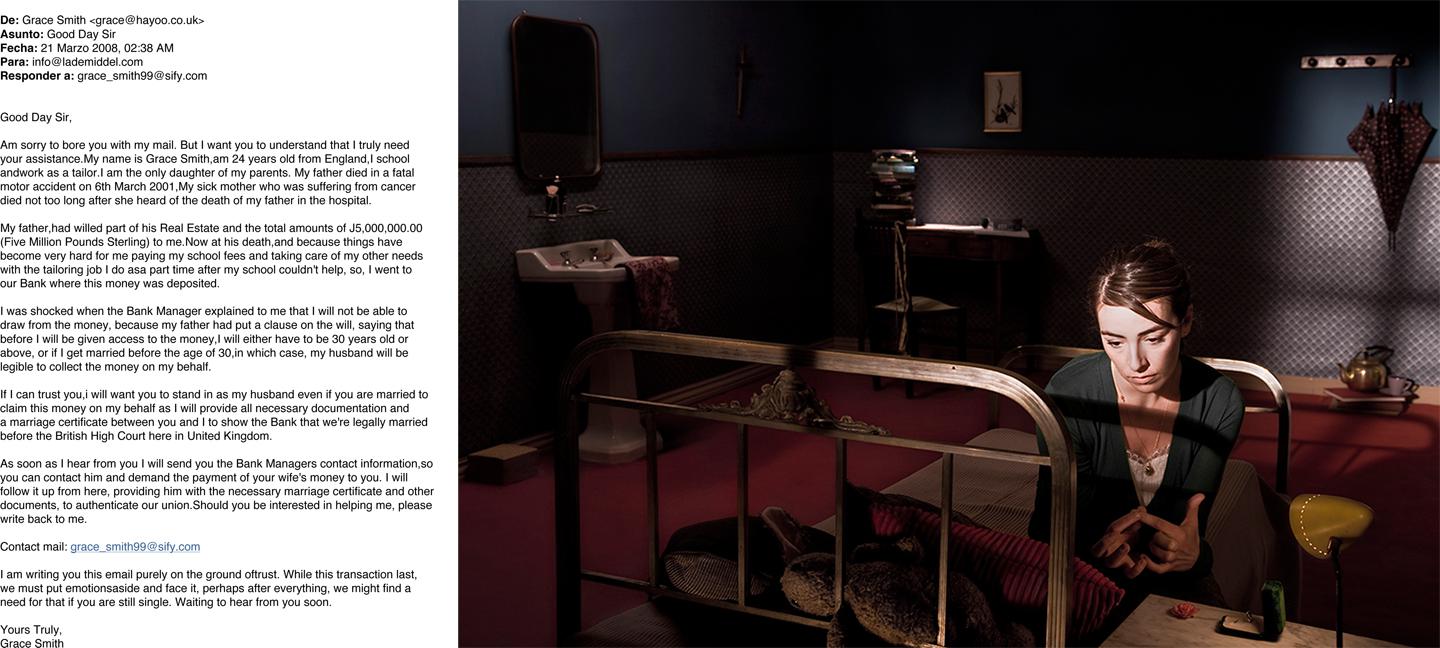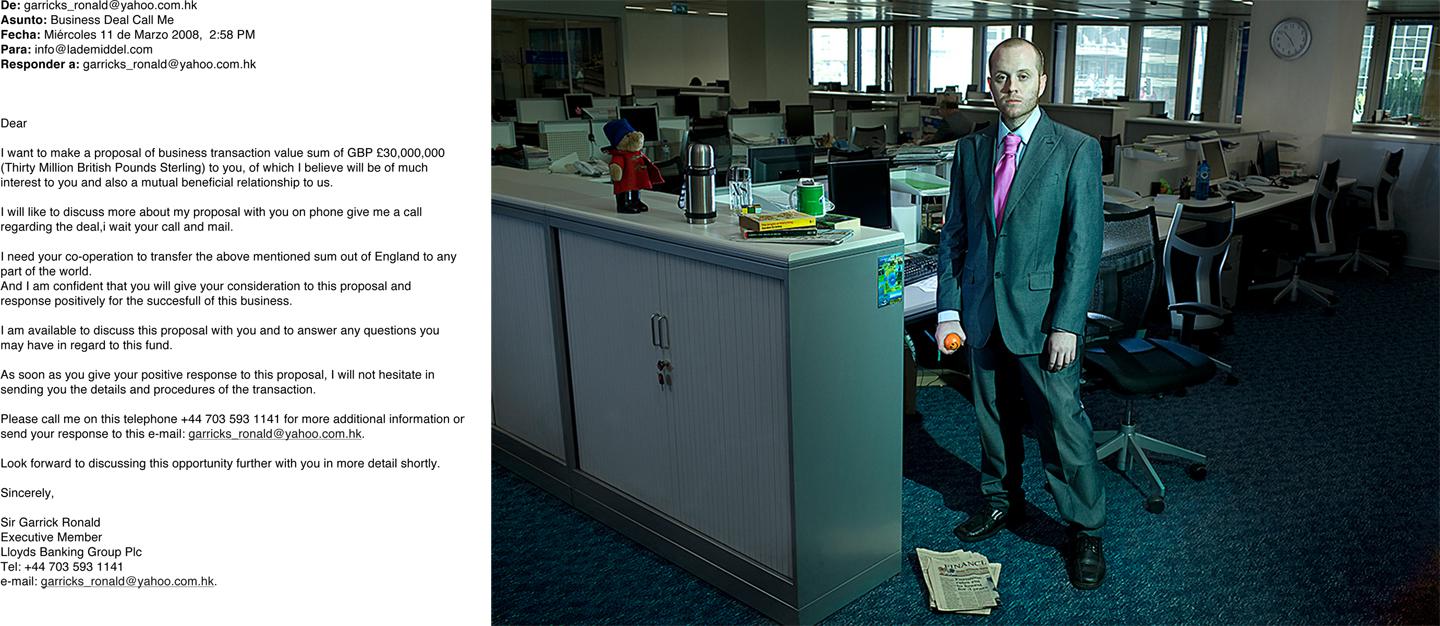 De Middle began pouring over the letters she had saved, picking out which ones to use as a script for photographs she would direct. For character and staging inspiration, she began to pull from her visual library, a mix of images from her memory of people and places she attached—for whatever reason—to the stories she read.
"I find this process amazing, you read letters and images come to your mind," she said. "How do I imagine this place after reading spam … how do I imagine a Russian widow, or an old palace in Moscow?"
For the most part, those memories flooded her imagination and ended up recreated in front her camera, except for the letters written from Africa.
"When I read a letter written from a bank in Africa, I realized I had no visual library, I had never been to or seen a bank in Africa," she said. "So, I went to Africa." She traveled to Senegal where she not only found it difficult to photograph a bank, but pretty much anything else that piqued her curiosity. She ended up staging the photograph in a lawyer's office, feeling that it closely resembled a bank.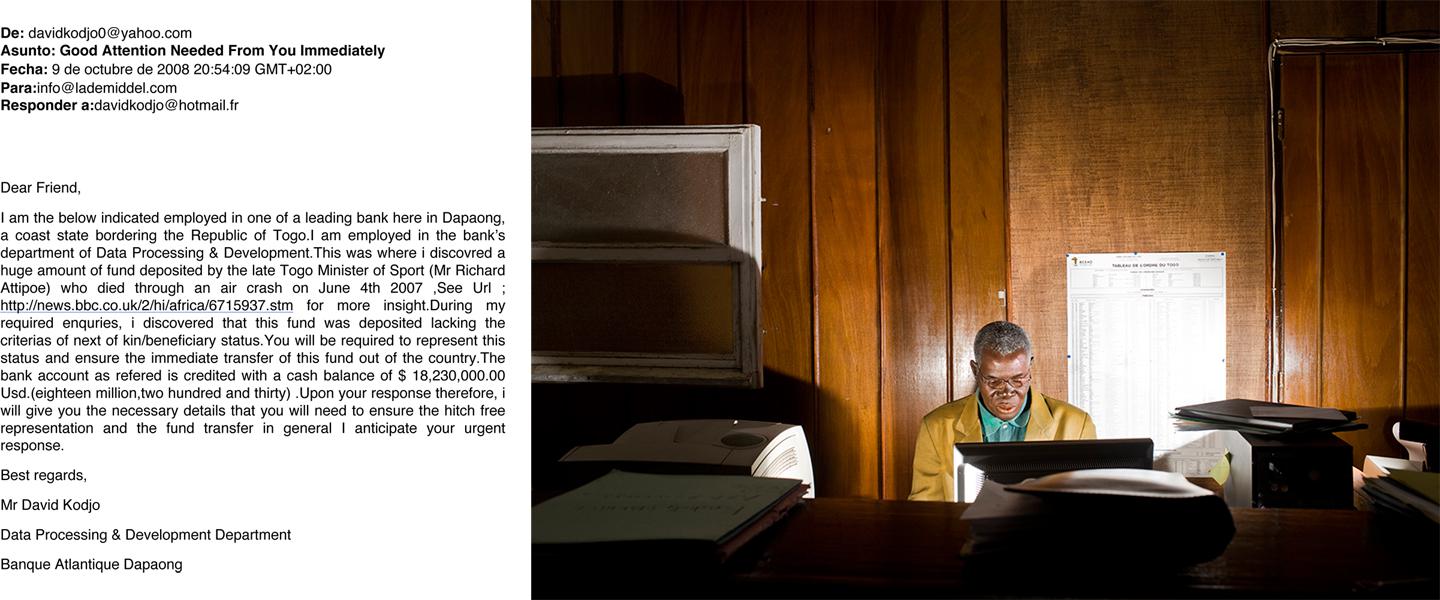 In total, de Middle spent around half a year working on "Poly-Spam" saying that she works quickly—a throwback to her days working on deadline, something she needs in order to complete a project.
"I could keep shooting forever," de Middle said about her projects. "I could dedicate my life to it, but I have to impose deadlines and I like to do it because a story needs to be finished … you can say each picture is a word in a sentence and I have to finish that sentence or it says nothing."