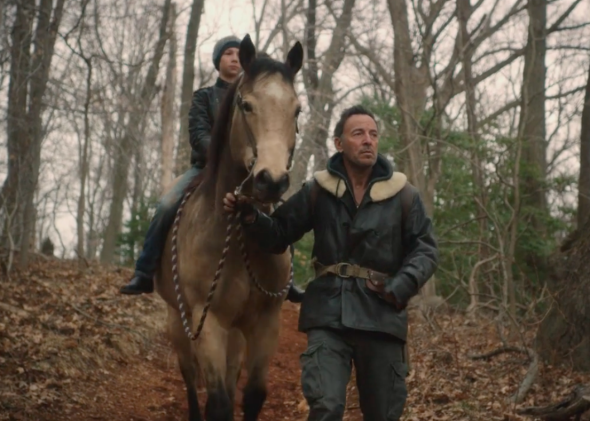 More than four decades into his career, it's hard to believe there's anything Bruce Springsteen still hasn't done. But up until Hunter of Invisible Game, his new short film set to the gorgeous song of the same name from Springsteen's High Hopes, he'd never sat in the director's chair—not even for any of his dozens of music videos. With the help of co-director and longtime collaborator Thom Zimny, he can now cross that feat off his list. Today the new film made its debut online, and it's a delightful surprise.
The film takes place in kind of no man's land where Springsteen plays a rugged hunter traveling with nothing but a horse, ax, and rifle, who we see haunted by the memories of his seemingly long-gone past—a wife, kids, and home. Springsteen explained to Rolling Stone in March that the song "Hunter of Invisible Game," featured at the short's midpoint, was inspired by post-apocalyptic tropes and "the idea of these travellers in the wasteland." The film evokes Cormac McCarthy's The Road: Along the way, Springsteen encounters a lost young boy with whom he embarks on a journey in search of his family. When he finally finds the boy's family, the title song kicks in, and through it Springsteen's character tells his story to the people in the boy's village.
All throughout, Hunter of Invisible Game uses compelling imagery and picturesque landscapes to paint a moving portrait of a troubled yet resilient soul who's not quite ready to wave the white flag, despite the difficult hand life has dealt him. It's another one of the best videos of the year so far, and one that will likely have fans wondering what took Springsteen so long to give directing a go. He's a natural.
---