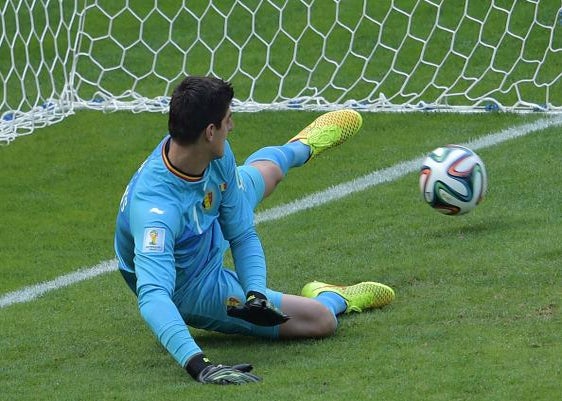 In ESPN.com's pre–World Cup goalkeeper power rankings, the United States' Tim Howard ranked No. 2. The only man in front of him: his counterpart in Tuesday's last 16 clash between the U.S. and Belgium, Thibaut Courtois. The 22-year-old has conceded just one goal so far in the World Cup. In qualifying, he allowed a mere four in 10 games—and that was despite facing the most shots (79) of any European keeper whose team advanced to the World Cup. And in the Champions League, the Atlético Madrid star gave up just 0.7 goals per 90 minutes, good for third best in the competition.
So, scoring on Courtois is going to be a serious challenge for Jürgen Klinsmann's team on Tuesday. There is a but, though. And it's a big but. According to an analysis done by one of the world's foremost penalty analysts, Courtois is "very predictable" when it comes to penalty shots. Prior to this World Cup, he has guessed to his right 86 percent of the time on penalty kicks in his short career, says economist and London School of Economics professor Ignacio Palacios-Huerta.
According to Palacios-Huerta's just-published book, Beautiful Game Theory: How Soccer Can Help Economics, the standard for a goalkeeper is to favor his natural side about 60 percent of the time. Courtois' 86 percent movement to the right is a meaningful deviation from that norm, says Palacios-Huerta.
The sample size here is admittedly small. Courtois has faced 14 penalties prior to this World Cup, and on 12 of those he went to his right. On the other two, he went left. He has never stayed in the middle. Opponents have hit the ball to Courtois' left six times and scored all six times. Should the U.S. have an opportunity to take a penalty against Courtois, the data say they ought to kick it to his left or to the middle, and not to his right. That is, unless Courtois is running a long con and will change up his tendencies for Tuesday's match.
"[The analysis is] very short because he is a young goalkeeper and not involved in many penalties," Palacios-Huerta told me via email. "But the data showed a very strong tendency that could and should be exploited."
Penalty kicks are a fascinating study in game theory. For example, if, like Courtois, you normally go right, but your opponent knows you normally go right, then you might be more inclined to go left. Then again, they might know that you know that they know. And so on. The ideal method for taking them and defending them is to randomize your directional choices. While anything could happen in a given match, it appears that Courtois does not randomize his dive direction. But Courtois and the Belgium staff might know this. And so the mind games continue.
Courtois did not change things up in Belgium's first group phase game against Algeria. The only goal the goalkeeper has conceded at this World Cup came off a penalty kick by Algeria midfielder Sofiane Feghouli.
"Guess what happened? As predicted, Courtois jumped to his right," Palacios-Huerta says. "[Feghouli] kicked to the center, a bit towards the left, and of course it was a goal."
In the footage below you can see that Courtois begins to move to his right against Feghouli, and falls to the center when he sees the ball going past him to his left.
As Simon Kuper and Stefan Szymanski chronicle in their book Soccernomics, Palacios-Huerta has done penalty analysis of this sort for teams in at least two very high-profile games. Prior to the 2008 Champions League final between Chelsea and Manchester United, he sent an analysis to then–Chelsea manager Avram Grant about the habits of potential United penalty takers and goalkeeper Edwin Van der Sar. During the shootout, the Chelsea players seemed to follow Palacios-Huerta's advice exactly, and Chelsea goalkeeper Petr Čech dramatically saved one of the best penalty takers in the world, Cristiano Ronaldo. But John Terry famously slipped on his penalty, and the final Chelsea taker Nicolas Anelka did not follow Palacios-Huerta's cheat sheet. Chelsea lost the shootout 6–5.
Then, before the last World Cup final in 2010, he and Kuper sent an analysis of the Spanish team to the Dutch delegation, who said they could use the data "perfectly." After 115 minutes of play, Kuper and Palacios-Huerta believed their analysis might play a decisive role. But Andrés Iniesta scored and Spain won 1–0 without needing any penalties, and the rest is history.
Hopefully Klinsmann has done his own analysis ahead of any potential penalty or shootout situation with the Belgians. The U.S. coach has his own famous history with such studies. During the 2006 World Cup, when he was coaching Germany, Klinsmann's team faced Argentina in a quarterfinal match that went to penalties. The German goalkeeper Jens Lehmann had a cheat sheet tucked in his sock with a list of Argentine penalty takers and their various shooting tendencies. Lehmann used the crib sheet to save one penalty and nearly save another. He also seemed to psyche out the final shooter, Esteban Cambiasso, by consulting the crib sheet right before the shot, which he then saved despite not even having Cambiasso's name on the sheet. The game ended in a brawl after that final bit of gamesmanship, but Klinsmann's team advanced to the World Cup semifinals and ended up finishing the tournament in third place.
It's likely that Klinsmann already has the information that we've cited in this article. "We are prepared for penalty shootouts," he said on Monday. "You train the top players through that and you talk, obviously, to your goalkeeper through potential penalty takers from the Belgium side. You're doing your homework as much as you can as much information you can have, so does Belgium. They do the same thing on us and hopefully we are well prepared and I think we are." U.S. fans should hope he's right.
---