Name: Cristiano Ronaldo
Home country: Portugal
Known for: scoring goals, scoring amazing goals, stepovers, nutmegs, scoring more goals, arrogance, perma-tans, hair product, popped collars, winking, taking his shirt off, wealth, handsomeness, being one of the two best soccer players on the planet.
Why he might be a jerk: You hate him. You really, really hate him. Much of that vitriol seems to revolve around his hairstyle, which appears to have emerged from a laboratory specializing in gel-based follicular care. More important is his cocky demeanor on and off the field. The Real Madrid winger is one of the most-hated all-time great players in sports history. He's like Ty Cobb, if Ty Cobb were a preening metrosexual instead of a violent racist. Or like Alex Rodriguez if he kissed that mirror 24 hours a day.
Ronaldo revulsion kicked into high gear due to the Portugal player's role in Wayne Rooney's sending off in the 2006 World Cup quarterfinals. Rooney, then Ronaldo's Manchester United teammate, stomped on Portugal defender Ricardo Carvalho's testicles right in front of the ref. Ronaldo came rushing up to implore for a card, Rooney shoved him lightly, the red card was shown, and England went down to 10 men and lost the game on penalties. The devastated country blamed Ronaldo's theatrics for the card and the defeat. To make matters worse, Ronaldo gave a wink toward the Portuguese bench as he walked away.
Aside from that one incident, much of the anti-Ronaldo sentiment stems from his metrosexuality off the field and his supposed daintiness on it. This profile in German magazine Der Spiegel explains:
With the gel in his hair, the diamonds in his ear, his dancing around the ball, his arrogant smile and his dives out of nowhere, Ronaldo behaved like someone who in fact deserved a good beating.
Ronaldo long ago replaced David Beckham as the Derek Zoolander of the soccer world. He has his own fashion line selling gaudy CR7 belt buckles, leather-pocketed jeans, loafers, and underwear for "fans that want to dress like Ronaldo." More than his fashion sense, it is Ronaldo's obsession with removing his clothes that has drawn scorn. After scoring an utterly meaningless penalty to cap off Real Madrid's 4–1 win over crosstown rivals Atlético Madrid in last month's Champions League final, he tore off his shirt and flexed his muscles as though he had scored the game winner. It's a wonder that he doesn't have a shirtless bust of himself at the CR7 Museum in Madeira. That's right, Ronaldo built himself a personal museum in his hometown, making him one of two soccer players in the world with his own museum. Instead of the nude bust, though, he went with this modest wax sculpture.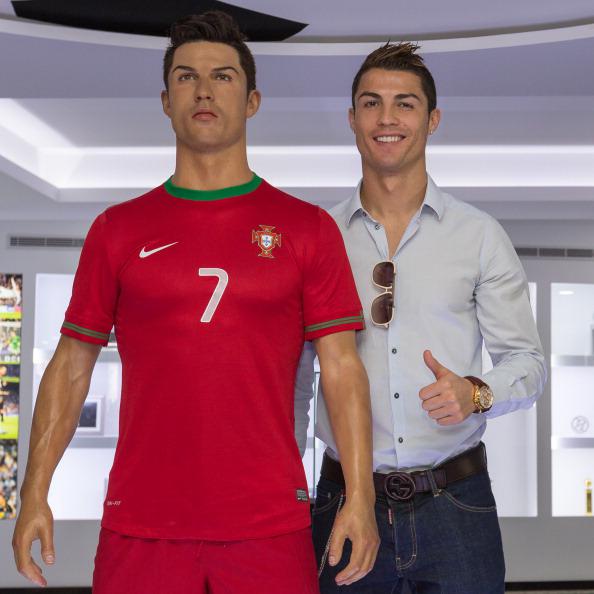 Why he might not be a jerk: He gives to charity. Regularly. He's always paying for a sick kid's brain surgery, or cancer treatment, or giving money to help Indonesian tsunami victims. I don't mean to pass this information along dismissively. Ronaldo does good works, and might be a good person.
And why shouldn't he be arrogant? He was honored as the world's best player in 2013, winning a much-deserved second Ballon d'Or. He's finished runner-up for that award four times. Besides, great sportsmen like Michael Jordan and Diego Maradona are typically arrogant. Ronaldo is hardly an innovator here.
Ronaldo was roundly mocked for explaining fan antipathy thusly: "It is because I am handsome, rich and a great player, because I am envied. I have no other explanation." While that sounds like a terribly conceited thing to say, the man speaks the truth. They do hate him because he's beautiful! And rich. And insanely talented. And because he dates gorgeous supermodels.
A lot of that resentment is actually kind of ugly. It's centered on a sort of macho disdain for anything considered stereotypically effeminate or gay. It's the kind of ire that inspires the "Femail" section of the British tabloid the Daily Mail to devote 1,100 words to explaining why metrosexuals like Ronaldo are in fact not attractive. No, it's the fat slobs who sit on the couch watching Ronaldo's perfectly chiseled body perform feats of sheer athletic wonder who are the real men.
Ronaldo's biggest rival on the soccer field and foil in soccer culture is Barcelona's Lionel Messi, who will likely never be the subject of World Cup Jerk Watch. Messi, the four-time Ballon d'Or winner, is not only a golden boy on the pitch, but he is beloved off of it. Much of the unfavorable comparisons with Messi have to do with what Grantland's Brian Phillips describes as "powerful cultural forces" beyond Ronaldo's control. Specifically, the fact that Messi is a schlubby-looking 5-foot-7 everyman who climbed to the top of world soccer, while Ronaldo is a perfect physical specimen. Messi is the natural underdog, while Ronaldo is the ideal villain.
Messi has been historically considered an adorable and powerful man-child, but it's Ronaldo who is more like a child actor who was never given an opportunity to grow up. Before he was even a teenager, he was shipped off to one of the biggest soccer clubs in his home country. Ronaldo was a spoiled child—in grade school he slapped other students and once threw a chair at a teacher—who grew into an even more spoiled teen phenom, and then a ridiculously spoiled international superstar. The stunted childhood could explain the flamboyant displays of self-regard and his sometimes emo attitude about life. Maybe instead of hating Ronaldo, we should feel sorry for him. Or maybe we should hate ourselves for creating a world that would nurture and reward someone who acts this way.
Then again, he did build a museum for himself. Pretty jerky.
Jerk Score: 3 out of 3 for style—anti-metrosexual bias or not, he does have jerk hair. 0 out of 3 for technique, because it's kind of boring to see him take his shirt off all the time. 1 out of 3 for consistency, because of all the charitable donations. And 1 out of 1 in the category of "Pouty Face." 5 out of 10 for Cristiano Ronaldo. The man is no Luis Suarez.
Previously on World Cup Jerk Watch: Is Uruguay's Luis Suarez Horribly Entertaining or Just Horrible?